Today brought the saddest news for everyone who would wake up early before going to school, just to watch PTV and STN. For those who couldn't wait to get home from school to sit in front of the television and watch their favorite shows. One such favorite show, that kept everyone hooked on, was Ainak Wala Jin. 
Ainak Wala Jin was not only the source of entertainment for many but a source of endless nightmares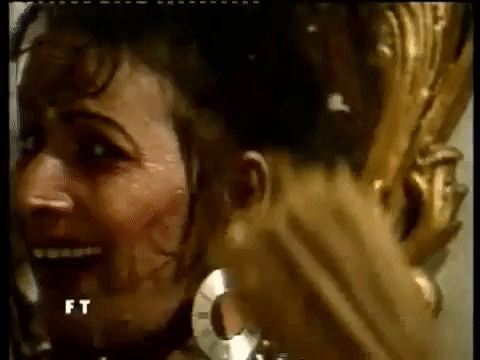 Bil Batori and Zakoota kept many of us awake for hours
Just a few months ago, social media was buzzing with news of the conditions Nusrat Ara ji was forced into living in
The actor who played the wicked witch, Bil Batori, was living in poor conditions and the news began circulating everywhere on the Internet. There were appeals to the government to aid the legend so she could find better living conditions
But today marks one of the saddest days of television history, and thinking about Bil Batori will always come with a pang of sadness, now We've lost one of the most iconic faces from our generation, Nusrat Ara
After the news today, however, a whole generation is heartbroken
RIP #NusratAra. Will never forget the laughter and entertainment #BilBatori gave us.

— Mohamin khan (@Mohaminkhan3) October 14, 2017
She will always, always be special to us
#NusratAra will have a special place in my heart. the lady was known as #BilBatori to the 90's kids. She will be deeply missed

— Syed Moazam Ali?? (@Moazam_Aly) October 14, 2017
There were duas
May Allah Grant her a Place in Jannah . Ameen #NusratAra Thank You for all the great memories

— Ali Tahir (@AliTahir132) October 14, 2017
People were thanking her for the memories
What a actor she was. So much childhood memories. #AinakWalaJin
May ALLAH Rest her soul nd bless her with Jannah. #NusratAra

— BADAR (@ranbadar001) October 14, 2017
There were prayers in abundance
ALLAH PAK MAGHFIRAT FARMAYE AMEEN,,,,

— Marjaan (@MarjaanAAJ) October 14, 2017
We leave you with these words
Churhail nahi tu Dain hai, meri payari behen hai….bin batorhi nasa churhi. Allah asanian naseeb karay ameen.

— HKW (@HKWSOMK) October 14, 2017
تو چڑیل نہیں ہے ڈائن ہے
میری پیاری بہن ہے !!
??

— Different Angle (@AchayDinAaingay) October 14, 2017
Whenever we have to scare a little child, we will always sing the Bil Batori song. Whenever we have to introduce someone to good old Pakistani television, Ainak Wala Jin will always be on that list. Whenever we're bored and want to binge-watch on nostalgia, our minds will always go towards the adventures of Bil Batori and Zakoota. But it will never be the same, anymore. Rest in peace, Nusrat Ara ji.