Who doesn't know who Ranbir Kapoor is? Even if you're not a fan (we wonder why) you'd have seen him around. Whether it is in one of his 16 odd movies, or an advertisement or just around. The man is not free of any paparazzi. Recently, he's been even more special to Pakistanis. Khaaaiiirrr, Ranbir Kapoor has played such an array of characters in his career. He's played goofy characters and those that will send chills down your spine. And he's possibly one of the most versatile actors in Bollywood. And that's what makes him one of the greatest.
Ranbir comes from a very very long history of acting and people in the film industry
Being the great-grandson of Shri Prithviraj Kapoor, the grandson of Raj Kapoor, son of veteran actors Rishi Kapoor and Neetu Singh, Ranbir has acting and film in his blood. Literally. His uncles are actors, his cousins, Kareena Kapoor, Karishma Kapoor, Aadar Jain, Armaan Jain, Mohit Marwah are all actors, too. So you can pretty much see Hindi cinema flowing through his veins.
Ranbir is one of those actors who actually went the extra mile to learn acting
He got to know the tricks of the trade before he debuted on the silver screen. He figured out what went on behind the camera, as well as in front of it. He studied at the School Of Visual Arts, New York, and then went on to the Lee Strasberg Theatre and Film Institute. He was the Assistant Director on PremGranth, Aa Ab Laut Challein, and Sanjay Leela Bhansali's Black, where he played Amitabh Bachchan's body double. That's when Sanjay Leela Bhansali picked him up and cast him in his directorial venture, Saawariya. Not having played the same character twice, Ranbir is one of the biggest stars that the Hindi Film Industry has ever produced. Here are all the reasons why Ranbir deserves to be touted as the finest that Bollywood has.
His debut in Bollywood came as Saawariya Paying homage to his grandfather Raj Kapoor, Ranbir outshone in Saawariya, as the goofy, adorable bar performer who's looking for a place to live and some love. His name in the film is his actual full name -Ranbir Raj. While the movie didn't do particularly well at the Box Office, it was a very promising entry in Bollywood for him. He was unlike other leading men who were in the industry when he joined. He was quirky and fun. He wasn't afraid to show his emotions. He was coming on screen with messy hair, clean-shaven and full of love. And that's what made him stand out so much.
He then moved on to Bachna Ae Haseeno Bachna Ae Haseeno was another tribute coming from Kapoor's end. This time to Shahrukh Khan. His character, Raj, meets a young girl called Mahi on the Euro train – much like Dilwale Dulhaniya Le Jayeinge. While the story goes on and has two other leading ladies, as well, this chunk was modelled around Raj and Anjali from DDLJ. Ranbir plays two extremes of characters in the film. One was the young, commitment-phobic man in the first half, and then we saw him mature and work towards redemption in the second.
His role in Wake Up Sid resonated with an entire generation Wake Up Sid was a coming of age film, from the young and uber talented director, Ayan Mukherji. The film revolves around Sid Mehra – a young guy who's favourite thing to do is spending his very rich father's money. He's never had to work for anything in his life. And he's literally born with a silver spoon in his mouth. Until the point where he sets upon a journey to prove his worth to his family and himself. After being the only one of his friends who didn't graduate, Sid leaves his father's house and meets a young journalist (played by Konkona Sen Sharma), who's on a similar mission. We see Sid's character mature and completely evolve. And it's definitely one of the finest characters we've seen in Bollywood.
The goofy Premshankar was taken quite seriously in Ajab Prem Ki Gazab Kahani
Prem Shankar in Ajab Prem Ki Gazab Kahani was a character we hadn't seen Ranbir play before. A comical, not very literate guy, whose sole mission in life is to spread happiness through his 'Happy Club'. He meets a girl who's recently moved to the city and falls head over heels in love with her. The only sad bit is that she already has a man in her life. Setting his own feelings for her, aside, he helps her escape the claws of her family who wants to marry her off to another man. Within the comedy, Ranbir presents such a different array of emotions, it's heart-warming.
Rocket Singh: Salesman Of The Year changed the whole film game, altogether, when it came out An indie venture, Rocket Singh: Salesman Of The Year is one of the most 'different' films Ranbir has done. Directed by the man who gave us Ab Tak Chappan and Chak De! India: Shimit Amin, the film got Ranbir the Best Actor (Critics) Award at the 2010 Filmfare Awards. Ranbir plays a Sikh man, Harpreet Singh Bedi, who is a fed up of the corrupt system that's prevalent in his office. He then decides to start another company from within the office. He vows for the company to take over in terms of customer satisfaction, and actually does a very good job at it. He refuses to bribe clients and customers, something his colleagues were actively doing. And soon, other employees, who're also fed up with the system, begin to join him.
Raajneeti was perhaps one of the most intense politico-dramas that we've seen come out of Bollywood and it was all led by the main man himself
A film that will definitely send chills down your spine. The workings of a political family, brothers turning against brothers, politicians going to any means to get what they want. Amidst all of this is Samar Pratap who has come home for a break from his university in America. He doesn't realise that he has Indu, played by Katrina Kaif, waiting for him in hopes of shaadi. He has no such intentions, because he has only ever taken Indu as a friend. Samar wants to stay away from politics and everything to do with it but he gets caught up in the drama after the assassination of his father. The story then turns in such a way that Samar becomes the mastermind behind all the politics that takes place within his family. He plays his uncle and uncle's supporters, he pulls all the strings and eventually ends up getting his brother's  new found party to win the elections. The character that Ranbir Kapoor plays in the film is carried out with such finesse that, for a second, you forget that this is the same goofy kid from Saawariya.
A story about the struggles of dealing with depression and suicide, Anjaana Anjaani was unlike any other film Ranbir's been in Playing a suicidal man who finds someone to commit suicide with him, was something Bollywood hadn't seen before. The story of Akash and Kiara takes a lot of turns and twists. There is a lot of drama and a lot of emotions in the film. The most intense factor about the film, however, is how Akash and Kiara always seem to snap back into their depressive phases at any given point and how they have to be each other's strengths. When Kiara attempts to take her life, at one point in the film, it's Akash who sets aside his own state of mind and puts everything he has into bringing her joy. It's one of those films that tackle an issue as big as mental health and also end up giving a very good message towards the end – that your life is worth a lot more than you give it credit for.
Rockstar gave us a whole new Ranbir…one we weren't even expecting to see Haye Rockstar. Rockstar is said to be one of the finest films in Bollywood.  A young boy in pursuit of his musical dreams meets a girl from a very privileged family. He gives up everything he has to be with her. His musical journey suffers because of everything that's brought upon with their relationship. He loses all social manners. Even after becoming a musical sensation, he remains irritable, unhappy and always in search for something. He disregards the record company, he runs off from work. How he transitioned from Janardhan Jhakkar, this young lad who listened to his parents and brother, to Jordan, the untameable beast of a man who can't be controlled.
The bundle of cuteness that Barfi! was, it was also, both, emotionally gutting and heartwarming Playing a character that's deaf and mute has got to be a challenge. But pairing that up with an autistic character and working towards that equation takes the game to a whole other level. The way with which Ranbir played Murphy aka Barfi, will actually bring tears to your eyes. The love that Murphy and Jhilmil share is unique in so many ways and that translates into something absolutely beautiful. How a man who can't speak or hear conveys such emotions that hit you straight in the feels is beyond a lot of us. How he can express love for his father, his friends, for the one he's willing to give up everything for with just his eyes. Barfi! is just an absolute masterpiece.
Yeh Jawaani Hai Deewani was a whole different kind of coming of age film coming from Ranbir's end The story of how a young man decides to travel the world to discover himself. And how he eventually finds his own Self right where he started – in his own city. Yeh Jawaani Hai Deewani revolves around the life of Bunny aka Kabir Thappar. An ambitious guy who will do anything and everything to fulfil his dream of travelling the world and making a life for himself. He sacrifices his family life, his friends and love for a really long time, till he just cannot. The way Ranbr Kapoor took on Bunny's character, the quirkiness, the depth, and the moments of self-actualisation actually lead a lot of people into finding parts of themselves in his journey, making it one of the biggest hits in Bollywood.
Bombay Velvet, while not having done well commercially, brought about quite a few advancements to the Hindi film industry Bombay Velvet was a film that tanked commercially, but it was also a film that showed a whole different side of cinematography in the Hindi film industry. Whether it was the way Ranbir and Anushka Sharma did justice to their characters, the overall treatment of the film, or the feel, it was all done to perfection. The film was also Karan Johar's first proper role in a film. The story of how a street boxer turns into a small-time criminal in hopes of earning enough money to make the girl of his dreams, Rosie, fall in love with him. Over time, and a lot of drama, they do fall in love but tragedy once again befalls them and the lovers are separated.
With Tamasha we were made to feel emotions we didn't know were possible for us to feel Tamasha is another Imtiaz Ali cinematic masterpiece. Two people, escaping from their lives in India, end up meeting in Corsica, France. They don't reveal their names to each other but spend a good amount of time with each other. While Tara, played by Deepika Padukone, falls hopelessly in love with Ved (Ranbir), he gets sucked back into the corporate jungle. As a kid, Ved is obsessed with storytelling and listening to stories. However, he has to suppress his theatrical side under pressure from his family to actually 'do something' worthwhile in life. The constant internal struggle that Ved goes through in his life is one that a lot of people can relate to: whether to live life on his own terms or to continue living the robotic life he was living. Ved's character stands out brilliantly in Ranbir's filmography, just because of the sheer brilliance he carried it out with.
Ae Dil Hai Mushkil gave us a different kind of leading man – one who could actually cry his heart out
This heartbreaker was also one of the most controversial films in Bollywood. With the ban on Pakistani actors acting in Indian films recently having been put in place, the film was under a lot of scrutiny because of Fawad Khan's character, Ali. Ayan is a young guy who falls for the Alizeh (Anushka Sharma) when he picks her up at a bar, takes her home, but breaks down into tears five minutes into their rendezvous. He is shown to be an extremely sensitive man who has very little control over his emotions. After being heavily friend-zoned by Alizeh, Ayan takes to the ever-beautiful Aishwariya Rai, to make her jealous. However, he still can't get over Alizeh, especially after she decides to get married to Ali. The best performance of Ranbir's in the film has got to be during the song 'Cutiepie' 'where he is shown to be the awkward third wheel and in 'Channa Mereya' where he completely breaks down and gives into his emotions again.
Jagga Jasoos-a kids' movie that had you on the edge of your seat throughout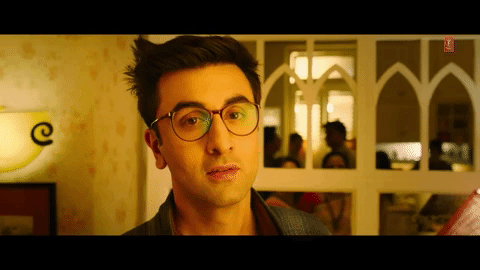 Jagga Jasoos revolves around a young stuttering boy, Jagga, who can only speak fluently if he sings. This musical takes us on a journey where he sets on a journey to find his father. His father is announced dead, however, Jagga knows deep in his heart that his father is alive. He meets Shruti, played by Katrina Kaif, who is an accident-prone journalist. The two of them set upon a crazy journey too find Badal Bagchi aka TutiFuti. The film, while not having done well at the Box Office, was solely made for kids, and was definitely one of the cutest films that Ranbir has been in.
Dutt – the next big thing for Ranbir
The biopic of Sanjay Dutt has been in the news for a really long time. Ever since the first few looks for the movie have come out, everyone's talking about it. And for good reason. Ranbir has completely changed his look and everything about himself for the film.
The film is all about the industry giant that is Sanjay Dutt, and everything that's happened in his life thus far. Sanjay Dutt has been in the news for all the wrong reasons, lately. But ever since his latest film Bhoomi hit the cinemas, Sanju Baba is officially back.
The way Ranbir has completely let the character take over him, in terms of how he walks, how he speaks and how he sits, is absolutely incredible and we legit can't wait for the film.
Do you agree that Ranbir is one of the greatest actors in Bollywood?