Karachi Eat caused quite the stir this time around and it wasn't just with the scrumptious collection of food. There was a lot of talk of reverse sexism when they offended every Karachiite ever with their "families only" policy. While some shed bucketloads of ~male tears~ over this, others rejoiced internally or publicly with chants of "karma, bitch". But what happened during Atif's concert might prove that policies like that of the Karachi Eat festival may not all be without valid reason. The concert was held at the Moin Khan Academy in Karachi and was associated with a local Model UN conference.
Atif Aslam's performance was pushed back till 1 am due to terrible delays but once he graced the stage, he REALLY did grace the stage
The concert was quite the display of Atif Aslam's prowess
He sang some of our favorite songs which include bestseller Tajdar-e-Haram from Coke Studio, Woh Lamhay, Aadat and Mahiway.
He also dedicated one performance to late Junaid Jamshed as he sang the tribute song, "Aitebar"
Atif Aslam @itsaadee sings Aitibar as a tribute to Junaid Jamshed last night #Karachi

4+ min version on my FB — https://t.co/D5tVL3BOlp pic.twitter.com/oEBHOd78Vw

— Awab Alvi (@DrAwab) January 15, 2017
Tissues, anyone?
However, the concert wasn't ALL fun and games.
One person who was present at the concert, along with many others, tweeted what happened during the Atif Aslam concert
Mad respect for Atif Aslam last night, stopped in middle of a song & scolded guys who were harassing the girls in the front row.

— Osama. (@ashaqeens) January 15, 2017
Speaking to MangoBaaz about this occurrence, Osama was able to add more context:
"Abida Parveen performed up until 1 am and Atif Aslam came on stage at around 1:17 am and the concert went on till 3 am so a lot of families were unable to attend the whole show. During Atif's concert, a lot of people in the front row were harassing the girls so Atif stopped smack in the middle of the song and asked one of the girls to come on stage in order to diffuse the situation. He personally asked the bouncers to facilitate her and the rest of the girls so they aren't bothered by the rowdy lot anymore."
He pointed out one particular guy and said, "Tumhari maa behnein nehin hein? Tuu insaan ka bacha banja werna mein tujhe bana doonga", Osama adds.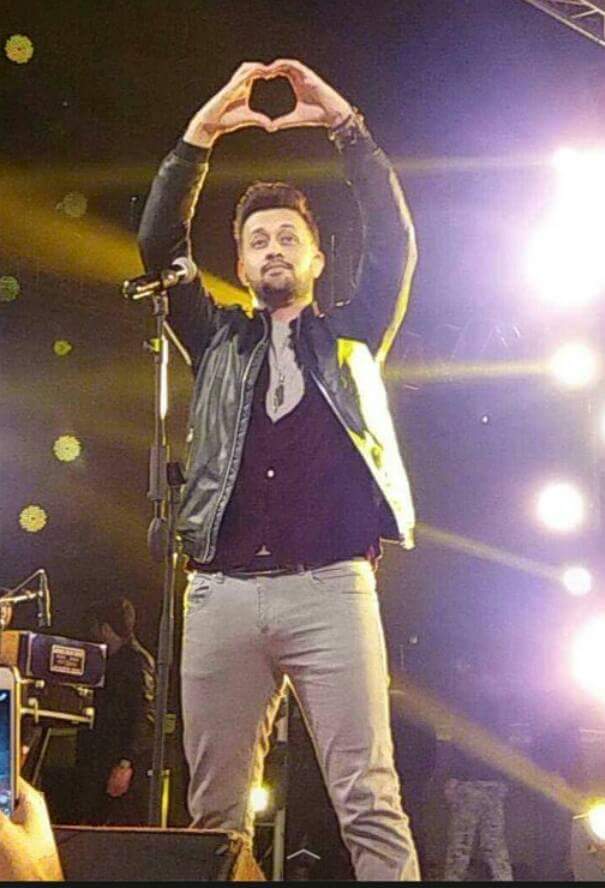 Atif Aslam stopped for a while to ensure that the girls who were constantly getting harassed were removed from the uncomfortable situation.
APPLAUSE.
Osama also has some thoughts regarding the infamous "families only" policy at Karachi Eat:
Not only were a lot of women harassed outside & inside the concert but a friends pregnant wife was kicked in the stomach by some asshole.

— Osama. (@ashaqeens) January 15, 2017
"The event itself was managed poorly as the concert was supposed to begin at 7 pm but they had all the crowd waiting outside for two hours. And the entrance gate open to everyone was just the one so there was definitely a lack of foresight, what with the expected crowd to go up to 10,000. Soon after, pushing, shoving and outright harassment ensued. It's absolutely despicable that my friend's pregnant wife got kicked in the stomach, it was disgusting."
Osama stated that he was opposed to the "family only" policy for another event, Karachi Eat and believed that the rights to admission shouldn't have been withheld but now, seeing the harassment, he thinks the former was a good call.
"Guys often lose their head and many don't have the sense of how to behave in public, especially around girls. In retrospect, I do believe the policy was right, not that it was fruitful at the very end but at least they tried."
What are your thoughts regarding the whole incident? Don't forget to write in the comments section.
UPDATE: The concert venue was Moin Khan Academy, an earlier version stated that it was associated with the Karachi Eat festival.
---
Cover Image Source: Click Maza