Pakistani cricket has been known to be unpredictable, controversial, political, action packed and many other things. There have been many highs and many lows, moments of utter euphoria and moments of utter despair. One thing we can all agree on, however, is that cricket has always been a vital part of Pakistan and we all missed it over the years.
So let's sit down, grab a warm cup of chai and take a journey through the iconic moments that have defined Pakistan's cricketing history.
1. Abdul Kardar and Fazal Mahmood with the prime minister after winning against MCC and gaining a test status for Pakistan, 1951
Pakistan were given 285 runs to chase in their second innings against MCC, a task that looked impossible at that time. But fine innings by Kardar, Hanif and Fazal Mahmood made sure Pakistan prevailed. The Gymkhana ground echoed with 20,000 plus chants "Pakistan Zindabad" to celebrate the historic moment.
2. Abdul Hafeez Kardar along with the Indian captain await the coin verdict, 1952
This was Pakistan's first ever international test against India, in India. Around 4 years after independence.
3. Fazal Mahmood against India during one of his most special spells of all time, resulting in Pakistan's first ever test victory, 1952 
Fazal Mahmood took 5 wickets in the first innings restricting India to 102 and took 7 in the second innings restricting them for a little under 200. The match-winning performance of Fazal Mahmood is symbolic of Pakistan's bowling mastery.
4. Fazal Mahmood leads the team to the Oval pavilion with massive applause from the Englishmen for his mesmerizing bowling attack against England, 1954
5. Abdul Hafeez waves to the crowd as Pakistan becomes the first – and till now, the only – team to win a test on their first tour to England, 1954.
…and became Pakistan's first "Poster Boy" in a Brylcreem poster.
6. Shuja-ud-Din going out with Alimuddin to open Pakistan's second innings in the third Test at Lahore against India, 1955
7. Hanif Mohammad walks back to the pavilion after making a monumental 327 at Bridgetown, Barbados, batting for 970 minutes against the West Indies, 1958
Although Pakistan lost the series to West indies, Hanif Mohammad was the talking point for most cricket historians. He made an extraordinary 327 at Bridgetown, Barbados, batting for 970 minutes, saving a test match that Pakistan seemed certain to lose. The inning established Hanif Mohammad as a legend to the International Arena.
8. Hanif Mohammad breaks Bradman's record, 1959
Hanif Mohammad, the original "Little Master," broke a 30-year unbroken record made by Sir Don Bradman in first class cricket (452*) by scoring 499 for Karachi. This record was broken three decades later by Brain Lara when he surpassed 500 runs.
9. A young Imran Khan breaks the stumps of a New Zealand batsman during the third Test in Karachi, 1976
10. Fight breaks out between Javed Miandad and Denis Lilee, 1981
During Pakistan's tour of Australia in Perth, Javed Miandad got into a clash with Austrailian Pacer Denis Lilee when the latter purposely pushed and kicked the former. Both go on blaming each other, and both aren't short of their share of controversies. The majority blamed Denis Lilee and he was latter penalized – it was sadly regarded as one of the most undignified moments in cricket history.
11. Shakoor Rana vs Mike Gatting, 1987
After England captain, Mike Gatting, moved a fielder during the bowler's run-up, Rana (the umpire) accused Gatting of being a cheat; Rana refused to continue until he received a formal apology. The entire third day was lost, and the tour nearly called off. Both sides' government officials (Pakistan and England) had to get involved to solve the crises – though some say it was a crises cricket needed as neutral umpires were introduced after this episode of finger wagging.
12. Imran Declares the innings before Miandad reaching 300, 1983
Pakistan was playing the first innings and there was nothing at stake to cut the innings down especially, when Miandad was on the threshold of a possible world record. Miandad was 20 runs short of a 300 when Khan declared the innings. Pakistan won the match by an innings and 119 runs – they would have still won if Miandad had made another 20 runs.
13. Javed Miandad celebrates victory at Sharjah after hitting the final ball for a six against India, 1986
It was the Sharjah Cup final. A boundary was required off the last ball and only one wicket in hand. You couldn't ask for a more nerve wrecking final between Pakistan and India. Ishant Chetan Sharma was given the ball and aimed for a yorker but his fingers couldn't handle the pressure. The yorker turned into a low full toss, and Miandad powered it past the boundry line for a 6.
14. Wasim Akram bowls out Chris Lewis in one of the most decisive moments leading up to Pakistan's World Cup victory, 1992
Neil Fairbrother and Alan Lamb had brought stability to England's chase of the World Cup 92 final against Pakistan. Wasim Akram was brought in to break down the British wall; he took 2 wickets in two balls bowling out Alan Lamb and Chris Lewis. The bowl to Chris Lewis is still considered one of the greatest bowls ever bowled.
15. Imran Khan lifts the World Cup trophy, 1992
16. Saeed Anwar embraces Inzamam in celebration of his record-breaking performance against India, 1997
At the time, Saeed Anwar knock of 194 was the new world record for the highest score by a batsman in an ODI, until Sachin Tendulkar scored 200 in 2010. 
17. Shoaib Akhter makes the legendary Sachin Tendulker look ordinary, 1999
Shoaib Akhter was facing Tendulkar for the first time, and the little master had no idea what he was facing. The whole crowd, who was cheering for Tendulkar, went absolutely silent when Akhter clean bowled him on his very first yorker. Meanwhile, the entire Kolkata stadium could hear the echoes of Shoaib Akhter's celebrations.
18. Saqlain Celebrates his hat-trick against  Zimbabwe during the Super 6 Stage at the World Cup, 1999

19.The heading that transformed heroes into villans, 2000
source: Dawn
20. Wasim Akram celebrates his 500th victim (Nick Statham) at the World Cup, also becoming the first one to claim the status, 2003
21. Inzamam-ul-Haq waves to his home crowd after scoring a century against Bangladesh and paving the way for Pakistan's win, 2003
Inzamam was probably at the worst phase of his career. He had been performing horribly with only scoring a total of 16 runs in the 2003 world cup held in South Africa previously. According to Inzaman, he had decided to call it quits after this match but fate had other plans. After this innings, he went on to become the captain of Pakistan's cricket team.
22. Javed Miandad welcomes Sachin Tendulkar to Pakistan with a hug, 2004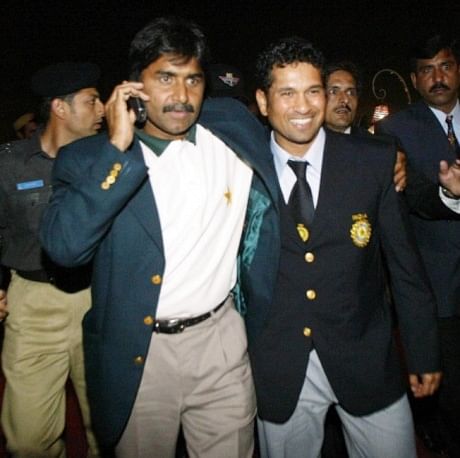 23. Players celebrate their victory in the 6 One Day series in India, 2005
24. Inzamam looks upon the ball that that Darrel Hair accused Pakistan of tampering, 2006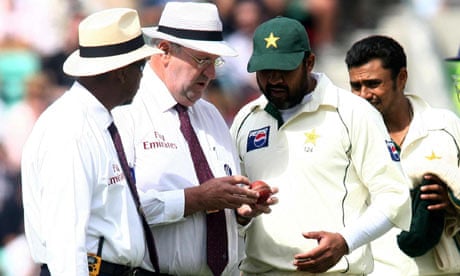 25. Inzamam refuses to play after the ball-tampering accusation and leads the Pakistan team out of the Oval, 2006
Pakistan were upset after umpire Darrell Hair awarded England 5 runs and replaced the ball after accusing Pakistan of having tampered with it on the fourth day of the final test. Pakistan debated the matter at tea and refused to come out for the final session. By the time Pakistan decided to resume the game, the umpires had called time and awarded the game to England.  A month later the ICC tribunal cleared Pakistan of ball tampering and Darrel Hair was later banned from officiating international cricket by the ICC in November.
26. Mushtaq Ahmed breaks down after hearing of former Coach Bob Woolmer's death, 2007
It's said that the team was really close to Bob Woolmer, and that he was like a father figure to most of them. When Bob Woolmer passed away the team was deeply moved. Bob had been with the Pakistan team during their ups and downs.
27. The Pakistan cricket team observes two minutes of silence for Bob Woolmer, 2007
28. Inzamam breaks into tears while walking back to the pavilion for the last time, 2007
Source: s2
Inzamam had already announced his retirement after an embarrassing exit from the World Cup. That and the grief of Bob Woolmer's death meant that he was going through a lot when he played his last innings against Zimbabwe.
29. Misbah falls down in grief after Pakistan's loss to India in the T20 World Cup final, 2007
source:cricinfo
While many blame Misbah for giving this match to India for the reverse sweep he played, many forget it was mainly his efforts with the bat that brought Pakistan to the final of 2007 T20 World Cup and to that stage in the final.
30. The Sri Lankan team boards a rescue helicopter inside Gaddafi Stadium, 2009
Quite possibly one of the darkest moments in Pakistan's cricketing history. After being shot at by terrorists, the Sri Lankan team was forced to evacuate Pakistan. And with them, international cricket in Pakistan also departed. For six long years.
31. Pakistani cricket team celebrates after their victory in the T20 World Cup, 2009

After a dark period, Pakistan finally came back and oh boy did they come back with a bang. Under the leadership of Younis Khan (and match winning performances from Shahid Afridi and Umar Gul), Pakistan came out victorious as the T20 World Cup champions in 2009.
32. Shahid Afridi decides to take a bite, 2010
Source : News.com.au
Afridi admitted to ball tampering.
33. Muhammad Amir delivers the no ball that tarnished his and Pakistan's reputation, 2010
34. Team Manager, Yawar Saeed, reads the news regarding the spot-fixing scandal during the infamous test, 2010
Little did they know what this headline was going to mean for them and Pakistan as a whole. Salman Butt, Mohammad Asif and Mohammad Aamir were all convicted of spot-fixing along with their manager, Mazhar Majeed.
35. Afridi and Tendulkar share a light moment during the World Cup semi-final in Mohali, 2011
It was apparent that everyone was feeling the pressure; the match was the only thing in the media on both sides of the border for more then a week. But this picture is a reminder of what cricket is really about, and that rivals don't have to be enemies.
36. Afridi celebrates after hitting 2 sixes in the last over to win against India, 2014
37. Yasir Shah takes the last wicket of Steven Smith to finally beat Austrailia after 32 years. 2014
38. Younis Khan looks up in the sky as he joins the 9000 club, 2014
39. Misbah celebrates as he makes the fastest hundred in test cricket, 2014
Misbah silenced his critics who are often too quick to point fingers at him for being slow by equaling the record of Sir Viv Richards in the second test against Austrailia at Abu Dhabi and also becoming Pakistan's most successful test skipper by winning the match later.
40. Pakistan Women's Cricket team win the Asia Cup final against Bangladesh, 2014
The women's cricket team, whose performances are overshadowed by their male counterparts, defeated Bangladesh in the final match of the Asia Cup which was held in Incheon, South Korea.
41. Wahab challenges Watson to hit him, 2015
42. Rahat Ali drops Shane Watson's catch during the World Cup quarter-final, 2015 
Watson finally baited, and gave a simple catch to Rahat Ali which he dropped. This drop changed the course of the game and Austrailia went on to win the quarter-final and the World Cup 2015.
43. #CricketCameHome
Source: Dawn
After 6 long years of no cricket in Pakistan, Zimbabwe became the first international team to play against Pakistan in Pakistan. Complete and utter euphoria swept through the country as Lahore became alive again and the empty stands of Gaddafi Stadium once again roared. It didn't matter which team was celebrating. The moment was larger than any one team's victory. In that moment, it was cricket and livelihood of Pakistan that won.
44. Aamir prepares to bowl his first international bowl after his ban, 2016
Source: Wac
45. Anwar Ali, of the Quetta Gladiators, delivers the historic first delivery of Pakistan Super League to Shane Watson of Islamabad United.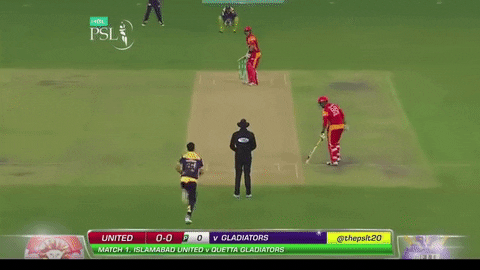 Will today be another historic day fro Pakistani cricket?
Comment below to let us know if there's something we missed.