If you're in your 20s or 30s like I am, I'm sure you'll find yourself reminiscing all the shit you did in school, college and even university every once in a while. You just wish you could go back and knock some sense into your 18-year-old self, and laugh at all the lame things you and your friends did back in the day. So, I've compiled a list of things I wish I knew when I was 18. Probably applies to you too.
P.S: Grab your tissues, you might ugly cry on this one.
1. Expectations na rakhein
Those shocks you got when your best friend of two days told your crush you were dying to be with them? Beta, keep your secrets to yourself and don't expect anyone to be nice to you for no reason. Matlab, kyun bhai?
2. Don't stress about the people who don't matter
The most popular girl/guy in class won't hang out with you? Bhar mai jai bhei… you can have your own one-man/woman crew! Trust me; you'll enjoy your own company 10 years from now anyway.
3. Kitabi keera hona zaroori nai hai to make it big in life
You don't have to be a bookish nerd to be a successful person in life – bharosa rukhain. Focus on what you're good at, even if it's something as small as making animal sounds (Yes, some people do that for a living.)
4. Treat yourself like an adult
Jee, aap achay khaasay baray ho gaye hain. Grow up and take responsibility for your actions.
5. Khuch alag kerain 
Learn to play an instrument, excel in a sport, or just take your hobby a little seriously and work on it – it'll pay off big time.
6. Don't fall for just any guy/girl that comes your way
Have some aqal yaar! Be picky. It's okay. Know your worth. Don't just settle.
 7. Your hot crush might not be the person of your dreams – you will get over them.
Dekho beta, I know you can't breathe right now because your hormones are going crazy, but 10 years from now, you'll be laughing at yourself for acting like a total majnoo.
8. Apnay favorite honay mai koi burai nai hai – trust me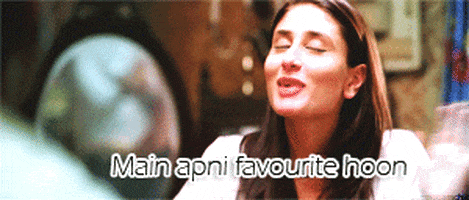 Do you have acne? There's a cure for that. And you can always learn to love how you look. Do you think you're dusky? Accept that it's beautiful and crazy attractive. Think you're too short? Toh kya hua? Bharosa rakhain, aap jaisay hain, perfect hain.
9. You don't need to be sarcastic all the time
Politeness is something you will learn as you grow up –toh bhai aap abhi se he tameez ker lain. It'll polish your communication skills.
10. Apni shakal pe mut jain – aqal pe jain. 
Sheesha dekh dekh ke surna chor doh! It's only real if you fall for the person. And oh, unless you're aiming to be on Ms. World/Pakistan or something, your looks are not going to land you any jobs.
11. Stand up to your bullies – they can't do anything to you
Jo dar gaya, voh mur gaya – so hold your ground and kill 'em with kindness. It'll make them look bad and you'll come out shining.
12. There's no charm in growing up – it's not fun
10 years from now you'll have a million responsibilities on your shoulders. Heck, naukri, ghar aur bachay hee peecha nai chortay. So beta, party on once in a while, because phir moqa nai milay ga.
13. Don't let anybody – especially your girlfriend/boyfriend – call the shots in your life
If your partner doesn't let you talk to other girls/guys – it's not cute. Matlab kyun bhei? Aap hain kon? You're an adult; only you (and in some cases, your parents) call the shots in your life.
14. Respect curfews – you'll thank your parents when you're older
Ammi friend ke ghar sleepover ki ijazat nai deti? Good yaar, Ammi knows what she's doing. This fact will hit you like a wrecking ball when you become a parent yourself, bro. You don't get this shit when you're 18.
15. Capture moments often
Take as many pictures as you can. You'll love looking back at these and laughing your head off with friends.
16. Don't be afraid to break someone's heart if you're sacrificing your happiness for them – they'll be okay
I think I'm dying of a broken heart – said no teenager ever – or maybe they did. But trust me, life becomes normal after a week. Bhai, your happiness comes first. Iss liye, kissi ka dil tornay se guraiz na kerain agar apki apni zindagi bhe azab mai hai.
17. Make the most of your talent – polish it and flaunt it
Be vocal about your talents – who knows, you might get your big break and get a chance to live your dream.
18. Be happy – don't be hung up on small glitches in your life
Shit happens. Accept it, take it lightly and move on with a smile on your face because bura waqt bhe guzar he jata hai!
There you have it folks. Do you wish you could tell your younger self anything too? Let us know in the comments section below. Cheers!
---
Cover image via nation.com.pk