The cricket atmosphere in Pakistan is improving by the day. And there are several things going on that should make you very hopeful of the Men in Green.
1. Sarfraz Dhoka nahi de ga
This guy's probably the most mouthwatering and consistent player in the team. He's been there when others have failed. His magical century against Ireland in the World Cup showed what the world what a class player he is. He's potentially the future captain of Pakistan's cricket team and hopefully dhoka nahi de ga.
Source: Aaj
2. Anwar Ali
Probably the most underrated player, many didn't think he would break into Pakistan's team but Anwar Ali worked very hard to prove them wrong. He proved his worth to the team in his match winning knock against Sri Lanka and looks set to be the team's main all-rounder. He can field too 😉
Source: dramasdownload
3. Underdog group of players in the team
Peshawar surprised everyone when they won the regional championship against star studded teams. This team had no big names compared to the likes of Lahore and Karachi, that featured Afridi and Wahab along with other big names. This means Pakistan has some serious untapped talent. This also means Hafeez and Shehzad should be worried 😉
Source: cricket.com.pk
4. Finally some international cricket in our very own stadiums
That's right. Our grounds aren't deserted anymore, the boys are back. Zimbabwe's tour of Pakistan ended the drought and hopefully this is a sign of good things to come.
Source: PakMediaGroup
5. Legends making room for newcomers
This is the crucial translational time many were hoping for. Boom Boom retiring before he becomes Buda Baba means that the likes of Babar Azam and Rizwan can take the stage. Hopefully Younis will figure out he's not in his 20's and stops whining (although, much respect to him for all that he's accomplished).
Source: Zimbio
6. The Pakistan Super League
IPL? Woh kya hai? That's what your going to say after this thriller of a competition. After a long wait, the PCB decided to go ahead with this competition. Sadly it won't be in Pakistan, but fikar not. At least we get to see our boys in green playing at an international level and earn what they deserve – oh and they'll be playing alongside other international stars too. A lot is expected of this competition and we will see a different side of Pakistani cricket, er… hopefully.
Source: Newstribe
7. Mohammad Aamir is back.
He was recognized as the next Wasim Akram at the age of 17! Thats right 17! Most of you were trying to fix your high school reputation at that age. This guy had it all; he was a BEAST. Sadly at times life sucks, and Amir showed how immature he was. Anyhow, the five years ban is now over but Aamir's talent is still there. Given he has a lot to prove, we're hoping he comes back with a thunderous bang.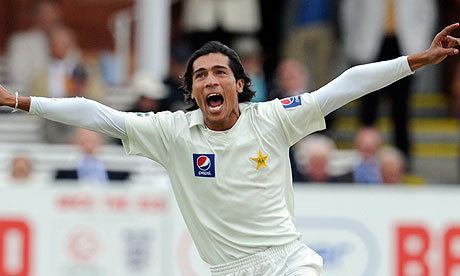 Source: Guardian
8. We have another magician up our sleeve, and this time he's legal: Yasir Shah
There were many questions about "life after Saeed Ajmal." Many thought it was the end for the team and its spin department. Little did they know that this Leo Messi look alike would have a few tricks up his sleeve. He's been praised as an immensely talented individual by none other then Shane Warne.
Source: Daily Capital
9. We have Superman in our outfield: Muhammad Rizwan
Pakistan has been rather poor when it comes to fielding over the past few, especially when compared to the likes of South Africa and Australia in the field. But we now have a Pastho speaking Superman in our outfield: Muhammad Rizwan. This guy showed some next level heroics in the field against Sri Lanka, lifting the team up and giving hope to the nation about our athleticism.
Source: viralinnewsfeed
10. No more people hating on Misbah during ODIs.
With no more Misbah haters constantly complaining, you'll finally be able to watch a game or two in peace.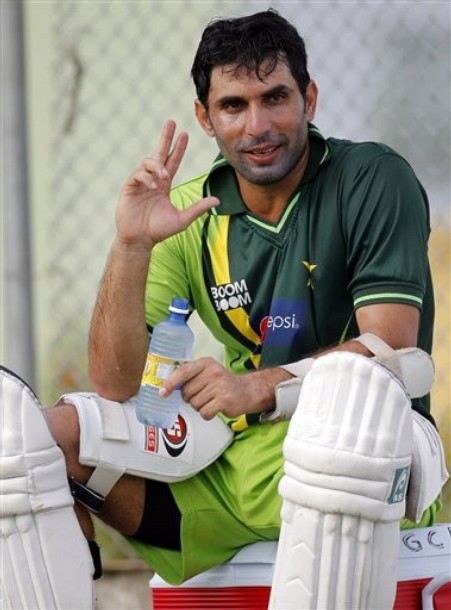 Source: PTV Sports
11. The big W: Wahab Riaz
It seems as if having your first name start with a 'W' helps in becoming a successful bowler for Pakistan; from Wasim to Waqar and now to Wahab. This guy is our BIG pace battery. He makes the opposing batsmen ask themselves "why did I wake up this morning?" – just ask Watson how he felt after the WC quarterfinal. Wahab gives everyone goosebumps as he delivers those fast bouncers and swinging toe crushing yorkers.
Source: pak alumni
12. Our English seems to be getting better, lol. 
But it's not really that important. It's not our fault that Urdu is our national language and more poetic than English. But hey, at least we try.
13. We are third in the Test Match Rankings.
Big Three? Woh kya hota hai? We're one of the best in the main game. We don't need no Big Three to tell us who the boss is. We've already whitewashed two of the "big three." The third one will soon be punished, iA.
Source: Cricdown
Although we need to pay more respect to other sports and athletes in Pakistan, cricket is that one sport that brings us together as a nation. It doesn't matter if your Sindhi, Balochi, Punjabi, Kashmiri, a Biryani Lover, or Altaf Bhai.
Cricket kay medan mai we all are Pakistani (okay, except for Altaf Bhai).
Source: Cricpix.blogspot
#IamCricketPakistan.