Just a helpful list of 11 refreshing summer drinks to make at home this summer to help you beat the heat. 
You'd think we'd all be excited about summer. There are so many things to enjoy; summer break (but let's be honest, we've been on break for months now due to this quarantine), fresh fruit, ice cream, and of course, an ice-cold summer drink. But unfortunately, the thing about summers is that the heat is almost unbearable, going well above 40°C daily.
But no need to worry! We've got your back. While you're sitting at home during this pandemic or working from home, try out some of these refreshing beverages to cool you down. Most of these drinks need ingredients that are already at home. And the best part? I'm super lazy, so these are tried and tested, EASY recipes. Let's get started.
1. Saudi Champagne
My ultimate favourite summer drink. It has the tanginess and pop. Growing up in Saudi, this was the drink. Whenever we'd go out to restaurants or to dinner parties, I remember Saudi Champagne being served to us. Non-alcoholic, of course. It's also probably one of the simplest drinks in this list and the most impressive.
Ingredients:
Fizzy white drink
Apple Juice
One sliced apple
One sliced orange (optional)
One sliced lemon (optional)
A handful of mint
Recipe:
You're going to fill your pitcher half and half with the fizzy white drink and apple juice. Slice up that apple and grab a handful of mint and throw it in there. Add ice if you need to. And, voila, there you have it.
2. Lemonade
Lemonade is like one of the most supreme summer drinks. Sipping on chilled, sweet, lemonade on a hot summer day is one of the best things in life. And, it couldn't be easier, so there's no excuse.
Ingredients:
1 cup lemon juice
1 cup Sugar
1 cup Water
2-3 cups Cold Water
Recipe:
I wish this could be as easy as the Saudi Champagne, where you throw everything into the jug, but unfortunately, it's a little bit more complicated. First, you're going to mix the sugar and the 1 cup of water in a pan, mix it, and bring it to a simmer. Stir the mixture until the sugar completely dissolves. While this is happening, you're going to juice your lemons. You'll probably need anywhere from 10 – 15 of those tiny lemons you already have sitting at home. Keep juicing those lemons until you have around 1 cup of lemon juice. Now, put both the sugar mixture and lemon juice in a jug. Add 3-4 cups of cold water and mix the beverage. Definitely add ice to make a crisp, chilled, tangy lemonade.
3. Mango Lassi
Mangoes! The best fruit ever. We wait all year round for the rich, sweetness of the mangoes, and the time has finally come. There are a few versions of mango drinks. I, myself, love both mango milkshakes and mango lassi. But I think mango lassi deserves to be on this list a little bit more.
Ingredients:
1 cup plain Mango Yoghurt
1/2 cup Milk
1 Mango, chopped
Ice
4 teaspoons Sugar
Recipe:
Mix the chopped mango, yoghurt, milk, and sugar into a blender. And that's actually it. If you'd like to get a bit fancier, sprinkle some cardamom over your lassi. Pour it into glasses, over ice, and there you have it.
4. Spicy Lemon Soda
I know I'm repeatedly saying all these are easy, but c'mon guys – they're so easy! This one's no different. And it's a great crowd-pleaser, the Pakistani awaam loves masala, so this is a hit for sure.
Ingredients:
1.5 litre of a White Fizzy drink
1 cup Lemon Juice
1 tablespoon Honey
1/2 teaspoon Black Pepper
1/2 teaspoon Chaat Masala
A handful of Mint
ice
Recipe:
Pour 2 cups of the drink, 1 cup of lemon juice, 1 tablespoon of honey, 1/2 teaspoon of chaat masala, and 1/2 teaspoon of black pepper in a blender and blend away. Add the remaining white fizzy drink to a pitcher. Once blended, add the mixture to the pitcher as well, throw in a handful of mint and ice. That's all there is to it folks.
5. Cookies and Cream Milkshake
Source: spruceeats
I'm pretty calorie-conscious since its quarantine, and I really do not need to gain weight. But this beverage – I make an exception for this. Every. Single. Time. It's too good to pass up. I'll write this recipe out for one person, I mean, I'd probably drink more if I make a larger amount. This is the ultimate summer drink for refreshment and fulfilling your desires of cookies!
Ingredients
1 cup Vanilla Icecream
3 Chocolate Sandwich Biscuits
1 cup Milk
Recipe:
Literally, throw this all in a blender, blend until the oreo biscuits are minute particles. Pour it into a glass, add a straw in there, and sip that right up. This one is a real winner, probably my second favorite after Saudi Champagne.
6. Strawberry Daiquiri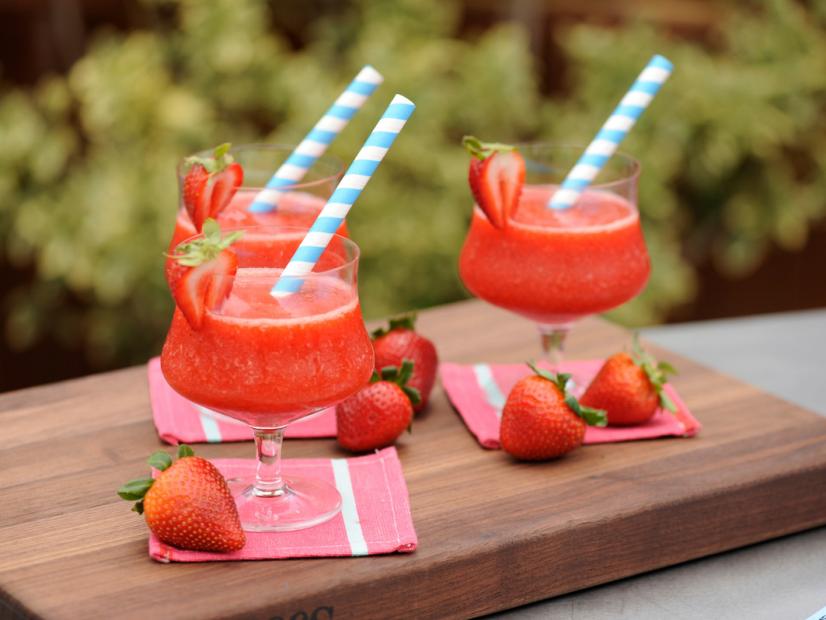 Source: foodnetwork
I know it's not strawberry season guys! But you can substitute this with almost any fruit such as peach, guava, whatever you'd like. And of course, it's non-alcoholic (I really don't need to mention that, right?).
Ingredients:
Spicy Lemon Soda
2 cups Frozen Strawberries
Ice
Recipe:
Can we rewind to beverage #4? When you're blending the ingredients for the lemon-lime soda, you can add the 2 cups of frozen strawberries and take away the chaat masala and black pepper. It should be a chunky sort of consistency. Once blended, move it to a pitcher, add to the rest of the sprite as well, and some ice. Thank me later.
7. Mint Margarita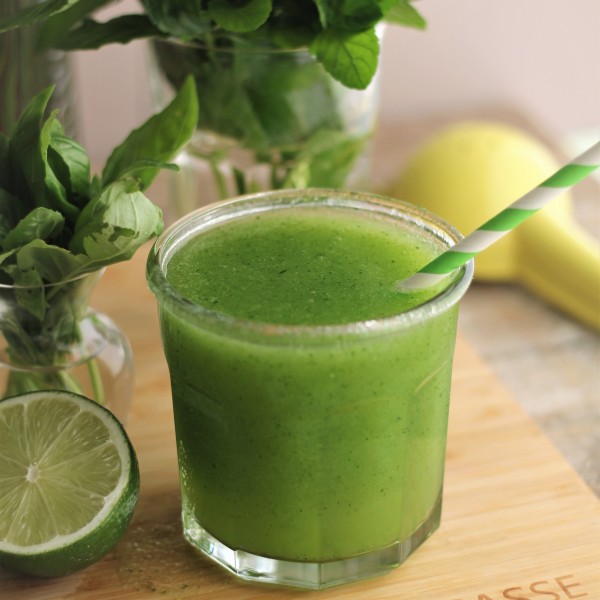 Source: emerlis
A classic. We overpay for this drink at restaurants all the time. But it's so easy to make at home, it doesn't make sense to pay 300 rupees for it.
Ingredients:
1.5 liters White Fizzy Drink
2 handfuls of Mint
1/2 cup Lemon Juice
Recipe:
Add 1 cup of the white fizzy drink, 2 handfuls of mint, and 1/2 cup of lemon juice in a blender. Blend until the mint particles are quite small. Add this to a larger pitcher with the rest of the white fizzy drink. No excuse now, there's nothing quicker than this drink!
8. Classic Sharbat
Source: scoopwhoop
Whoever said Sharbat is only a Ramadan drink – because it most definitely is not! We don't have to abide by societal pressures which limit our drinking of this beverage the other 11 months of the year especially make it a summer a drink! I don't have to tell you guys how to make it right? Cause that'd be kind of embarrassing… But here you go nonetheless:
Ingredients:
3 tablespoons of Red Sweet Syrup
Chilled Water
Basil Seeds (optional)
Sugar (add to taste)
2 tablespoons of Lemon Juice
Recipe:
I'm not going to mention how much sugar you need, because everyone is sooo critical about how sugary or not sugary this drink should be! But mix everything in a pitcher until it's well dissolved. If you'd like to add basil seeds, make sure you soak them 20 minutes earlier. Add ice to put the tarka of a summer drink and there you have it.
9. Cola and milk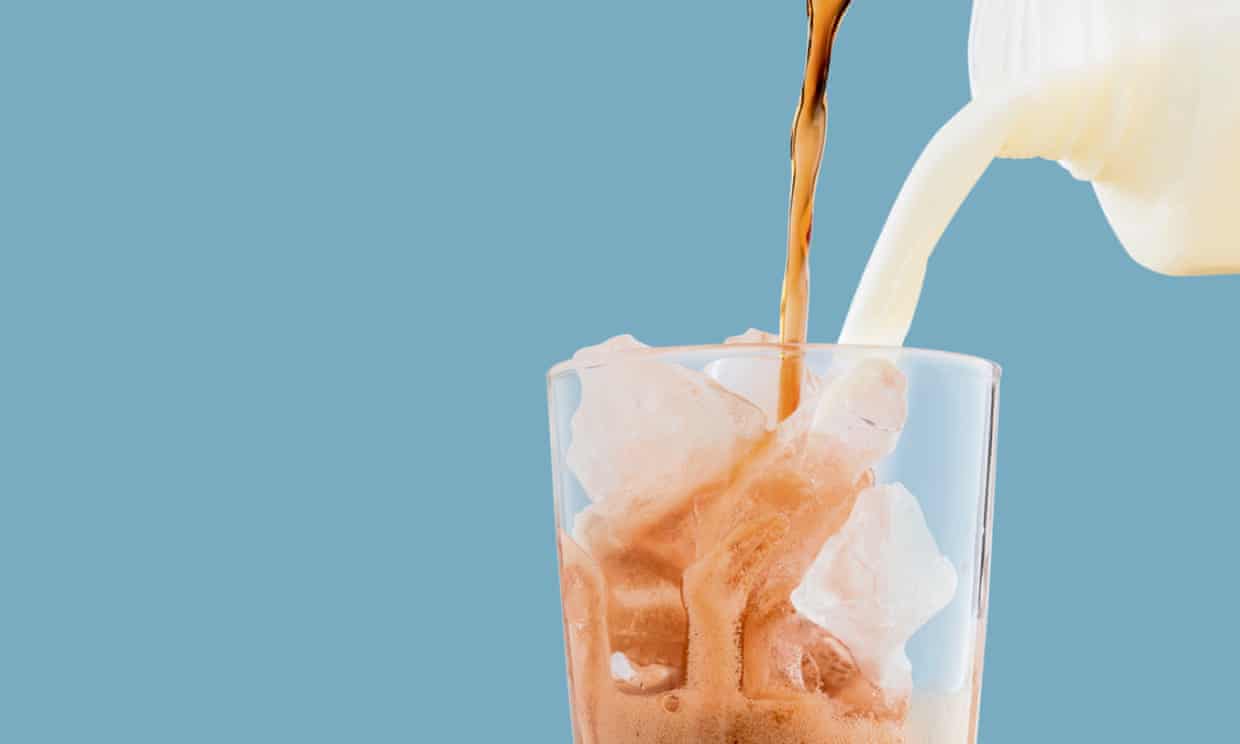 Source: theguardian
The oldest and quite iconic drink. My dad used to drink this and I'd be grossed out honestly, but my tastebuds have changed, they're actually in love with this exotic drink now.
Ingredients:
Recipe:
Pour cola and milk, half and half, in a glass or a pitcher, and serve immediately!
10. Peach & Mango Smoothie
Source: healthiersteps
It's mango season!!! And peach season!!! Smoothies are the best for a refreshing summer drink. This is a crossover between a smoothie and a milkshake, but that's not important. What's important is that it's delicious. And here's how to make it:
Ingredients:
1 Peach, chopped
1 Mango, chopped
375 ml Milk
2.5 tablespoons of sugar
Recipe:
Mix it all in a blender. And, that's all. Literally it. Add ice cubes to chill.
11. Watermelon Juice
Source: cubesnjuliennes
I didn't really want to add this, to be honest, but there should be at least one healthy, nutritive drink in this list. And I mean, it is watermelon season so why not make a summer drink out of it. So, if you're calorie conscious and health-conscious in general, this ones for you. Watermelon is rich in vitamin A, C and potassium.
Ingredients:
1/3 small Watermelon
2 tablespoons of Lemon Juice
Recipe:
Scoop up the watermelon and put it into a blender, put the lemon juice in as well. If you like it extra sweet you can add sugar, but that defeats the purpose of this oh so healthy drink. And that's all!
There you have it, folks. Comment below when you guys try these recipes out and let me know what you think.
---
Cover Image Via: @veryfilmi