Today, February 1st, marks World Hijab Day, that is to recognize the millions of Muslim women who choose to wear the hijab all around the world.
Women all over the world think that World Hijab Day should not be seen as a celebration but more of a commemoration to show that wearing hijab is beyond culture or covering your head.
People are actively participating and trying to spread an understanding to fight against the hate and learn to accept each other's differences. Men and women of different religions are standing in solidarity with Muslim women to take a stand against the racism, bigotry, and discrimination that some women who wear a hijab face.
People have taken to Twitter to express how they feel about wearing a hijab.
"I love wearing hijab because it makes me feel more beautiful everyday…??"-Hamida(Philippines)#StrongInHijab#WorldHijabDay pic.twitter.com/HO8c54V7Pt

— World HijabDay (@WorldHijabDay) February 1, 2018
Women who don't belong to Islam are wearing hijab on this day and expressing how they feel about it.
"Im a Christian & stand firmly in support of my #hijab wearing sisters. #Islam is a beautiful & peaceful religion that I am proud to support. There is power in being educated &there is a strength and comfort from Allah when wearing hijab, even for me."-Elyssa (USA) #StrongInHijab pic.twitter.com/UEG86Q1RZ9

— World HijabDay (@WorldHijabDay) January 30, 2018
Women want everyone to know that a hijab is not a barrier.
Its #worldhijabday today. My hijab is not a barrier. I want to show that wearing a hijab does not stop you from being fit and active. I've been able to achieve more than I ever dreamed I could. Believe in yourself, stay focused and determined and you will achieve your goals pic.twitter.com/bjzNA443yZ

— Taz (@TazRuns) February 1, 2018
The unity among all these women is inspiring.
I'm a Muslim woman and NO one FORCED me into the Hijab. The hijab to me is more than a piece of cloth over my hair, the hijab is my identity and my right. To those of you who speak up for our right, I thank you one and all #WorldHijabDay #StronginHijab ❤ pic.twitter.com/Js1hASJPfY

— Sarah Afker (@sarahafker) January 31, 2018
The founder of World Hijab Day, Hazma Khan, left everyone a special message – thanking them for their support.
A short message of gratitude from the founder of #WorldHijabDay. #StrongInHijab pic.twitter.com/rskryWJnLf

— World HijabDay (@WorldHijabDay) February 1, 2018
Many different universities and institutions all over the world are observing World Hijab Day with discussion panels and giving out hijabs for people to try for the day.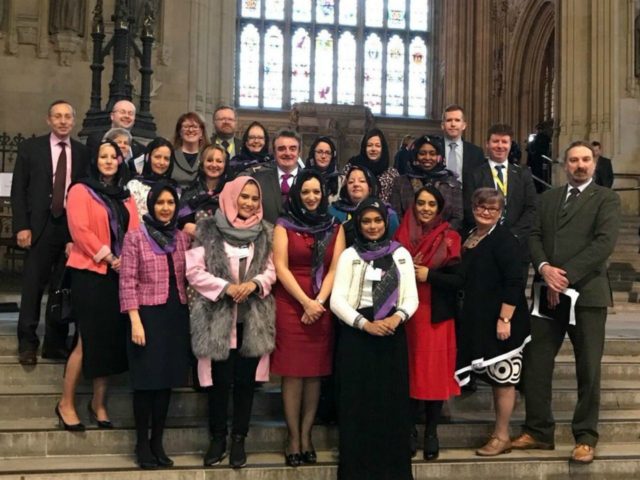 What a beautiful occasion!
Happy World Hijab day to everyone!
---