14th February is a day that comes with a lot of hopes, expectations or heartbreak. The official day of love has all couples planning for the perfect way to "schmooze" their significant others with flowers and Cadbury Dairy Milk chocolate and singles feeling…well, extra single. And while every day should be a testament of your love for those who are close to you, this day somehow gets all the hype.
Which is why we started off by asking our dear friends at MangoBaaz how they'll be spending Valentine's Day.
There were people like Amar who forgot what day it was and had to literally make a run for it.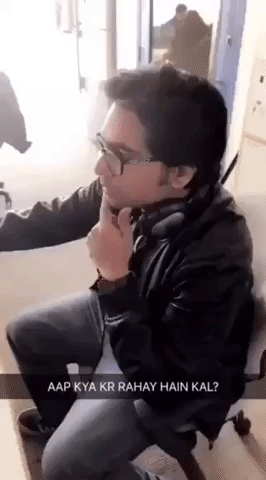 Amar's special person: thank us later.
Ahmed, who was basically all set.
Resulting in a major awwwgasm from the ladies. Good guy, Ahmed. ?
Then, there was Shah who was ready to take the *shot*. ???
Ayyyyyyy. Player.
Biya planned to send love to the one person who deserves all the appreciation – all day, everyday.
Forever bae: Ammi ji.
People from all over Pakistan weighed in about February 14th:
From the unlucky ones who were still stuck in the "friendzone"

To the third-wheelers…
*Our condolences*


There were those who were celebrating with their plate of biryani…
Biryani cares, biryani understands.

Others had to deal with parhai and exams.


Jokes were also shared just to 'cope'.

So were creative wordplays.
Brb, vela spotted.

And engineers had it worst of all.

Amidst all of this, we found the biggest MangoBaaz fan of all. Yeh video dekhein please.

How are you celebrating Valentine's Day? Do you have a hot date with a significant other or are you going to be sharing Cadbury Dairy Milk with your sister while watching a damn good movie? Let us know in the comments section below.
---
This post has been sponsored by Cadbury Pakistan.