Being a first-time mother is unlike anything you've ever attempted, bohot hee mushkil kaam hai. As if your own fretting and constant second-guessing isn't enough, muft ke mashwaray from all your rishtaydaar always keep you on your toes. Here's a sweet compilation of all the typical "ammi" things Pakistani mothers jumping into motherhood for the very first time are guilty of doing:
1. Shamelessly documenting each and every moment of the baby's life.
Her first steps, his first poop, first tooth, first tind, first eid- everything is at the mercy of these new mothers.
2. Co-ordinating cute outfits for every occasion.
They are the little barbie and ken dolls from your childhood that have suddenly come to life and how can you NOT play dress-up?
3. ENDLESS FACEBOOK STATUS UPDATES
Everybody: Do you HAVE to flood our timelines with all that baby talk?
New mothers: #SorryNotSorry
And the memes bordering on TMI.
4. Using your baby as an actual model for cutesy photos.
Let's just agree little humans are the perfect mannequins and the perfect props for all your photo albums.
5. Acting like a total child just to amuse your baby.
It's true, having a little munchkin around you 24/7 gets you in touch with the child inside you. New mothers not only start talking in a baby voice but start acting like one, too!
6. Shopping for all things baby.
Can you really blame us when all these cute, pink, fluffy, happy things exist in the world?
7. Googling your way into a panic attack.
And rushing to an emergency room every time your baby has a blocked nose.
8. Making a big deal of all your baby's milestones.
From keeping tabs of all of your baby's firsts to their birthdays, every milestone is cherished and celebrated.
9. Poking baby to make sure they're breathing.
…while watching your baby sleep. Does it ever get old? Nope.
10. Resting the baby's head on a spherical pillow for a perfectly round head.
Of course, you want your baby to grow up to have a perfectly round football shaped head.
And sometimes, even a "pirch" 
That tea-set is multipurpose afffffff
11. Having the perpetual fear of rolling on top of the little baby in bed.
They're so tiny, this is a perfectly legitimate cause of concern.
12. And surrounding your baby with pillows so they don't fall right off.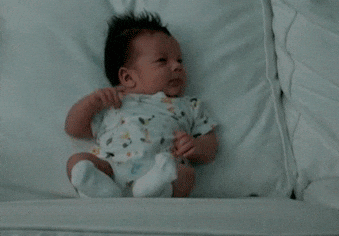 "Let me just build a fort"
13. Being scared of cutting your baby's nails.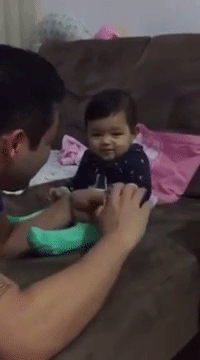 Can't. Do. It. What. If. I. Cut. More. Than. Just. The. Nails?!?!?!
14. Constantly in awe of how small the fingernail of their pinky finger is.
There is nothing more fascinating than your little human bean.
15. Only watching the baby channel all day long.
…because you don't want the baby to be exposed to violence on HBO.
16. Flipping out over every sound that comes out of your baby's mouth.
Omg, my baby's first words are sodium she's going to grow up to be a scientist!
17. And getting offended when the first words aren't "mama"
18. Carrying a diaper bag full of all the non-sense the baby probably doesn't even need ever.
But what if he suddenly wakes up and realizes he needs a rubric's cube? Let me pack that.
19. Tying cloth over baby's hands so they don't suck on their thumb.
There are some moms who sprinkle a little bit of pepper on there, too. Tough love!
20. Tricking your baby for kicks.
Oh, honey. You're so goofy.
21. Using your baby as an excuse to get out of plans.
"Sorry, can't make it to your dinner party. Little one is down with fever"
(not really but I can't drag myself out of bed RN)
22. Not trusting your baby with other people.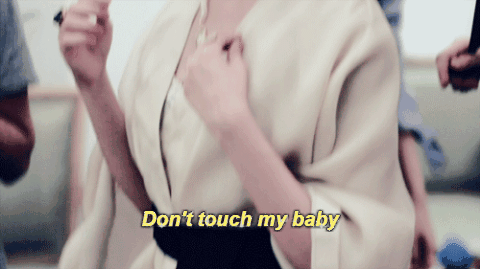 My baby. MINE.
23. Loving your baby to bits.
There's nothing in the world that can ever compare to the bond you share with your baby. NOTHING.