It's no secret that cricket is more than a sport for Pakistanis, it's personal. We'd be lying if we claim to never have gotten caught up in whirlwind of emotions during a match. And if you're sitting smack in the middle of a stadium, watching the show LIVE, well, your emotions are definitely going to be through the roof.
Yesterday's match between Pakistan and Afghanistan is one such example.
After Malik's kickass six, a certain kid was caught on camera showing off the middle finger, and, as is modern tradition, he has now been turned into a hilarious meme.
You vs the guy she told you not to worry about pic.twitter.com/BS18VoqmBN

— Muhammad Umair Tariq (@UmairTariq90) September 21, 2018
Many have already elevated him to the status of an ICON.
Tonight ONE can confidently claim Pakistan's future is in safe hands. #PAKvAFG pic.twitter.com/fC1PAFJ1rG

— ONE (@CallSignONE) September 21, 2018
Khair, the meme itself was pretty funny but our media made things all the more interesting.
A Samaa TV anchor person was flipping off trying to re-enact the meme his co-anchor was laughing her butts off. Plot twist: Turns out, the camera was on to document this the whole time…
Honestly, GOLD!!!
The moment he realizes they're on-air, IS HILARIOUS!
The straightening up and the struggle to stop laughing is too real, y'all.
We can see in his eyes the desperate need for control and feel his co-anchor's struggle of trying to stop smiling.
Oops…
Me, RN: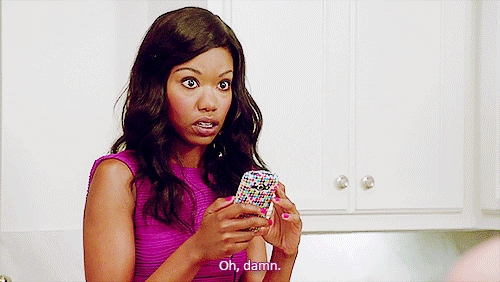 It was funny, but clearly people didn't think so.
Our awaam is constantly tuned in to news channels and seeing this on TV would've been an awkward experience. Let's not forget there are kids who watch TV too. So, in retrospect, we could've done without it.
When panel producer is in so much hurry to switch!!! RIP Journalism 👇 pic.twitter.com/6NeYRwxNvB

— Syed Raza Mehdi (@SyedRezaMehdi) September 22, 2018
Some found it 'pathetic'
#SamaaTv i am sure this was middle finger. These kids should be banned from mainstream media. Pathetic https://t.co/g9ZH1gE0Pa

— Usman shah (@Usman35606587) September 22, 2018
It is the duty of the anchorpersons to maintain themselves on air, and slipups do happen. But, banning them is a little extreme, no?
This guy came to their defense!
For God Sake its a blooper! Just read your Bio and came to know that you yourself a journalist and I hope you understand that it happens with CNN, BBC as well and take it in a funny way. No need to "RIP" this.

— Syed Ali Haider (@SyedAliHaider13) September 22, 2018
When someone is constantly in front of the camera, mess ups do happen. This happens internationally and it certainly isn't bad journalism.
But…Yaar. They were only excited about the match.
When you forgot you are going on air before your excitement started..anchor person caught…#SamaaTv https://t.co/nrRKVUuKlV

— Asad Aftab (@shasadaftab) September 22, 2018
Anchorpersons are also humans who are excited about the match, and they momentarily forgot they were on air. Unko bhi enjoy karney do yaar!
Shoaib ne auqaat dikha di thi na!
Bht ghalat baat hai bc, jab Shoaib ne aukaat dikha di afghaniyon ko to aesa nahi karna chaihye tha.

— Mohammed Irfan (@mirfan_ahmed) September 22, 2018
There's also the very valid argument of winning with poise. And it would've not made a difference had this not happened. Lekin hogeya na, jaanay dein.
In the end, this person sums up this whole shitstorm.
HAHAHAHAHAHA!!!! Epic!

— Huma. (@hitbyreality) September 22, 2018
Our media never fails to provide us with a few laughs. Aur bloopers kisko nahi pasand yaar! What do you think of this whole fiasco? Do you think it was just a blooper or should they be held accountable for it? Tell us in the comments!