Travelling is great, unless you're the type of person to get super duper anxious. Where some people can just sail past the travelling process, others can worry and ponder every step of the way. It probably doesn't sound like too much hassle but ask anyone who isn't a calm traveler and they'll tell you its annoying as it can get.
If you're an anxious traveler you'll relate to these points:
1. You're constantly checking your bookings/plans and reconfirming them
'Okay I'm leaving on the 4th, at night'
*2 hours later*
'When am I leaving, the 4th or 5th'
*panics and checks, cycle repeats*
2. "It's best to be early" is your traveling motto
If you need to reach the platform 30 minutes before leaving you're there an hour and a half early. You're also probably 3 hours early to the airport.
3. You ALWAYS feel like you're forgetting something 
And its never something small like your toothbrush, but like your passport, all your cash or your house keys. You keep checking to keep yourself calm but doubt always manages to cast its ugly shadow over you.
4. Any sort of traffic you face on the way to the station/airport will give the greatest panic attack EVER
5. You are instantly at unease and in distress at the thought of a delay
How will I get there on time? Will I be able to get to my destination? Who'll pick me up? Will I be able to get a cab?
6. You immediately go sit at your platform/gate as soon as you reach a stop
You'll be worried that you'll miss some sort of announcement or call so you just sit there, waiting.
7. The entirety of your journey you're always going to wonder if your bags are safe
Questions like 'were they even loaded' or 'will they fall off this moving bus' and even 'what if they lose my bags, what will I do'. These questions haunt you throughout your actual safar. 
8. The fear that they'll leave without you grips you even if you're sitting right at the entrance of your train or airport gate
9. Because of all the horror stories people have told you, you can't keep your eyes off your bags
Trust no one and nothing. Must always watch bag and keep guard.
10. Traveling in a group makes you even more anxious about keeping everyone together
Not everyone understands you and your travel process and they might just roam around. You'll be left trying to bring everyone together so that you can board on time and anxiety free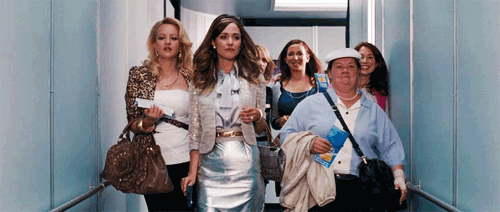 11. People will try and calm you down with their 'they can't leave without you' logic 
Please note: this tactic does not work at all- please stop trying
12. When flying, the safety video strikes fear into your heart 
Especially that bit when they show you how to brace. Dear Lord.
13. Waiting for your bags at the airport only worsens your fears that they've lost your stuff
Bas gaya. Sab kuch gaya.
Are you an anxious traveler? Is there anything we missed out on, let us know in the comments 🙂
---
Cover image via: womensownpk.com