By now the whole world is aware of the smog in Lahore. It is a top trend on Twitter and everyone has been perplexed about this because never has Lahore seen something this drastic, especially that lingering smoky smell in the air and the itchy eyes.
But it's not just Lahore that is being eaten up by this environmental disaster
First of all, yes it is a HUGE problem and one that needs immediate awakening of every single person in Lahore, but it isn't a new phenomenon. Smogs happen everywhere in the world. In fact, Deutsche Welle has reported Lahore as the fourth worst city in the world for smog. According to them, the main causes for the smog are high volume of road traffic, rubbish incineration and dust from the surrounding deserts.
While the world celebrated at having signed the Paris Agreement earlier this year that vowed to protect our rapidly deteriorating eco-system, studies have shown that the agreement is too little and maybe even too late. According to researches at National Center of Scientific Research in France, "Southern Spain will become desert and deciduous forests will vanish from much of the Mediterranean basin unless global warming is reined in sharply", as reported by phys.org.
Rather unfortunately, Pakistan has never really given a thought to environmental protection, with no major political parties ever discussing environment as part of their political manifesto, and the people as a whole not giving two fucks about how each of ours actions are contributing negatively to the world we leave behind for our children.
We haven't bothered about the environment… until now, that is
For the past two days Lahore has been covered in a thick smog that has only increased. Now, Newsweek Pakistan reports that the MET office has said that these conditions will continue to persist until, at least, the next five days. So, basically, it is time you sat up and talked about what really matters.
People are reporting breathing problems and eye infections, all over the city
HEAVY #smog all over #Lahore facing very difficulty to breath & Open eyes!

— Muhammad Qasim (@Qasimiftikh) November 2, 2016
Eyes are burning since morning: in a constant mode of "weeping" :'( #smog

— Tashan Fatima (@tashan_fatima) November 2, 2016
2 din sy khush ho rahy thy fog smjh k … Aj ankhon , sir or galy main dard ny btaya k baat kia hai …. #smog #Lahore

— ἶოოἶ (@_Offficial) November 2, 2016
This is what the experts have to say:
We talked to an ENT specialist at the Doctors Hospital in Lahore and he told us that although the conditions are new, they've been seeing a spike in patients coming with complaints of respiratory problems. He further said that there will be an increase in people suffering from respiratory problems in the next few days until the current weather conditions persist.
We also talked to an environmental expert on the matter:
Malik Amin Aslam, the Central Vice President of Pakistan Tehreek-e-Insaf who has also worked as a climate change expert consultant with the World Bank and United Nations focussing on development of climate change policies in various developing countries – Malawi, East Timor, Turkey and Uzbekistan, when asked about our concerns with the smog told MangoBaaz, "Lahore is choking today under a veil of suspended dust and carbon particles – what may be our version of the smoke haze. This situation would be declared an Environment Emergency in other cities but in Lahore we have no air pollution monitoring which could help us to understand the intensity of the problem and identify the hot spots to be tackled. Subsequently the Government also has no remedial plan prepared to address this live hazard."
What can you do about it?
1. First of all, you can read up on it
Yes, many will say reading an article or two, especially from MangoBaaz will not help you, but believe me, if you're reading about it and actually keeping your mind open to accepting ideas, you are doing better than those who would rather just sit and criticize. You may not realize this as an instant change but the mindset is exactly what needs to change for these kind of things. And after all, only with proper knowledge, can you battle something.
2. Protect yourself by wearing face masks
And don't go out unnecessarily because that could lead to breathing issues for you.
3. Start using public transportation
Carpool, use public transportation, bike, or walk whenever possible. Ab toh garmi bhee kam hai, you can start moving.
When you do become a patron of the public transportation, you will know if the government really is as inept at providing the infrastructure that we all love to claim is the case, from the comforts of our air conditioned drawing rooms.
4. Insulate your homes
In order to prevent this toxic air from getting into your homes, keep your windows and doors shut and insulate your homes by wetting pieces of cloth and putting them into the corners of windows and doors and keep this smog out.
5. Use environmentally safe paints and cleaning products whenever possible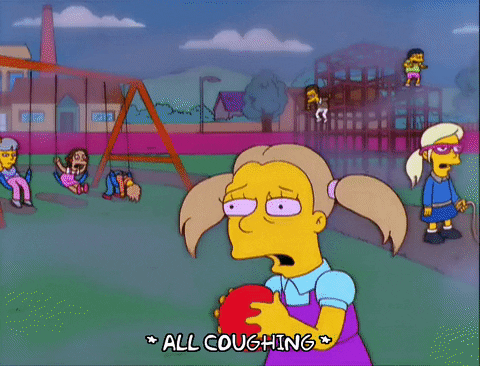 Small things like this can contribute to big problems, in the long run.
6. Don't burn wood
Wood and coal burning is the primary cause of smog, in many cases.
7. Turn off your vehicles
Avoid using your own cars and vehicles on heavy smog days. According to the United States Environmental Protection agency, this can contribute as a major factor to smog and you can also avoid idling of your vehicles i.e. baghair zaroorat ke engine ko bandh rakhein.
8. Try and practice cleaner and greener living, overall
We all, collectively, need to pay more than just two fucks about it because if your environment isn't sustainable to your life you won't be able to carry out dharnas, have your favorite dinners in Murree or loot and plunder this place you like to call home.
Cover image via: dawn.com