What do four musicians deep in the heart of rural Sindh, their devotion to lesser known instruments, their trade of classical folk music that has been a part of their heritage and the introduction of technology have in common? They all weave into the backdrop to a latest Sindhi song released under the Patari Tabeer series. The fifth installment of project that kicked off with many diamonds in the rough is titled Sajan Moi Khay Yaad Payo.
In a world where conversations are done over social media and nuptials over Skype, this song was produced based off sheer love for music without personally meeting each other. But hey, you don't even notice. It's just that good.
Their stories are distinct but intertwined by one Saif Junejo, the founder, and lead singer of the renowned Sufi folk-rock band, The Sketches.
The song features a Hindu-spiritual singer, a master of an instrument passed down from the ruins of Mohenjo-Daro 5000 years ago, a music teacher handpicked from the deserts of Thar and his disciple.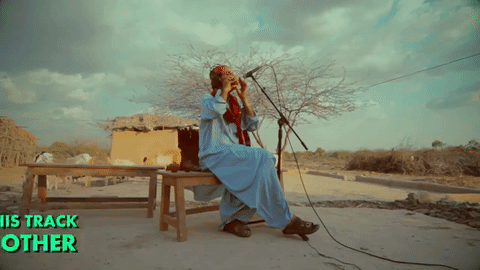 Bhaghat Bhuru Laal was a rare find from Mirpur Khaas. Fondly called "bhaghat" because of his affiliation for Hindu devotional genre more commonly referred to as "bhajjans". Strewn into the Sindhi cultural fabric as multiple faiths have come together over the years, this has somewhat become a part of Sindhi culture.
While talking about bhaghats, The Sketches front-man Saif Samejo tells MangoBaaz, "As far as their income and lifestyle are concerned, especially the bhurro bhaghat as I have found him to be, money is no object for them. They don't deem life as a race to get ahead, neither do they give much weight to success. They are simpletons who are happy with very little rewards. They will accept what little you offer and even, none at all. They also live in complete harmony with nature."
Another saaz was added by Faqir Zulfiqar, the only surviving musician in Pakistan who is able to play the 5000-year-old clay instrument "Borrindo"
Borrindo can be traced back to the ancient civilization of Mohenjo-Daro and is a lesser known instrument around the world. It's use added a timeless flavor to the composition, as judged by The Sketches who themselves emerged from Jamshoro over the shared love of Sindhi folk music and it's preservation.
The other voices that came together in the song include those of ustaad Rajab Faqir and his shagird, Zamar Hussain, both belonging to Mithi in Thar. Rajab runs a small academy in this equally small town sharing his art with enthusiastic young aspirants in hopes of keeping Sindhi classical music alive. "All three were recorded as we traveled to their remote cities and villages while Bhaghat Bhurro Laal was recorded in our studio", says Saif Samejo
The Sketches was a labor of love by founder and lead vocalist Saif Samejo who started off with touring universities and schools. Years down the lane, they have released an album, featured in Coke Studio, founded Lahooti Musical Ashram and host one of the biggest Art Festivals "Lahooti Melo" bringing together talent from all across Pakistan to the city of Hyderabad.
As part of Patari Tabeer series, "Sajan Moi Khay Yaad Payo" and it's priors bear witness to the unsung voices in Pakistan just waiting to be discovered. Tabeer will be focusing on bringing these voices to the forefront allowing Pakistani music enthusiasts to indulge in such homegrown talent. And every play of the song will bring royalties their way to ensure that others like him have a platform that supports and harnesses their dreams.