Shehzad Roy is a man who needs no introductions
He's an incredibly talented singer, with songs that have incredible depth and meaning 
Apart from being an absolute asset to Pakistan's music industry, he has also always been vocal about social issues as well. Many of us remember his witty, satirical and, at times, emotional songs that counter and protest against the many injustices that exist in our society. Songs such as Apney Ullo, Qismet Apnay Haath Main and Laga Ray have remained in the hearts of many.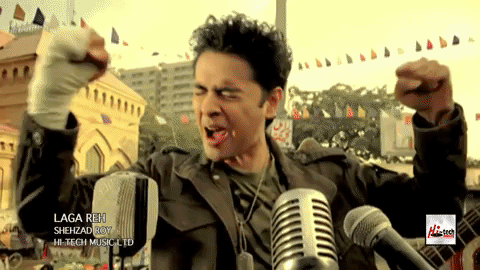 However, Coca-Cola allegedly used Laga Ray in an advertisement without Shehzad Roy's permission
Laga Reh is a song I made to protest about injustice and that very song ends up being used illegally by @CocaCola pic.twitter.com/VQ4PQMZTU8

— Shehzad Roy (@ShehzadRoy) May 19, 2017
 Undoubtedly, the star was livid
@CocaCola @CocaCola not only used my song without consent for sprite ad,modified the song n also distorted its social msg by picturising on Godzilla

— Shehzad Roy (@ShehzadRoy) May 19, 2017
And is now taking action by suing the company
@cokestudio @CocaColaCo Shocked to note your alleged stealing the IPR of Shehzad Roy's LAGA REH ! Please explain your position !

— nazim (@nazimhaji) May 19, 2017
The entire premise put off a lot of Pakistanis
Coca-Cola gets notice by @ShehzadRoy for using song without his consent #IntellectualProperty #KnowYourRights – https://t.co/EBnvGYBbAJ

— M. Jibran Nasir (@MJibranNasir) May 19, 2017
People are being vocal about their support for Shehzad Roy
@ShehzadRoy thanks for taking such good initiative. We are with you #ShameOnCoCaCola

— Irfan Khuhro (@IrfanKhuhrosays) May 19, 2017
Many were disappointed in the company itself 
#ShameOnCoCaCola Pakistanis stand with you sir @ShehzadRoy It's great that you took such an imitative

— Dr.Aliya Kareem ?? (@DrAliya7) May 19, 2017
The act was deemed shameful
@ShehzadRoy @CocaCola Shame on you @CocaCola

— Zulfiqar Ahmad Khan (@zulfikarachi) May 19, 2017
And people firmly agreed on the fact that Coke was in the wrong 
Coke has done a lot for Pakistan – but Shehzad Roy is my man. Do right by him @CocaCola. Do right. https://t.co/wwTx6QW5Y8

— (((MosharrafZaidi))) (@mosharrafzaidi) May 19, 2017
Some had very specific concerns in terms of the ad's content
That's a New low @CocaCola . Also i hate that Monster's burp in the end. So annoying. https://t.co/xWlv2BzCKn

— Rabia Anum (@RabiaAnumm) May 19, 2017
#ShameOnCocaCola became a thing pretty soon
Dear @ShehzadRoy we are proud of you
Social media and #teamIk with u bro #ShameOnCoCaCola pic.twitter.com/MjSZOIQnjL

— Sanaullah Mangnejo (@SanaullahMangn2) May 19, 2017
People considered it their moral responsibility to stand with Shehzad Roy
Lets stand united with @ShehzadRoy for the battle against @CocaCola as Pakistani it is our social amd moral responsibility #ShameOnCoCaCola

— Awais Javed Satti (@Khwa_Makha) May 19, 2017
Some pronounced a death sentence for the brand altogether
Okay, maybe that was a little too much.
No more cocacola…. we demand justice…@ShehzadRoy #ShameOnCoCaCola

— Anjum Iqbal – PTI ? (@AnjumIqbalPTI) May 19, 2017
The same sentiment was mirrored overall
We are with you @ShehzadRoy#ShameOnCoCaCola

— Amina Arshad (@Aminaa_Arshad) May 19, 2017
And Pakistanis were seen unanimously demanding justice
#ShameOnCoCaCola
Pakistan is not a sleeping nation… our demand is to give justice to @ShehzadRoy pic.twitter.com/iq6oFSRsG1

— NEKMAT WAZIR (@nekmat_shaheen) May 19, 2017
The real lesson to be learned here is that jitni bhi bari company ho, you can't mess with Pakistan's legends. It's also great to see artists holding companies responsible for when they are out of bounds, possibly setting a precedent for anyone who is wronged in the future. Here's hoping Shehzad Roy gets the justice he deserves. As for Coke, well – maybe someone needs to hand them Kendall Jenner's miracle-working Pepsi to fix the entire debacle.
---
Cover image via: pak101.com