This past year has seen women around the world calling out harassers and fighting for safer public spaces. The #MeToo movement has extended into every sector, including the entertainment sector. Even in Pakistan, we've recently seen Meesha Shafi allege Ali Zafar for harassment, thus beginning a wave of singers and actors raising their voice against harassment.
However, as women have banded together, the current status quo has been rocked. The tradition of men using their privilege and 'power' to get their way has existed for far too long for it to go away without a fight. This has manifested itself in actresses being defamed, or with actors denying the very existence of such behavior.
This brings us to the fact that even in a larger film industry, like Bollywood, sexual harassment is not taken as seriously, actually, they may not even give a fuck…even if the very few try and voice their opinion
A few actresses spoke to BBC to state how it's incredibly hard to come out and express cases of harassment, have a watch:
Recently at a press conference, Ranbir Kapoor was asked about the 'Casting Couch' and whether he's ever experienced it.
For those not familiar with the 'Casting Couch', it's basically when someone (usually a man) in a place of power asks for a sexual favor in return for a better position. In the setting of the film industry, this can involve a director or producer asking a young actor to have sex with them to get a better, larger role in the movie.
Ranbir's response to the question regarding the 'Casting Couch', he basically said 'I have never faced it, and if it does happen, I think it's pretty horrible' (okay, I'm paraphrasing). Right after he said it, director Rajkumar Hirani, producer Vidhu Vinod Chopra can be seen losing their shit as Ranbir talks. Many people on social media pointed out how Kapoor's response was incredibly privileged and it also how he called into question the very existence of 'Casting Couch' culture.
Online, people have been calling him out for his comments and also suggesting that nepotism helped him in his pursuit to get to the top in Bollywood.
More than this, people also had issues with the men sitting behind Ranbir laughing. Many wondered if it was indicative of how men at the top feel about sexual harassment.
Ranbir Kapoor is an actor who is seen as young, and in touch with modern views and attitudes, however, this particular incident shows how pervasive this culture of acceptance really is. 'Casting Couch' culture is something that everyone knows exists and it is something that has marred Bollywood for as long as most people can remember.
At the same time this discussion resurfaced, the choreographer, Saroj Khan also talked about Casting Couch culture, but not like how you think she did.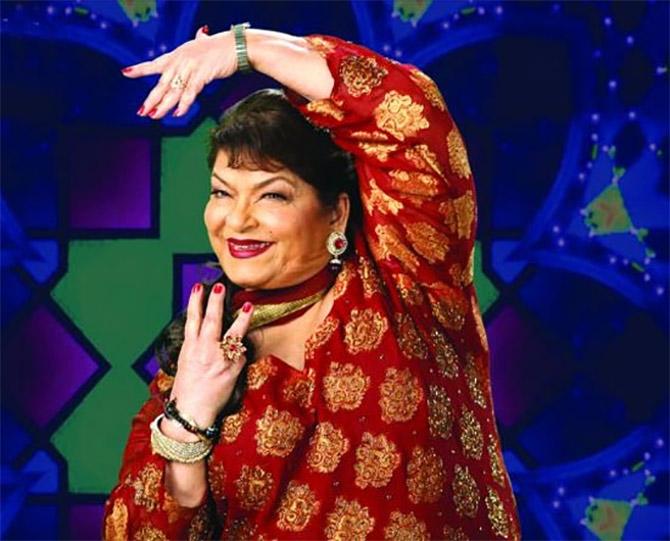 She said that this has been the case for so long and that the new generation of actors needs to stop making a fuss about it, and just accept it as a fact of life. What she ACTUALLY said, in her own words, is pretty disturbing. "Ek baat batau ye to chala aa raha hai baba adam ke zamane se. Har ladki ke upar koi na koi haath saaf karne ki koshish karta hai. Government karti hai. Government ke log karte hain to tum film industry ke peeche kyun paray ho? Woh toh roti toh bhi deti hai, rape karke chor to nahi deti."
Many veteran actors have come out in support of Saroj after her statement, again furthering her argument about how the 'tradition' of sexual abuse has been pervasive for years and will continue on
…Because apparently, Bollywood can only operate with the dark cloud of sexual abuse looming over its head.
This whole incident got us thinking about how, even when voices are raised, they were suppressed and the characters of the women involved are maligned and reduced to nothing. A prime example of this is Kangana Ranaut
She has spoken out against nepotism and the culture of sexual abuse and well we've seen how she's been treated by the film industry and the Indian media. Because she's so outright and blunt about her opinions, she's always been portrayed as an outsider, almost like a pariah.
In one interview, Kangana says, 'The industry is particularly sexist because women are expected to be "glam dolls", "bimbettes", or a "pretty piece of ass" because it's convenient. It's high time we reveal our real identities.'
Swara Bhaskar is another Indian actress who has been vocal about how the Indian Film Industry really operates. From very early on, she's held one thing constant; "Lose the part, but don't stay on the couch." She recently told the story of how a drunk filmmaker once harassed her. During her very first film, she recounts of how she was groped by huge mobs who came to watch the shootings, but that wasn't all. Her director back then began coming on too strongly to her and started making her very uncomfortable, to the point, she says, that she would hide in complete darkness in her changing room to make him think she's left the set. When she did confront him about it, he told her she misunderstood him and how he felt; then we went on to disappear for two weeks. After this return, she had to speak to her executive producer and from there on out, she had to be escorted everywhere.
Another powerful example of a Bollywood actress standing up for what is right is Rani Mukherjee
On her 40th birthday, she poured her heart out in an open letter. In the letter, she says that women in the film industry have always been seen as having a short career and that two things, in particular, kill their acting life; marriage and children. Rani goes on to talk about how women are judged on a much stricter benchmark than men and that actresses are constantly in the public eye; their every move analyzed and their every word scrutinized. If you're young, beautiful and single, the doors of the film industry are open to you, yet Rani Mukherjee vowed in her letter to constantly fight that image and to continue making films.
All of this boils down to a simple fact: many people, both in Pakistani and Indian entertainment, do not take sexual harassment and sexual abuse seriously
It's something that happened in the past, it's something that is happening today and for many people, it's something that will continue to happen. There is denial about sexual abuse on so many levels that it is scary to even think about. The film industry in both countries really needs to bring its act together, there needs to be a conscious effort to understand the prevailing culture so that it may stop once and for all. The way things are going, nothing will be changing. People at the top need to be questioned, they need to be accountable for their actions. Young talent is plentiful, but the culture of the casting couch will deter them from stepping foot in the industry. Yes, it may have been the way of the past, but we are in the 21st century and enough in enough, it's high time the film industry (in both countries) cleans up its act and becomes a safe space for all.