For the longest time, there's been a misconception in our society over the difference between sex and gender. Therefore, it makes it harder for us to accept that there are more than two genders.
So let's talk about sex, gender and some of the other genders that we fail to acknowledge. Here's what you need to know:
1. Let's start with a basic definition of what sex is.
Sex refers more to the biological makeup of an individual, with regards to their anatomy and sexual organs. Biological differences come into play here – like hormones, chromosomes, internal and external sexual organs. That kinda stuff. Simple?
2. Now let's talk about gender. 
Yeah, it's not the same thing. When I found out a couple years ago after a simple Biology lesson, I was stumped too. But here's what gender is. Gender refers to the characteristics that have been defined masculine or feminine according to cultural standards.
3. Wait. So sex and gender aren't the same?
Precisely. So your sex could be the same across any culture, but your gender defines your gender role – which can actually differ across cultures.
4. Woah, back up. What are gender roles?
Okay, gender roles are basically the attributes assigned to a particular sex according to societal and cultural standards. Which would mean that typically, an individual with the biological makeup of a man and a masculine gender role is a male. Similarly, an individual with the biological makeup of a woman and a feminine gender role is a female.
5. Oh okay, so that's pretty simple, right? Kinda ends there? No further complications?
Well, not really. Personal identification due to a certain level of internal awareness plays a huge role in how someone identifies with a certain gender. That's where gender identification comes in.
6. This is where things get a little complicated.
According to many people, a person can choose to identify with a specific gender, regardless of their sexual characteristics. That's got more to do with how they internally feel about their particular gender role.
7. So what are transgenders then?
Okay, so transgenders have a sexual identity that is different from their assigned sex. They do not conform to cultural gender roles associated with their particular sex. Certain gender identities, like being transsexual, fall under this wide term.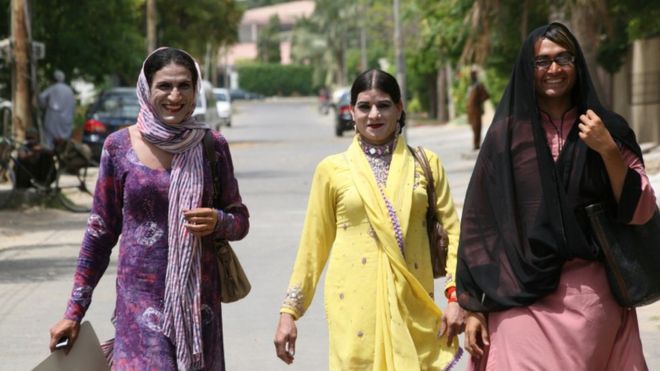 8. Is that the same as being intersex?
No, not really. Intersex people have variations in sex characteristics. Remember how we talked about an individual's biological makeup? That's got more to do with being intersex. People could be born with variations in chromosomes, sex hormones, gonads or even genitals. Though the term "hermaphrodite" was previously used for this group of people, it's long been considered stigmatizing to continue to do so.
9. So what's the difference?
While being intersex has more to do with biological differences, being transgender pertains to gender identity and gender roles. Which would loop us back to the basic difference between sex and gender.
10. So basically, there's more to life than being male or female?
Yeah, it would seem so. Of course, this isn't culturally acceptable in Pakistan, and even around the world for that matter. But it is what it is.
11. Okay, but why do I need to know about this?
Because we at MangoBaaz firmly believe that awareness leads to empathy. In order to understand someone's internal or external struggle, you need to get where they're coming from. You don't have to agree with someone's way of life. Though if you were more accepting, that'd be great. However, you also don't need to make things harder for these individuals.
Harper Lee stated in To Kill A Mockingbird, "You never really understand a person until you consider things from his point of view…Until you climb inside of his skin and walk around in it."
Perhaps we should try to start doing more of the same.
Do you have anything to add to this? Let us know in the comments.
---
Cover image via: Amy Loves Yah