When asked about the first word that comes to our mind whenever we think of Ramazan, it's the glorious drink without which no iftaar is complete: Rooh Afza. The quintessential  drink of every Pakistani, it's best served cold with an assortment of pakoras, samosas and jalebis. No thirst quencher can ever quite compare.
If you're someone who adores Rooh Afza in all its forms, here are some of the ways you can utilize this glorious syrup other than the sharbat:
1. Pour some of it on the acclaimed khoye wali kulfi:
Close your eyes and imagine the single best invention that Pakistanis have come up with. Yes, it's got to be khoye wali kulfi. Perfect under the smoldering sun.
2. Make your very own yummy Rooh Afza falooda lassi.
Haye, mera roza.
A wholesome concoction of falooda, tukh malanga, condensed milk and Rooh Afza. Does it get any better than that? Find the recipe here.
3. Drip some (actually lots and lots) on a gola ganda.
With plenty of iced shavings, this drink is bound to help you out on days when WAPDA doesn't.
4. Toss in some Rooh Afza into a bubbly Sprite for just the right amount of kick.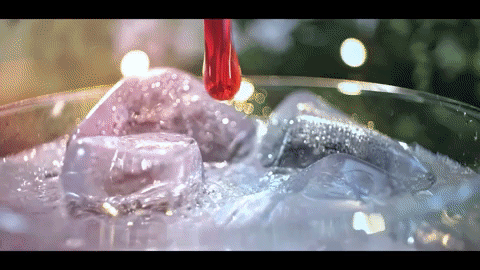 Throw in some mint and ice. Wow!
5. Make ice lollies out of it to beat this very unforgiving summer heat:
Rooh Afza ice lollies. How does it sound for a potential business idea?
6. Try your hand at some homemade rose and Rooh Afza ice-cream.
There's something divine about the coming together of rose and Rooh Afza flavoring between layers of whipped cream. This recipe is bound to give you a little taste of heaven with every spoonful.
7. Or simply top it up your favorite vanilla ice cream.
 Iski tou recipe ki bhi zarurat nehin. Pair it with mazaydaar julab jamuns and oohlala.
8.  Sick of the same old milk shakes? We've got the perfect solution: 
Find the recipe here.
9. Pop in some of that gelatin for Rooh Afza flavored desi cheesecake bites:
Don't want to choose between your desi palate and western influence? Fikar not, the recipe here is for times when you sit and think to yourself, "aaj meethay mein kya banayein?"
10. Try these amazeballs Rooh Afza and coconut laddoos.
Look at these little balls of happiness, posh enough for a fancy iftar at home or just the right dainty sweet treat after a mushkil roza. The recipe includes an unholy matrimony between fragrant cardamom, rich coconut and rooh afza but somehow it all comes together just fine. Learn how here.
11. Try your hand at Rooh Afza mojito:
The virgin mocktail has all the makings of a refresher: mint, zesty lemon and Rooh Afza. Try it now.
12. Make your very own version of firni.
Kabhi socha tha? Nahin na? Recipe try karein.
13. Splash some into your custard mix:
Tried and tested.
14. Rose-custard creme cookies.
Using the flavoring, this recipe gets you short and delicate butter biscuits with a hint of vanilla and rose sandwiched in custard filling.
15. Check out this gorgeous raspberry and rose souffle.

As a substitute to rose syrup, the light, airy, fluffy and wobbly dessert will instantly upgrade your kitchen cred. Check the recipe here.
16. Make your very own water melon and Rooh Afza chiller.
BEST COMBINATION EVER!
17. Or freeze the two for some more popsicles:
Try this recipe for some fun summer treats, especially for the kids.
Or if all else fails, just have a go at the regular Rooh Afza sharbat. You know you want to:
This Ramazan, don't shy away from just a little experimentation. Remember, nothing tastes quite as good as a cold glass after a hot summer day.
---
This post has been sponsored by Rooh Afza.