It doesn't matter if you discovered him during the recent hoopla around HBO's miniseries "The Night Of" or you were particularly taken by his critically acclaimed stint in Nightcrawler alongside Jake Gyllenhaal, Riz Ahmed is the hella cute. The British- Pakistani actor and rapper charmed us as a hapless wannabe suicide bomber in controversy-baiting comedy "Four Lions" and brilliant on-screen portrayal of Changez from Mohsin Hamid's bestseller "Reluctant Fundamentalist".
He's more than just a swoon-worthy face, Riz graduated from University of Oxford with a degree in Philosophy, Politics and Economics before delving into a filming career. To top it off, he has his satirical social-commentary rap to his credit and is also half of a hip-hop duo "Swet Shop Boys". Suffice to say, there's nothing this man CANNOT DO.
This is all of us every time we think about Riz Ahmed:
After all, a girl can dream, right?
Here's 25 times Riz Ahmed made us go *whoa*:
1. When he noticed that you changed something about your hair.
2. When he talked to you and you forgot how to speak.
3. When he casually stroked his neck and you wish that would've been yours.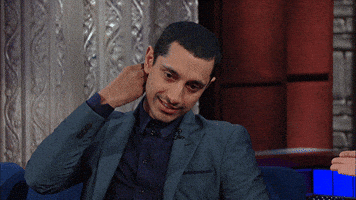 4.  When he smiled and all the ladies stopped and stared for a while.
5. Then he really went to town.
6. When he tried to be gangsta thug.
7. When he was in the middle of ~deep thoughts~ and you were mentally planning a life together.
8. When he made you go *hubba hubba*
9. When he was in touch with his emotional side and you started crying happy tears.
10. When he wasn't afraid of being vulnerable around you and you named your imaginary children.
11. When he looked so good in the suit, it hurt.
12. When you wished he would terrorize your heart instead.
13. When he fashioned a hot AF smolder and made you weak in the knees.
14. When he sported long hair like nobody's business.
15. When he looked as damn fiiiiiiine in shalwar kameez as anything else.
16. Damn, son.
17. When he was camera shy and looked hella cute.
18. When he was distressed and you wanted to take all his pain away.
19. When he made you want the mehndi on your hands to be in his name.
20. And then he busted some ~sick~ moves.
21. When he rested his head on your lap and shared all his secrets.
22. When you two talked about sweet nothings for hours over the phone.
23. When he told you all about his day.
24. When he woke up like this and you wished that was your bed…
25. When he catches you shamelessly lusting over him.
Basically
a few days ago i found riz ahmed on fb and messaged him gibberish because saw his pictures in a mangobaaz article this is my shame

— Alice (@someaningless) November 2, 2016
Guilty.