The 11th of February 2018 brought the saddening news of Asma Jahangir's unfortunate demise and with her died an icon to many Pakistani women and men
She was only 66 years of age when she passed away in Lahore due to cardiac arrest. While the world mourns this immense loss of such a prolific feminist icon, it is also important to celebrate the life of the irrefutable powerhouse that was Asma Jahangir.
To say that she was a force to be reckoned with is an understatement. A prominent human rights lawyer and a vocal social activist, Ms. Jahangir often made waves and ruffled feathers.
A woman in a man's world, she always remained undeterred and bold. Moreover, even in the face of prominent institutes, such as the military, she didn't back down. This was evident with her active presence during the Movement for the Restoration of Democracy against Zia-ul-Haq's regime. In 1983, she was imprisoned for the same.
However, she maintained this bold demeanor, even during former President, Pervez Musharraf's regime.
She was one of the leaders in the Lawyers' Movement in 2009, which was a mass protest against Musharraf's unconstitutional suspension of Iftikhar Muhammad Chaudhry as Chief Justice of Pakistan's Supreme Court.
With the desire to do more each passing day, Asma Jahangir achieved a lot during the course of her life
She co-founded and chaired the Human Rights Commission of Pakistan in 1987. After her active role in the Lawyers' Movement, she became Pakistan's first woman to serve as the President of the Supreme Court Bar Association. Additionally, she was a trustee at the International Crisis Group and served as the United Nations Special Rapporteur on Freedom of Religion or Belief.
When she moved to Geneva in 1986, she became the vice-chair of the Defence for Children International until she moved back to Pakistan in 1988. She was also the co-chair of the South Asia Forum for Human Rights and the vice president of International Federation for Human Rights.
Ms. Jahangir was applauded and appreciated for her incredible dedication and devotion through the numerous awards she received. 
Some of the awards she received are the Right Livelihood Award, the Freedom Award, the Hilal-i-Imtiaz, and the Sitara-i-Imtiaz. Other awards include the Ramon Magsaysay Award, the Martin Ennals Award for Human Rights Defenders, the UNESCO/Bilbao Prize for the Promotion of a Culture of Human Rights and the Officier de la Légion d'honneur.
Asma Jahangir was known for her passion and uninhibited courage. The following tweet encompasses the fire within her – a fire that has undoubtedly left behind sparks within the hearts of her followers:
A male friend once asked: why is #AsmaJahangir always so angry? What disturbed him perhaps was why she always spoke up and appeared utterly unafraid in this world dominated by masculinity's apoplectic id. For me, this is what #AsmaJahangir was: she was brave enough to be angry.

— Mehreen Zahra-Malik (@mehreenzahra) February 11, 2018
As a woman in our country, you're taught to be seen instead of being heard.
More often than not, you're shaped into being a submissive martyr. Breaking that mold, having the courage to display controlled anger and aggression when need be is not a small feat. Yet, Ms. Jahangir achieved that feat while maintaining her poise.
While her remarkable legacy has been interrupted by the hands of fate, it wouldn't be wrong to state that her memory will live on. 
Her death has left people shaken and shattered. As most Pakistanis take to social media to express their grief over this shocking loss, Ms. Jahangir's incredible impact on people's lives becomes all the more evident.
People are sharing their personal encounters with Asma Jahangir.
I remember meeting #AsmaJahangir for the first time, she made it a point to shake hands with all the female lawyers and said "good to see you all here".
Best part, she ignored all the male lawyers lined up to greet her. Was such a badass.

— shmyla (@shmyla) February 11, 2018
Others are sharing how she was an inspiration for them. 
Asma Jahangir, was why I decided to study law as an undergraduate degree in the first place. Her passing is a tragic loss for Pakistan. A woman of substance, strength and courage – she was a hero to so many of us. May she rest in peace. #AsmaJahangir

— Sara Siddiqi (@SiddiqiSara) February 11, 2018
They are remembering her as a symbol of power and courage. 
Thank you #AsmaJahangir for speaking truth to power in a way that no one in the country ever dared to pic.twitter.com/yOQxnzMq51

— Fahad Desmukh (@desmukh) February 11, 2018
Asma Jahangir: so strong her resolve, so unflinching in overwhelming adversity, that even today in her death she continues to expose the pettiness of those who do harm in the name of championing the greater good.

inna lillahi wa inallah-e-raji'oon#AsmaJahangir

— Fasi Zaka (@fasi_zaka) February 11, 2018
And are emphasizing on how her demise is a huge loss for Pakistan. 
So so so upset. It's the passing of the only Pakistani feminist icon we knew as kids. The only one we looked up to as the relentless upholder of women's rights in this country. Salaam to that great, great Pakistani woman. #AsmaJahangir

— Sabahat Zakariya (@sabizak) February 11, 2018
Today it's not only Pakistan who will cry. The entire South Asia shall mourn #AsmaJahangir. This is a loss of not only Pakistan. She shook up the conscience of the world.

— Marvi Sirmed (@marvisirmed) February 11, 2018
At the end of the day, Asma Jahangir's work, valor, and integrity surpass everything else and stand their ground. Thus, the following holds true:
Those who spent life spitting venom against #AsmaJahangir will have childern singing praise of her. She's done enough to open their minds.

— Umar Cheema (@UmarCheema1) February 11, 2018
Women like Asma Jahangir are rarely forgotten.
They leave their mark in ways that cannot be summarized in any text or speech. All we can do is honor their memory by letting the fire they've ignited burn with an unmatched ferocity.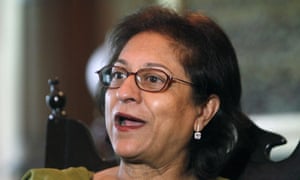 Our prayers are with her and her family. May her legacy always serve as a handbook filled to the brim with inspiration. Moreover, may she rest in power.
For similar stories, follow Wajood on Facebook.
---
Cover image: dawn.com