Whether you've grown up spending every night playing cricket in the galliyan of Pakistan, or playing with snow in Canada, Pakistan still exists as a part of you.
Your passport could be green or blue or red but dil dil Pakistan!
Sometimes Pakistan calls us back home, which invites a lot of questions from our peers…
So here are all the questions people ask when you're visiting your Pakistan:
Are you getting married?
Is this the only thing left to do in Pakistan?
Unless it's Fawad Khan, I'm coming back single.
yaaaaaaasss.
Do you have to wear a burka there?
Pakistan's fashion industry has some of South Asia's best designs to offer. There is a spectrum of clothing for everyone to show off and flaunt their style, regardless of how much skin they want to show or hide.
So no, there's no burka. I just get to wear nicer clothes.
Are you able to eat the food?
I might have to carry some Pepto-Bismol in my purse, but you better believe I'll be ready each and every day to eat as many gol gappay as I can.
Are women allowed to drive?
Yes. Women aren't only allowed to drive, they drive professionally, as well. For example, Shamim Akhtar is a truck-driver who has traveled all over Pakistan.
Is it safe?
While we have had our fair share of tragic attacks, the reality is that many families have been living here comfortably for lifetimes.
If it's safe enough for them, we'll be fine.
Is there internet there?
Data is so cheap, I could stream five Netflix movies today and still have another 5 gb for the month.
It's a separate story that I don't want to talk to you so I never Skype you.
Will you get shot?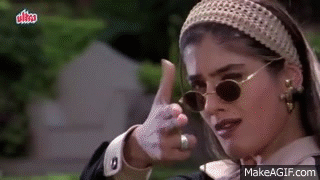 The only kind of shot I could be is shot in an upcoming movie. Kidding, they're both unlikely.
Do you have to marry your cousin?
No. There are a billion more humans in this world and I still might not want to marry anybody.
What about the party scene?
Pakistan has a killer underground scene. There are plenty of raves and concerts to check out, some people throw great house parties.
Haan woh alag baat hai if no one invites you to one.
Is it like the Indian movies?
Yes. I'm dancing behind a tree as I type this and my sari is caught in the shit coming out of your mouth.
What other stupid questions have you been asked whenever you're visiting Pakistan?
---
Cover image via: backpackology.org