"Jadon chadd jaway, naina bhar jaaway. Hanjuaan da paani wich saada baira tar jaawe"
"When you leave me, my eyes fill with tears. Our boats float to the shore in a sea of tears…"
Quratulain Balouch took over the song with those lyrics relying purely on her deep, penetrating vocals, deprived of any musical assistance,  and you're instantly transformed to the ending of a beautifully tragic love story between heer rajha, stranded on a boat, separated by the zaalim zamana.
After Sammi Meri Waar in Season 8, Quratulain Balouch finally made it to the stage with Sab Jag Soye in #FinaleFriday of Coke Studio 9.
And boy oh boy, she gave us GOOSEBUMPS.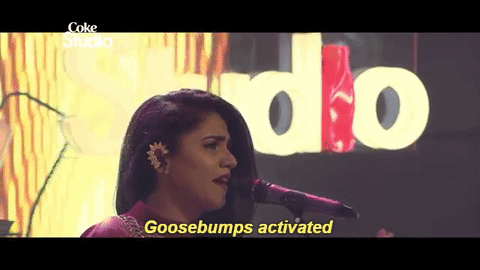 TAKE MY MONEY, TAKE ALL OF IT.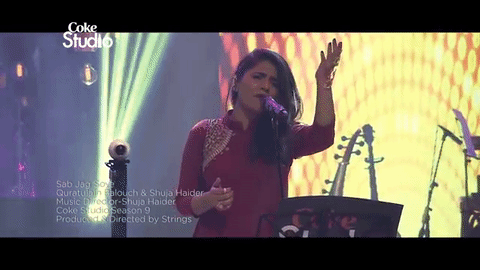 The song was originally performed and composed by Farhan Saeed, Momina Mustehsan & Saad Sultan as Pi Jaun but has been re-worked with a classic Coke Studio spin.
As expected, people were ecstatic about this rendition:
sab jag soye is beautiful! QueenB slaying again, and Shuja haider is my new fav. they nailed it! #CokeStudio9

— Hina (@inaminadikaa) September 23, 2016
Props to the song for neutralizing tensions between Pakistan and India:
How about we all forget the war and watch #CokeStudio9 together?

— Shah. ? (@Shah_Faisal_31) September 23, 2016
Some were a little too smitten QB's voice:
just listened sab jag gaye i must say @Quratulainb your voice have just ripped my soul apart just loved it #CokeStudio9

— Captain Malik (@abdullahakmalm) September 23, 2016
Just remake it with Chandni Ratain and let me die in peace. #SabJagSoye #CokeStudio9

— Farqalit Gharshin (@farqalit07) September 23, 2016
Shuja Haider and QB duo were showered with praises
Finale opens with QB's amazing vocals & Shuja's soulful voice. Cant get any better. Kudos to this Mann Mayal duo! #FinaleFriday #CokeStudio9

— Wonder Woman (@AjoobaAurat) September 23, 2016
While some expected nothing less of absolute grandeur from Quratulain Balouch, others resorted to the usual Momina Mustehsan comparison:
The song was LIT.
Sab Jag Soye is ??

— Shumail (@Shumyl) September 23, 2016
The general trend in the comments section bears witness to this very fact:
Queen B knows fully well about the effect she has on us: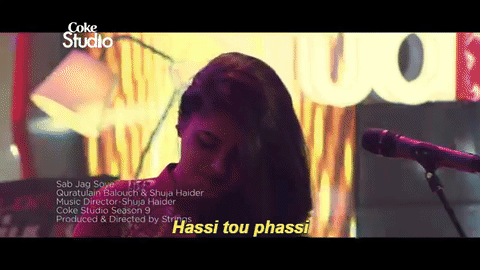 Here's the full song, for your listening pleasure:
Cover Photo Source: Coke Studio