Ever since the government took charge, it hasn't really been easy for them. They're constantly being criticized, they're constantly being compared to the older governments, and most of all, they're constantly being judged for doing things that they'd say they would never do.
Guess this PTV employee just thought to set it all in place, perhaps by mistake.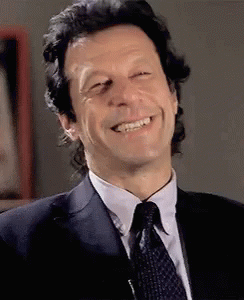 Imran Khan today was in Beijing to address to the Central Party School of the Communist Party of China, but the location slug misspelled Beijing as… begging…
BEGGING, like how did that even happen…
Many believe it's photoshopped but hey, why don't you see it for yourself?
Watch from the 3:10 minute mark.
But with a typo this golden, the banter was absolutely inevitable. ¯\_(ツ)_/¯
Matlab, there's even a U-Turn sign like come on!
BEGGING and the ↩️ sign …

PTV gone drastically independent… pic.twitter.com/it0274We4B

— Gharidah Farooqi (@GFarooqi) November 4, 2018
Not even the military was spared
When you appoint retired military officers to run PTV, then These intentional blunders do happen.#Begging #UTurn #ImranKhanInChina pic.twitter.com/pYuIOqBfno

— Shama Junejo (@ShamaJunejo) November 4, 2018
This person right here is asking all of the right questions.
Typo error samjh nahi aya bejjing ho sakta thaa. Beiging ho sakta thaa Lekin begging mushkil hy

— Politics is the game of possibilities (@aseyaomer) November 4, 2018
And then there were some who just took it a little bit too seriously…
Ok, so whoever did it, that was lit af. Ptv has become independent after all. PM select is showing resolve in begging. So far I haven't seen any solid measures which would make country self-sufficient in future from this govt. Only begging & begging. #Begging#Ptv#ManguPM pic.twitter.com/I67seUgbY4

— Noisy Neighbour (@aatifkhawaja) November 4, 2018
While there were some who found the act extremely shameful.
It was definitely done deliberately by someone in PTV. There's no way Beijing can be misspelled with 'Begging'. Extremely shameful attempt by whoever was responsible for this. https://t.co/R7KjETedt4 pic.twitter.com/0XSrF0TqTM

— Wajahat Kazmi (@KazmiWajahat) November 4, 2018
However, many

criticized

 the fact that the blunder should not be made fun of, and that no one deserves to be in that spot…
I'm sorry but the PTV begging debacle going on is not funny. I wouldn't have appreciated it if it would've happened with Nawaz, Abbasi, Gillani or Ashraf. While some find it hilarious bcz of the nature of his speech but no one deserves that.

— Warda Imran Sheikh (@Wisheikh) November 4, 2018
"We must always criticize a PM for his flawed policies but let us not ridicule him for the fun of it."
When our PM is on a foreign official trip he is representing all of us. We must always criticize a PM for his flawed policies but let us not ridicule him for the fun of it. If you condemned PTI supporters for doing same in past then you should not mimic such behaviour. #Begging

— M. Jibran Nasir (@MJibranNasir) November 4, 2018
…and that even the biggest of TV channels have occasionally made mistakes and it's okay.
Dear Pakistanis…please forgive it once as even BBC and CNN make such mistakes. It happens sometime when studio staff is working 16 hours without a break#Begging #PTV #ptvinthewild #ptvnews pic.twitter.com/ZZrhshVcu6

— Zia Ur Rehman (@zia051) November 4, 2018
PTV formally apologized for the incident, and said that the matter was getting dealt with. 
Today, during a live address of the Prime Minister during his ongoing visit to China, a typographical error took place, which remained on screen for 20 seconds & later removed. This incident is regrettable. Strict action has been initiated under rules against concerned officials pic.twitter.com/df2Z8oib5u

— PTV News (@PTVNewsOfficial) November 4, 2018
It is being said that the concerned staff are being investigated, while two people have already been laid off.
PTI govt has started action against 5 PTV staff members for allegedly inserting a u-turn sign and typing 'Begging' at the location spot 4 live speech during a live address of the Prime Minister during his ongoing visit 2 China. Two staff have been taken off work immediately pic.twitter.com/vHcYsyXfx2

— Pakistan Media Watch (@PakPressWatch) November 4, 2018
The entire incident, however, has been thoroughly ironic and people still aren't sure if the entire blunder was a simple mistake, or a well-throughout ploy.
But what do you think about the typo? Let us know in the comments.