A Twitter user posted these adorable pictures of newly imported African tigers lounging in the Peshawar Zoo.
However, this picture is far from the bitter reality that lurks behind.
Good news for peshwaries 6 #African tigers reached in peshawar zoo @JBaghwan pic.twitter.com/9ryPoXKawt

— ahtasham bashir (@myahtasham) June 25, 2018
It started in March when a fallow reportedly died of natural causes. The next day a monkey was killed by a wolf… because they were kept in the SAME cage.
The zoo management justified putting both animals in the same cage because they believed they had an association with one another. In the second week of March, due to the poor habitat and the weather getting warmer, a 10-year-old snow leopard died.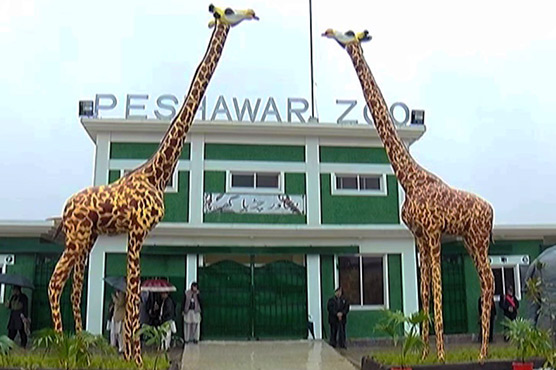 And then a few weeks later, two leopard cubs died because of improper care. Due to the succession of deaths at the Peshawar Zoo, a government committee was set up to investigate the issue. As reported in the Nation, it was found that the zoo was severely understaffed.
The zoo has 34 employees when it is estimated they need around 250 to keep things running smoothly.
The zoo only has one vet when they need a minimum of four. And to counter their lack of staff, they have hired unskilled daily wage employees to help manage the animals. And even after all these problems have persisted, the zoo decided to import 6 more tigers from Africa!
And a lot of people are NOT happy with this decision.
Why? Just to kill them with neglect? #ShutDownPeshawarZoo https://t.co/ALMBD7lH5J

— – (@HaseenaAtomBum) June 25, 2018
Some are even using the #ShutDownPeshawarZoo to Pressure Authorities
Unbelievable that there is no reaction from anyone in @PTIofficial @PTIKPOfficial about the way this place is managed #ShutDownPeshawarZoo https://t.co/jxbWMUW3gf

— Imperial Marcher (@MavIncognito) June 25, 2018
And the outrage is clearly justified
OVER 34 ANIMALS KILLED WITHIN 3 MONTHS.https://t.co/SowXG92pLJ#ShutDownPeshawarZoo

— Faizan 🏳️‍🌈 (@merabichrayaar) June 26, 2018
This Twitter user got first-hand accounts of the animals' condition from her brother in law
Honestly, this zoo in Peshawar is the most ridiculous and stupid idea and implementation of it. You fucksters don't know how to take care of those innocent creatures. They're literally dying of heat. So many already died. What's the fucking point of having a zoo?

— H (@Doppaminee) June 13, 2018
Apart from the basic fact of keeping animals trapped within cages is just plain cruel, the Peshawar Zoo does not even ensure that the cages are clean and habitable for the animals.
What do you think should be done to protect the animals at the Peshawar Zoo?
---