By now, we're all well aware of the plight of Rohingya Muslims. The stories of their immense persecution have been brought to light by various news outlets.
In the past two weeks alone, countless Rohingya Muslims have fled Myanmar, heading to Bangladesh.
#Rohingya exodus to #Bangladesh nears 300,000https://t.co/jHxpLvEKXb #TearsForRohingya pic.twitter.com/itoQeNfBmk

— New Straits Times (@NST_Online) September 9, 2017
Around 1000 people are reported to have been killed as a result of all the violence.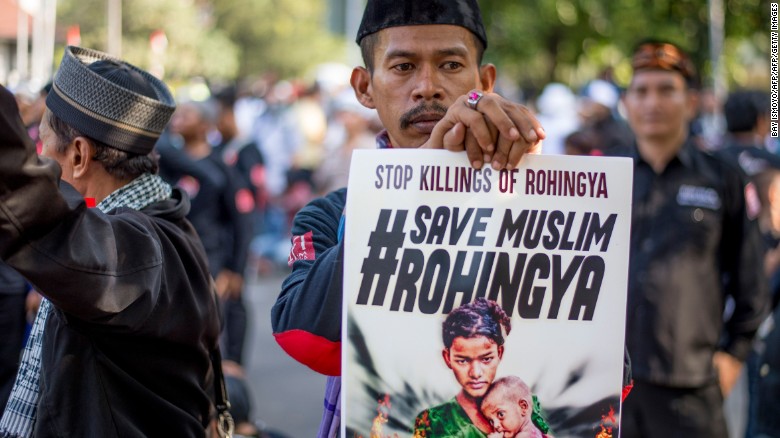 To say that matters look bleak for the Rohingya Muslims is a gross understatement
Rohingya crisis : Muslim villages in Burma's Rakhine state burned to the ground as hundreds of thousands flee. https://t.co/wYyd558h24 pic.twitter.com/4VxOjzztRl

— BrotherBatu Return (@morasaki12) September 9, 2017
And the incidents being narrated are downright heart wrenching
"I've carried my mother on my back for 4 days on foot after Myanmar army torched our homes," says displaced Rohingya Muslin. pic.twitter.com/7Frnlvnq0F

— CJ Werleman (@cjwerleman) September 8, 2017
As a result, there has been – to an extent – a general public outcry
May Almighty Allah help Rohingya Muslim and world by the large

— Bukar Lawan Kashim (@Alkali4u) September 9, 2017
People have been urging others to stand up for Rohingya Muslims
#Speak4humanitySaveRohingya
Save #RohingyaMuslims , Save Humanity !! Please!! Stop killing Innocent people mercilessly!!!
Wake up humans.. pic.twitter.com/VF1CrzjbCd

— StandForRohingya (@S_F_Rohingya) September 9, 2017
Some of our politicians have spoken up as well
My open letter to UN SG asking him to act on Rohingya Muslims' plight. pic.twitter.com/fqkNL03LWp

— Imran Khan (@ImranKhanPTI) September 8, 2017
As news of the rising death toll has been unraveling, a few Pakistanis decided to take the initiative to try to ease the plight of the oppressed in Myanmar. These brave Pakistanis stepped up to the cumbersome task and have set out together to travel to Burma.
Waqar Zaka initiated the mission
@AamirLiaquat Lets go Burma together bhai, last time I got arrested so need press visa access, let's rescue atleast one family.

— Waqar Zaka (@ZakaWaqar) September 4, 2017
And Dr. Aamir Liaquat Hussain replied promptly
Let's Go … I am going to Apply #UN Journalist Visa https://t.co/EFWd7iE3zT

— Aamir Liaquat Husain (@AamirLiaquat) September 4, 2017
They have been updating Pakistanis about their plans
Leaving for #Myanmar
بورڈنگ کارڈ بھی اس لیے ڈالا کہ ہم دونوں اکانومی میں سفر کرتے ہوئے جارہے ہیں کیونکہ یہاں تقلید کم اور تنقید زیادہ ہے pic.twitter.com/NwuPXTMoKC

— Aamir Liaquat Husain (@AamirLiaquat) September 8, 2017
Iqrar ul Hassan has also set out to help the oppressed community in whatever capacity he can
Somewhere near Rakhine state, #Burma..trying to get in..but trust me it is the most difficult task of my Life. Plz Pray. #Myanmar #Rohingya pic.twitter.com/46Nf5lpFgc

— Iqrar ul Hassan Syed (@iqrarulhassan) September 8, 2017
They have all been documenting their journeys
Whether it's on Twitter or Snapchat, people are getting constant updates on their progress.
Reached #Myanmar but facing severe difficulties at Immigration… please pray pic.twitter.com/nf6gHp1YZf

— Aamir Liaquat Husain (@AamirLiaquat) September 9, 2017
As a result, Pakistanis are lauding the three for their bravery
While government continues with its criminal silence & here @waqarzaka @AamirLiaquat @iqrarulhassan have set out to Burma??#RohingyaMuslims pic.twitter.com/4xwQGx2Y8v

— RajaAamirFarooq?? (@RajaAamirFarooq) September 8, 2017
And have been passing on their regards to these courageous men
HERE YOU GO!

Amir Liaquat Hussain and Waqar Zaka on their way to Myanmar to help Rohingya muslims – Respect!#SaveRohingyaMuslims pic.twitter.com/xaGofYWuB7

— Tehmoor Ali Abbasi (@TehmoorAAbbasi) September 8, 2017
People have kept aside their personal misgivings to appreciate the men
Despite of how personally Amir liaquat and Waqar zaka are,I respect them for going to Burma to help #Rohingya Muslims. #ThankYouBoth

— فاطمہ (@iFatimaAlAsadi) September 8, 2017
Some are sending blessings and prayers their way
Waqar Zaka Nad Mir Liaquat are on their way to burma. May Allah bless them n may they ll be successful to help innocent people. Ameen pic.twitter.com/KfRtXcwuwg

— M Hanzala Tayyab MHT (@OfficialHanzala) September 8, 2017
And right now, all people want are for them to be successful in their mission and to return safely
Iqrar ul Hassan is in Burma already and Amir Liaquat and Waqar Zaka are on their way to it. May Almighty protect these three.
Ameen!

— فاطمہ (@iFatimaAlAsadi) September 8, 2017
Regardless of the negative buzz around the men and their antics otherwise, their initiative is worth appreciating. Undoubtedly, they have earned major respect. Moreover, currently, they have the support of the entire country behind them. We can only hope and pray that they are successful in their venture.
What do you think about this? Share your thoughts with us on the matter below.