Us desi folks love our shaadis. Among the numerous festivities, dances have become a crucial part of every wedding. There's the groom's side vs bride's side competition, the couple dances, the bride's solo, etc. This bride, however, had something special to dedicate to her parents on her big day.
Hafsa Malik dedicated a dance to her parents, and it's actually the cutest thing ever.
To the song "Tere Mast Mast Do Nain" she starts off by twirling her gorgeous lehnga to the music and pointing to her parents.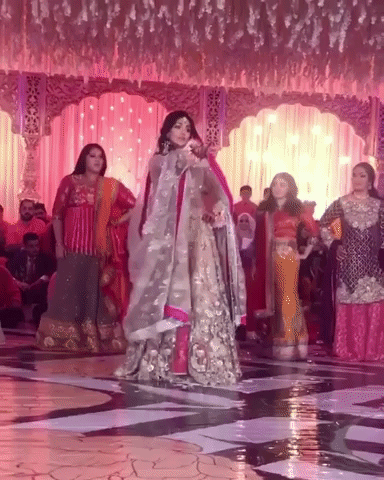 Later on, she brings her teary-eyed parents onto the stage and embraces them
Such an emotional and heartfelt sequence
basically shaadi goals
Everyone agreed that this unique number was such a sweet gesture to her parents
Most people assumed the dance was for her husband but NOPE
There was nothing but positivity for her adorable dance
We hope to see more heartfelt sequences this shaadi season
Brb crying
How adorable was her dance?
---
cover image source: @hafsaxxmalik/ Instagram