Many predictions were made when Momina Mustehsan first made her debut with Afreen Afreen. People bet good money on her becoming irrelevant soon enough or thought she would be another forgotten act like the talented-yet-forgotten Gul Panra. Be it her singing talent or her ability to shutdown elitist trollers, Momina has proven she's here to stay. Her new single Tera Woh Pyar (Nawazishein Karam) in episode 6 might just be testament to the very fact.
After the rock-edgy Main Raasta, Momina took the stage with a total mellowed-down romantic love ballad this time around.
The lyrics even made her shy away from the camera a little bit.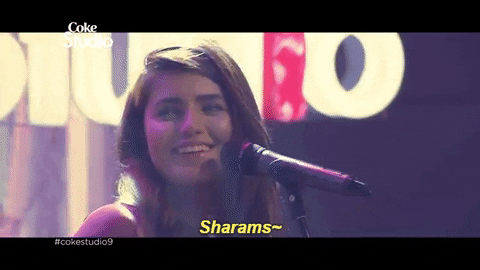 The song had beautiful sitar and piano work along with violins that instantly transported you to a small little cafe in Italy sipping on some warm coffee while the evening passes you by. However, the composition was a little off despite being composed and directed by Shuja Haider himself.
But one can't help feeling a little smitten when she's literally just looking like a
G O D D A M N PRINCESS. 
Discussing this particular song that was the first one she recorded with Coke Studio, Momina writes:
"It was very challenging, but I'm satisfied by what I have delivered. For me, this is my personal best. I absolutely love this song and thoroughly enjoyed pushing myself and performing it."
Some fans got so excited as soon as the song went live that this one dude had to remind them of their Maker.
"Matlub ke koi deen imaan hai hi nahi???"
This one dude made a collage purely of her face (not sure he even heard the song)
Momina this time you nailed it..♥
Suni nahi duniya ne teri meri kahani..♥
Nawazishein..♥@MominaMustehsan pic.twitter.com/0TjqC22dua

— Yousuf Khalid (@yousuf_khalid12) September 16, 2016
Many had all praises for her musical alliance with Asim Azhar
While others compared her singing, now to older ventures like Awaari
momina msutehsan lol what happened to her voice

— alee nawaX (@alee92nawaz) September 16, 2016
Comparisons were made to other big names in the music industry that rose to fame after being featured in Coke Studio
Momina's rise to fame due to coke studio isn't unparalleled, QB got similar reception just with a line in Jal's Panchi Hoon.

— a (@AngoorKhatteHai) September 16, 2016
There was one very expressive YouTube commenter
Wipes Aansoo~
The song made people "feel things"
#terawohpyaar #cokestudio this song simply melts through the ears nd reaches your heart… Beautiful song @MominaMustehsan

— Aniket Vipat (@ani27coolbuzz) September 16, 2016
Multiple stamps of approval were sent Momina's way
I liked my smile the most until I saw mominas.
SLAYSS WITH HER VOICE AND HER SMILEE
ATTA GURLL@MominaMustehsan

— Hafsa (@HafsaaHayee) September 16, 2016
This accessory would probably be dubbed as the new must-have.
We need to talk about those lovely violins.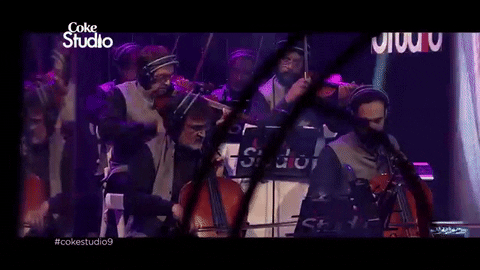 Damn those ninjas.
Here's the full song for your final verdict: