Episode two of Coke Studio 9 aired with a star-studded cast. A debutante named Momina Mustehsan also took the center-stage.
The episode included a rendition of Nusrat Fateh Ali Khan's phenomenal ghazal "Afreen Afreen"
Nephew of the legendary singer, Rahat Fateh Ali Khan and Momina Mustehsan collaborated for this track, working their magic on stage.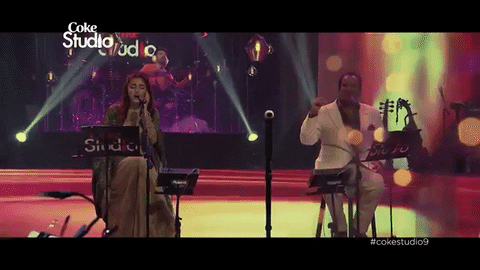 We were absolutely mesmerized by her voice.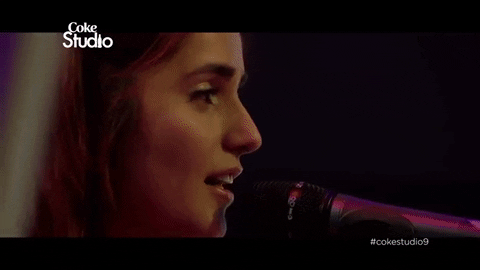 And maaaaaaaaaaaaybe that smile, too.
Damn, gurrrl.
Even Momina couldn't deal with the overwhelming response.
& its here!Cant believe its already trending at the top on Twitter in Pakistan @RFAKWorld #CokeStudio9 #AfreenAfreen https://t.co/CkIQ05xwK4

— Momina Mustehsan (@MominaMustehsan) August 19, 2016
Of course, we weren't the only ones.
Many secret admirers professed their love and admiration for the singer, who has been in the public eye for quite a while
(judging from the 99.3k followers on instagram)
This one lady called it like it is.
Last year Gul Panra was everyones temporary crush, this year its Momina Mustehsan

— بختاور (@BeingAfridian) August 19, 2016
And this fine gentleman used RFAK as a prop.
Rahat is basically singing Afreen Afreen and describing Momina in his song ???

— Emad Zafar (@EmadZafar) August 19, 2016
Basically.
Momina Mustehsan is so beautiful OH MY GOD. pic.twitter.com/d7amxCcJAf

— R. (@Rashnaa_) August 19, 2016
This one's feeling a little too whimsical.
Momina Mustehsan kitni pyaari hai.
Husn-e-jaana ki taareef mumkin nahi

— Sarkhail (@Sarkhail7Khan) August 19, 2016
We're thinking she's on to something. 
how can you sing so good and look so pretty at the same time? @MominaMustehsan

— – (@Marium_khaan) August 19, 2016
And this one's feeling closer to God, all thanks to Coke Studio 9.
Momina Mustehsan's voice reaffirms my faith in God.

— Nauman (@iNaumanDogar) August 19, 2016
This one is a quick-witted engineer.
Engineering university summed up pic.twitter.com/tQiJToRXCm

— Ibrar (@IbrarIbrahim) August 20, 2016
This one wants to wing it the halal way.
Momina mustehsan is the type of female you'll die to marry

— Jamza Fehed (@Kariusmatic) August 19, 2016
Or die trying…
After yesterday's Afreen song , Momina Mustehsan has become "Oye Bhabhi ha teri" of half of the population

— Mark ZingerBurger® (@FBkaBaap) August 20, 2016
This one's more than just another fangirl.
HOW IS MOMINA MUSTEHSAN SO PRETTTYYYYYY

— m (@naheinyaar) August 19, 2016
And of course, there are always those class A frandshippers.
This one thinks Coke Studio might not have been worth it.
Sure, it's 'only' Coke Studio. Like, it's no big deal. *rolls eyes*
Are you even for real, bro?
This one wants some lovin'
Relationship goals: I want someone to look at me the way Momina is looking Rahat #cokestudioseason9 #MominaMustehsan pic.twitter.com/QhLPCfNu4U

— mujeeb. (@footballizBae) August 19, 2016
This one wants some pillow talk.
I want sleep to look at me like Momina is looking at Rahat in Afreen Afreen.

— Emad Zafar (@EmadZafar) August 19, 2016
There was also fan art from this foreign dude.
Making of @MominaMustehsan pic.twitter.com/rFY3DgY7Z6

— Muied The Artisto (@MuiedK) August 1, 2016
So yes it's safe to say everybody wants a piece of Momina Mustehsan.
Momina Musthavesome.

😉

— Mango (@ManhattanMango) August 19, 2016
And can you blame them?