Okay, so we all know who Maryam Nawaz is, right?
And we all also know that the PMLN is used to doing grand things and living life large.
But a recent rally at Sheikhupura has changed things, especially for Maryam Nawaz 
The local traders' body presented a crown to Maryam Nawaz, and like, it was way over the top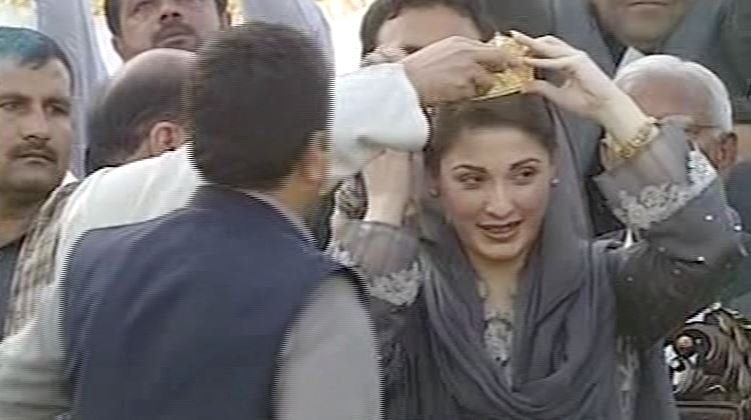 There's even video of Maryam trying the crown on infront of the crowd at the rally
Footage from the #PMLN #Sheikhupura rally today shows #MaryamNawaz trying on a diamond-studded gold #crown a supporter made in her honour. She thanks him and then exits the stage.

Get the details here: https://t.co/mn5UYyDYU5 pic.twitter.com/XimhV8jevS

— Dawn.com (@dawn_com) February 18, 2018
According to the people who made it, the crown is made up of 8 tola gold, diamonds placed around it and a massive ruby in the middle. 
It has been estimated to be worth 1.3 Million PKR…….
People on twitter didn't really know how to react 
Who presented a gold crown to Maryam nawaz?! Cant imagine the insanity

— Maha Siddiqui (@Optimist_sidiqi) February 18, 2018
This man gave her a rather funny title instead
Drama Queen

— Shahid Mursaleen (@ShahidMursaleen) February 18, 2018
There is clearly a pattern to this madness
Sharjeel Memon or Maryam Nawaz… doesn't matter.. The corrupt gets the crown here.

— Muجeeb (@Mujeeb_Abbassi) February 18, 2018
Forget the crown, this severe burn is worth a read
Maryam nawaz ko 12 lack ka crown kis khushi mai phyna rahy? Twitter mai tweet dalny ki waja sy?

— Syed Jazil Hassan (@hassan_jazil) February 18, 2018
But Maryam's new title was still being contested
"Occupation: Daddy's princess" pic.twitter.com/HgWBLf7CG2

— Shumail (@Shumyl) February 18, 2018
The jabs just would not stop 
Cant win elections so the queen is playing with the crown ?

— ikn (@Irbaz62) February 18, 2018
Generally, this entire fiasco just made some people gag
— Adeel Farhan (@AdeelFarhan2) February 18, 2018
Among all the jokes, this demand was made, and it's quite fair 
#PMLN supporters gifted a diamond studded gold crown to #MaryamNawaz
If she's a public representative she should ask them to rather distribute its equivalent amount to the needy in this constituency #SheikupuraRoarsWithNawaz

— Mona Alam (@MonaAlamm) February 18, 2018
What do you think about this whole shebang? Let us know in the comments below.