After what seemed like 1 million torturous episodes, Mann Mayal has FINALLY ended. Surprisingly (not), many people are glad that it has ended, even though millions tuned in every Monday night to watch the show and then trend it on Twitter. Every. Single. Monday. Like clockwork. You may have hated it, but still couldn't stop yourself from watching it till the end, hoping that maybe, MAYBE at the end all this wasted time will somehow get justified.
This is how Pakistanis are celebrating the end of one of the most polarizing TV shows Pakistan has ever seen:
Mann Mayal is(was?) like that catchy song you hate but can't stop singing it.
Congratulations team #mannmayal.. you tested our patience, we criticized you but still watched it & made it a trending topic, every week.

— a. (@izastweets10) September 5, 2016
The drama ended with *SPOILER ALERT* Salahuddin knocking at Mannu's door, crying to let her in, to forgive her. But Mannu takes her time because she remembers…she remembers the time when she was also knocking at Salahuddin's door and that door was never opened.
After some major emotional black-mailing by Salahuddin…
"Mein mar jayun ga, Mannu!!!!"
Mannu finally opens up the door and they look at each other and then a joke is cracked and among all these tears, they both smile and then they hug. THE END.
Yes, you went through all that for THIS.
Our kids will never know the torture we endured for this one scene. #MannMayal pic.twitter.com/vmk4PcVI4h

— Asma. (@roleoasmalia) September 5, 2016
Some people wanted the ending to at least have shown them both getting married.
Itna rona dhona dekhne k baad itna tu haq banta tha audience tha
Or kuch nahii kamazkam shadi dikhadete inkii ?? #cheap ending #MannMayal

— حفیظ الرحمن (@hr_hafeezu) September 5, 2016
What was that ending??? LMAO?????? Itni bhi buri nahi expect ki thi maine!! Chal jhoota, then bamm over?????????? #MannMayal

— AYESHA (@ayeshA_Nausheen) September 5, 2016
Some were not as impressed by the end of this painful journey:
#MannMayal finally ends ? pic.twitter.com/LE0MPnw6ZW

— Tab ♣ (@DearTabisshtaha) September 5, 2016
MANN MAYAL ENDED FINALLY DONE WITH THE TORTURE AND AGONY

— Professor Moriarty (@aneeqa_shaikh) September 5, 2016
I'd rather stare on wall for an hour instead of watching Mann Mayal. #MannMayal.

— نادیہ (@iNadiaKhurr) September 5, 2016
33 weeks of our lives could be saved if Salahuddin would've open up his door for Mannu earlier. #MannMayal

— Politico (@RHNotion) September 5, 2016
Some people think Mannu was mean and thankless
Okay but was she really in the place to play the victim role in the end when salahuddin took care of her and her kids for months?#MannMayal

— mishy (@zarryfthoe) September 5, 2016
And here's a thought on the show's script and direction
#MannMayal turned out to be the most poorly written and directed drama serial I have seen in a while. Lol.

— M. (@meethacravings) September 5, 2016
This one person created a very interesting poll:
Man Mayal khatam hone pe kitne nafil parhne chahye?

— Saniya (@Saniyazing) September 5, 2016
While this one made a very logical comparison
Please tell me this is the last time this cancer of a drama serial is on our televisions #MannMayal

— J. (@Jaweriyaa) September 5, 2016
And this one made us LOL
Buddy, ab toh khatam ho gaya.
Getting real tired of all the mann mayal jokes now.
Jeena haraam kar diya hai.

— Murtaza (@Gharlejaa) September 5, 2016
There are regrets
If you subtract all the hours from my life I wasted watching mann mayal I could nail anatomy. Fml.

— Bad Gluteus (@BadGluteus) August 29, 2016
Some shed light on love stories that are much better than Man Mayal
Still a better love story than Mann mayal. pic.twitter.com/PO5mP77m8m

— Bano (@KalashanKauf) September 3, 2016
13 #LoveStories That Are Better Than #MannMayal ???https://t.co/jhIczZtNBD pic.twitter.com/qT34Y1sGPq

— MangoBaaz (@mangobaaz) September 5, 2016
While some ashiq mizaaj people found even this abrupt ending cute:
That hug was so cute I'm so emo #MannMayal pic.twitter.com/RmA7bO3BhX

— mahnoor (@vogueszap) September 5, 2016
While some forever alones will never really know how cute hugs are
I'm jeena of my love story

— lost (@ajeeeb_tweets) September 5, 2016
Mann Mayal has ended, but don't worry about missing Mannu too much, as Maya Ali's starring next to Osman Khalid Butt in a new drama that's airing next week.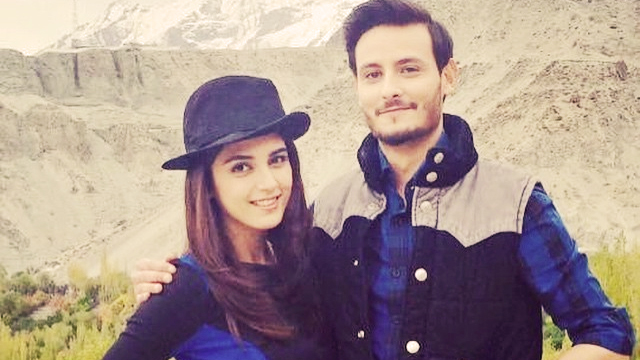 For those who'll miss Hamza Ali Abbasi, here's a picture
Hamza Ali Abbasi regretting doing Mann Mayal like #MannMayal pic.twitter.com/TXoQ1zENh1

— نادیہ (@iNadiaKhurr) September 5, 2016

Cover Image via: Maria B