Madhuri Dixit's is a face that we all know. Whether we grew up watching her on the screen, or we've become acquainted with her work, now, there's a part of us that will always love the superstar. Our parents loved her, we love. And dear uncle ji, I know you're reading, and I know you're still hopelessly in awe of the beauty that she is, but that's okay cuz so are we. Here are all the times humaara dil dhak dhak kerney luga because of Madhuri ji. 
1. First off, Madhuri Dixit is 50 years old and she still looks like this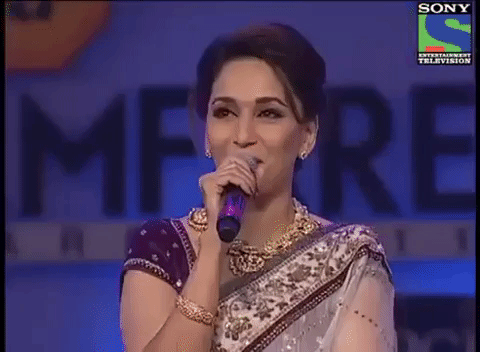 MashaAllah
2. Her adaayein can still make any man go weak in the knees Known to be one of the most beautiful women in the Bollywood industry, Madhuri Dixit Nene still has it to spellbind any and everyone.
3. From her debut till now, she's been winning hearts all over the world While the film didn't do so well at the Box Office, Madhuri's talent was recognized by critics and directors alike.
4. She dazzled people with her talent in Dil Working opposite Aamir Khan proved lucky for Madhuri as her performance in the hit film Dil earned her a Filmfare Award For Best Actress. She wowed everyone with her talent and bagged the award in just four films.
5. And then took it all to another level with this one Possibly the most sensual song in all of Madhuri's career, Dhak Dhak Kerne Laga, was a shining point in Madhuri's career. The song, till today, is on most desi playlists. It's in every ode to Madhuri. And it's a song that every bacha bacha knows.
6. Her portrayal of a courtesan in the solid hit Devdas left many hearts broken and many eyes weeping For a courtesan to fall in love; for a woman to know that the man she loves won't ever let her touch him, will never be hers. That he will always be in love with the one he left behind. She cared for Devdas and tended to him. She nursed him back to health, and then was willing to give him up when Paro came back.
7. Aaja Nachle was Madhuri's debut after almost a 5-year long hiatus from the Hindi film industry The film tanked at the box office, however, Madhuri's performance was appreciated greatly. Film critics the likes of Rajeev Masand said that it was next to impossible to take your eyes off of this ethereal beauty on screen. While the film didn't do so well, her acting did.
8. Playing a con woman in Dedh Ishqiya, she stole many hearts After another hiatus, Madhuri came back in Dedh Ishqiya opposite industry veteran Naseeruddin Shah along with Huma Qureshi and Arshad Warsi. The woman looked gorgeous in every frame and it was hard to not fall in love with her all over again.
9. Gulab Gang is an all-out a woman-centric film, is also the last film Madhuri has acted in The leader of a gang whose sole mission is to protect women from the vices of society, the film is about the trials and tribulations that she has to go through, in order to protect her gang and the woman of her area. Action, politics, struggle, and emotion. The film was a complete package and a showcase for Dixit's talent.
10. While we've had many films come out, we can't forget Maya in Dil Tu Pagal Hai The epitome of grace and beauty, and the realization of Rahul's dreams,  Maya was a character that everyone was in love with. Whether it was Madhuri's dancing skills, her chemistry with both Shahrukh Khan and Karisma Kapoor, it all presented us with one of the most heartwarming stories we've seen in recent times.
11۔ Or the absolutely adorable Nisha in Hum Aapke Hain Kaun The transition of the whacky, crazy Nisha from the first half of the film, to the serious, more mature, and responsible one from the second half, was reason enough for Madhuri to justify her position on top of the acting pyramid. However, there was so much more to the film. Character development, emotional fluctuations and working with such a huge cast.
12. While Radha from Hum Tumhaare Hain Sanam completely blew us away She was kind and compassionate but fiercely protective of her family. And even Shahrukh Khan's character starts doubting her, she tried her best to fix things.It was a simple script but Madhuri, Shahrukh, and Salman took it to another level with their acting prowess.
13. We were absolutely smitten by Mohini in Yeh Jawani Hai Deewani
The fact that Ranbir Kapoor has had the biggest crush on Madhuri has been no secret. And with a seven-minute appearance in Ranbir's Yeh Jawaani Hai Deewani, Madhuri proved why she is worth every bit of the adulation that she garners from people of all ages. Madhuri playing a dancer uses her razor-sharp dialogues to put our hero, Bunny, in his place. And then starts the dancing! Ghaghra became a rage, with everyone trying to copy those moves but there really is only one Queen, right?
14. It's her style and the grace that she exudes that makes her who she is From being an epitome of grace in desi lehengas and sarees to rocking gowns on the red carpet, Madhuri is equally at ease in everything that she wears – and that has mostly to do with her own innate sense of style. Oh and the perfect accessory that you will never see her without – her million dollar smile!
15. It's hard not to be in love with the woman Madhuri has been a part of our lives for so long that it is hard to imagine Bollywood without her. She has proven herself time and time again – through her dancing, her acting finesse, and her charm. How can anyone not love her?
There hasn't yet come a woman in the Hindi film industry that can shake Madhuri off of her throne as the Queen of Bollywood. What's your favourite role of hers?