Okay so, if you've been on social media lately (lolsy, of course you have) you might have noticed something different. Several of our very own celebrities have been pretty bored lately and how do we know this?
Zara dekhain aap:
NO idea what #KnorrBoriyatBusters are but boredom has never looked so goooood, yaaas Minal.
Looks like now that Chain Aye Na is done, Shahroz doesn't have much to do with his free time.
Which is fine because now we get to see this.
BORIYATTTTT….kya karun??? Waiting on set for my next shot.#KnorrNoodles #KnorrBoriyatBusters #ComingSoon pic.twitter.com/PSw45liMAp

— Syed ShahrozSabzwari (@ShahrozSabzwari) August 27, 2017
Honestly, Junaid has the right idea here. Boredom + traffic = bored selfies. Simple.
Karachi traffic at times. And BORIYAT at its peak….kya karun??? #KnorrNoodles #KnorrBoriyatBusters #ComingSoon #stuckInTraffic pic.twitter.com/oMxp3g4h0L

— Junaid khan (@CalljunaidKhan) August 26, 2017
It's one thing for us to take bored selfies, because like, lolsy humain kon dekh raha hai. But celebrities?
There has to be some kind of catch here.
Also, can we just say, every single one of these celebrities look absolutely perfect. Yeh kya hai yaaaaar. We take hours to dress up or hours to perfect our messy buns and gelled hair and we don't look HALF as good as these people.
Like, YES Hina. WORK that boredom.
You know you're actually bored when a laptop is in front of you and you STILL can't find something to do.
Though our love Asim is bored, lighting tou achii hai.
WELL FRIENDS, we've got the scoop.
It turns out the tag, '#KnorrBoriyatBusters' is part of a new upcoming game show by Knorr called "Knorr Noodles Boriyat Busters"
YUP, YOU HEARD THAT RIGHT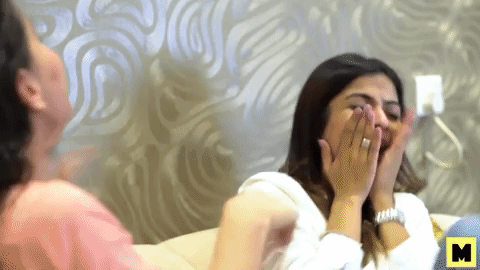 Knorr Noodles Boriyat Busters is basically every game show we've grown up wanting to participate in but never getting the chance to. It looks like our childhood dreams are finally coming true and
WE CANNOT HANDLE IT.
I mean a game show? Exclusively for kids? Like the 90s game shows we used to watch? What have we done to deserve such a thing??! *Hyperventilating*
The show is hosted by Ahsan Khan and features a star-studded guest list with everyone from Shoaib Malik and Humayun Saeed to Zaid Ali and Mawra, just to name a few.
Knorr Noodles Boriyat Busters also has a number of activities, surprises and a TON of fun in store. See for yourself:
Knorr Noodles Boriyat Busters starts Friday, 8th September, at 6:30 pm on Geo Entertainment. Are you as excited for this show as we are? ARE YOU READY TO HAVE SOME FUN!? Let us know in the comments below!
---
This post has been sponsored by Knorr.