Remember all the times you had a fight with your parents and you slammed your room's door shut and turned up your music's volume to the max? So they could hear the words you were listening to and got the point that you don't want to have anything to do with them for the next few hours?
You are basically all of us. The children of the 90's, who grew up listening to and rebelling to Linkin Park songs. It was a measure of being cool, it was a standard of being accepted; you'd have to be able to belt out all of at least one Linkin Park song. And there, you'd automatically be cool. I remember I had this poster of Chester Bennington that I'd put up inside my cupboard, so no one could see, but I'd go stand in front of it for hours, on end, pretending I was performing on stage with him, and screaming till my lungs gave in.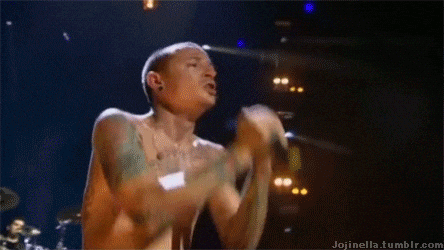 All the memories for 90's children and angst ridden music fans are tinged with sadness ad Chris Bennington's death became known
Earlier today, Chester hung himself. Why? Depression. We overlook a mental illness for so long, till it tears out of our souls and screams in our faces, and by then, it's too late.
Today was also Chester's best friend, Chris Cornell's birthday
Chris passed away 2 months ago, in May. Chester laid him to rest and sang Hallelujah on his birthday. They'd been known to be extremely close for a really long time and were always there for each other in times of need. Everyone around the world is heartbroken and…simply can't believe this loss
Shocked and heartbroken, but it's true. An official statement will come out as soon as we have one.

— Mike Shinoda (@mikeshinoda) July 20, 2017
Heartbroken

— Dave Phoenix Farrell (@phoenixlp) July 20, 2017
no words. so heartbroken. RIP Chester Bennington.

— Imagine Dragons (@Imaginedragons) July 20, 2017
The news about Chester Bennington is devastating. My thoughts and prayers are with his family, friends and @linkinpark. Such a tragic loss

— Ryan Seacrest (@RyanSeacrest) July 20, 2017
Chester was one of the kindest men I've had on my show. My heart breaks for his family and friends. He will be missed terribly.

— Jimmy Kimmel (@jimmykimmel) July 20, 2017
These Pakistani fans are heartbroken at the news of the death of one of their music icons
A huge part of my childhood just died today. RIP my rockstar Chester Bennington!

— Sameer Siddiqui (@SenatorSameer) July 20, 2017
It's almost as if a part of my teenage have died. Thank you for all the memories Chester Bennington, legend!

— Osama. (@ashaqeens) July 20, 2017
I'm still crying, RIP Chester Bennington. Linkin Park was and always will be so important to me, hope you're in a better place now :/

— Zoë (@Zestelle99) July 20, 2017
They remembered their childhood and the music they loved
Few days ago I re-downloaded this song coz I was missing it badly, childhood:'( #ChesterBennington Linkin Park pic.twitter.com/KdGGt83APm

— tallal (@officialtallal) July 21, 2017
I woke up this morning shocked at what I saw online"Lead singer from Linkin Park found dead at 41" I cried. ??
#RIPChesterBennigton pic.twitter.com/F8c26AbzLC

— Waqas Amjad (@Waqas_amjad) July 21, 2017
Linkin Park was an outlet for so many teenagers
You're basically lying if you say Linkin Park wasn't your fav rock band as a teen.. #RIPChesterBennigton

— Fatima Riaz (@fatimariaz72) July 21, 2017
Linkin park and Chester Bennington is what I was literally hooked onto since school days. I'm still shaking. #ripchesterbennington

— Ahmed Ali (@ahmedalitweets) July 20, 2017
Many fans are trying to find clues in his life to see if Chester was showing any signs of depression before his suicide
The final Linkin park Album was a call for help. Look at his track list.
??? #chesterbennington #LinkinPark pic.twitter.com/dNL0DhynQd

— USMAN Says (@usman9110) July 21, 2017
This really old tweet about his interest in playing in Pakistan also resurfaced
@Saad_Gooner I hope we can play Pakistan! That would be awesome.

— Chester Bennington (@ChesterBe) September 14, 2013
Rest in peace, Chester
Thank you Chester for sparkling magic in Linkin Park #Chesterforever

— Sara Khan (@sarzkh31) July 21, 2017
---
Cover image via: nrc.nl