Every friend group has specific types of characters. Everyone from the dramaybaaz to the rondu. Well, this is for all of you out there who have been given the exciting title of 'the one that likes to take too many pictures.'
Taking pictures isn't a choice, it's a lifestyle and for those of you who are the ones in your friend group that love taking pictures – you'll know having the ultimate camera phone is the only thing you'll need.
1. Everyone hates you
"Is ka sirf yeh kaam hai, pictures lena." PROUD OF IT HONEY.
2. In your friend's group and outside of it, you are explicitly known for being the one to take too many pictures
Whether it's your best friend, your mom or your neighbor's friend's khala's niece, everyone knows you are addicted to taking pictures.
3. You have to sneak in a snap every now and then to keep up your snap score
Let's be real, it's the 21st century. If you aren't snapping your life away, are you really living at all?
4. You have extreme fomo when someone takes a picture without you
If you see someone taking a group picture across the room, you'll sprint over to be in it. No exceptions, no picture? – not okay.
5. Outfit photos are a must
Outfit of the day, all day every day. How else is anyone supposed to know how good you look? *Snap snap*
6. Taking a picture with someone else's phone? Sorry not gonna happen
When it comes to taking group pictures, you better believe that the camera that is going to be used is yours. First of all, your Q Mobile has a ton of memory and hello- no one knows how to use a filter better than you.
7. Wedding season? You mean Insta season
Wedding season is the ultimate time for candid photo shoots for everyone who is dressed to the nines, wedding season is basically your Olympics (see what I did there.) Not to mention all the hashtags you get to write in. #Weddingszn #AddictedToTakingPics #WeLoveMangoBaaz
8. You take dhamaakedaar pictures of everyone but no one takes any good ones of you
Biggest. Tragedy. Of. Life.
9. Selfie sticks were the best thing to ever happen. Ever
Anyone who says these sticks are pointless have clearly never tried to take a boomerang at a shaadi with 17 people.
10. You always struggle between whether to post on Facebook or Instagram first Taking pictures all the time means having to keep up your social media game at the same time. Well don't worry, with your new Q Mobile phone, you'll be able to switch between apps with it's smart flip feature. Never a dull moment for a picture taker!
11. Pics or it didn't happen is basically a law for you
3,232 pics, or it didn't happen – to be precise.
12. See a snap that you look good in? Screenshot shameless
There is no shame in the too many pictures game and by sliding three fingers across your Q Mobile phone, you can immediately screenshot any picture you want, regardless of who may be notified.
13. Everyone loves to hate you but in the end, you're the one they message for their pictures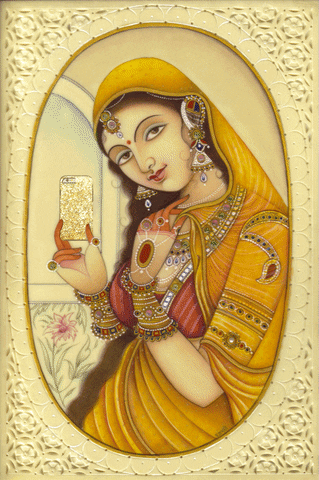 Even though everyone might joke around and say you take too many pictures, you're the one they always text later on, "pictures tho bhejooooo!" Ohhh how the tables turn.
Are you the picture taker in your friend group? Do you have any shame? No? Good. Let us know what else you can relate to in the comments section below! Love you, snap away.
---
This post was sponsored by Q Mobile.
For all of you out there who are the proud picture takers of your group, we've got the ultimate camera phone for you. The new Q Mobile CS1 is now available on Daraz is the perfect phone for all your obsessive picture taking needs.