Everyone knows that the Kim Kardashian and her family take up 75% of our guilty pleasure viewing, leading to insecurities in us like,"are my lips bloated enough to stuff many gol gappay in my mouth?", "Is my butt huge enough to  conquer the entirety of Pakistan?" and "Will I ever get a nice, famous rishta unless I eat vegan and pose for Vogue naked?"
Even though they're half Amreeki and half Armenian (Hain? Ye kya Armani ki koi nayee line hai?), the Kardashians manage to infiltrate our desi lives in the most wonderful of ways. So the next logical question to ask is obviously this: What if Kim, Kourtney, Khloe and the gang were desi just like us?
First of, they would definitely be the Khans: Kalsoom Khan, Kausar Khan, and Kiran Khan, with their half sisters Khadija and Kainat Jawaid.
mA what a nice heppy femli. V nice sughar girls.
Their amma jaan would be as boss-ass as Kris Jenner herself, however, instead of booking them modelling contracts and red carpet events, she'd be teaching them how to make the perfect roti and covering up their cleavage with dupattas.
 Kalsoom beta, sharif larkiyaan aisay kaam nahi karti. 
They would never marry a kaala, because in a world where we have the 'blessingz' of Fair and Lovely and Blesso Whitening Soap, who would ever want to 'contaminate' their gene pool?!
Baishak let my skin peel off with the use of whitening products, but kaaloun say kon shaadi karta hai?! Chahay woh Nigeria ka musalmaan hi kyoun na ho!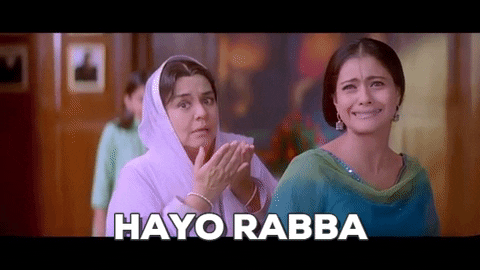 Instead of stuffing their faces with salad from fancy Amreeki places called the Health Nut and drinking Diet Snapple (???), they'd be eating hearty meals of mooli kay parathay and mitthi lassi like real Punjab di kurris.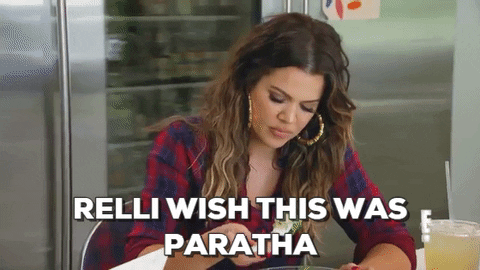 Ever even heard of biryani, you heathens?!
In the place of their famous clothing chain DASH or Kardashian Kollection, there are no doubts that they would be the designers of a famous lawn brand: think Kardashian Linen, Sana Kardashianz, or Khloe Ahmed…
Next in the news: "Aunties physically assault each other to get their hands on the exclusive lawn bridal couture by Khaardashi."
And finally, if they were desi, instead of crying over lost diamond earrings, they would…oh wait lol they would still cry over lost diamond earrings.  
Jeety rahain aur khaatay peetay rahain, 'cause h8rs gonna hamesha h8.