Yesterday, FM 91 announced Khalid Malik's glorious comeback and we had way too many thoughts.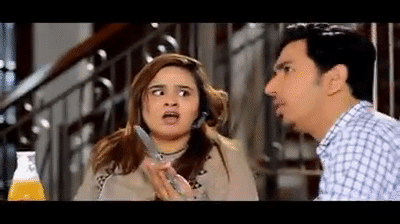 After his big, teary, emotional speech saying farewell to the Breakfast Show, people were heart-broken, to say the least. From housewives, to working women, dads dropping kids off to school to the kids themselves who learned the birthday song in ten different languages.
But hey, that was a short-lived adieu now that Khalid is back with his whole new show on FM 91. 
Premiering on May 1st, Khalid's Morning Jam will be twice as energetic, twice as fun and it's going to be a whole lot of signature Khalid.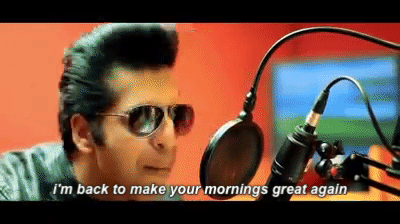 And people over the internet kinda, sorta got super overwhelmed:
Favorite guy, Khalid Malik is coming back to #MakeMorningsGreatAgain! <3

Time to change the twitter handle? 😉 Good luck for Morning Jam! ? pic.twitter.com/sRBSD5MEiX

— Sadiya Azhar (@SadiyaAzhar) April 24, 2017
When you find out #KhalidMalik is coming back to radio on @FM91_official to #MakeMorningsGreatAgain pic.twitter.com/Bvdh8TvSv9

— Mohi Abro (@azadmohi) April 24, 2017
Listen up guys,
Hold your "kaam"

7 to 11 weekly
Morning Jam!

*Lol tried to rap but failed* ?

With Khalid Malik#MakeMorningsGreatAgain

— Amber Zulfiqar (@Cheese_Pakora) April 24, 2017
So Khalid Malik is back?! The world makes sense again! #KhalidMalik #MakeMorningsGreatAgain

— Zobia Hakim (@zobiahkim) April 24, 2017
#fm91 is the new radio to listen to! looking forward to the morning jam with Khalid Malik! @KM_MorningJam

— Elena Fulgoi (@fulgoi) April 24, 2017
There were also some football and media references just for *kicks*:
Khalid Malik joining FM 91 is equivalent to a football player joining a rival club or am I just exaggerating (?)

— Faraz Tauqeer (@Spitbacca) April 24, 2017
Meanwhile in other news,
Khalid Malik [Official] has pulled off a Robin Van Persie and joined FM91.#Treason #89Always

— Uzair Khan (@uzairkhan_the) April 24, 2017
waisey this khalid malik thing was an even better pr stunt than tom and katie

— Atiya Abbas (@AtiyaAbbas) April 24, 2017
Khalid Malik moving to FM91 from FM89 is just like Suheil Warraich moved to Dunya from Geo -_-

— Amna Kausar (@AKMpildat) April 25, 2017
But, it's safe to assume everybody's taking this with a dash of excitement. There's also something super big coming our way, courtesy FM 91.
KHALID MALIK ANNOUNCED TICKETS TO A JUSTIN BIEBER CONCERT. AND WE'RE BASICALLY SHOOK.
So far, all we know is that we've gotta download the FM 91 app and tune in to his show on May 1st. But it's going to be totally worth it because the Purpose tour is going to be PHENOMENAL.
Now, that raises the stakes to a whole new level. 
Beliebers, are you ready for this?
---
This post has been made in partnership with FM 91.