If you've been out of the drama game, 'Khaani' is pretty much a tightly wound story centered around an abusive alcoholic who murders his love interest's brother. The drama has reached a disturbing peak as it is attempting to romanticise a villain, essentially molding a ruthless antagonist into the drama's brooding protagonist. The drama really is thrilling in that sense – it's so far from reality, there's a sense of oddness that has you drawn in as you watch in absolute shock and horror thinking – is this really the story?
*warning spoilers*
Last night's episode of 'Khaani' proved that it's only scratching the surface of full-out bonkers
Mir Hadi (Feroze Khan) has become utterly obessesed with Khaani. His lack of humanness is troubling. His boiling power and vincibility drip off him day by day as his quest to claim Khaani stoops to incredible lows; there's nothing he won't attempt to get her.
This isn't love – rather it's a very startling form of infatuation with no horizon
While Mir Hadi drowns in his fixation, Khaani is falling in love with the anonymous writer 'K' who is penning her letters. She's worried and concerned with what's happening, what with the death of her brother still looming overhead and submerging her into sadness.
Khaani is being stalked incessantly by Mir Hadi, to the point where he's now outside her workplace
He manhandles her (it's become a frightening norm in the drama), and tries to talk to her before she abuses him and runs off.
Now for the most godawful WTF moment of the drama that has you going WHAT IN GOOD GOD IS WRONG WITH THIS DRAMA…
Mir Hadi offially loses the plot as his brain succumbs to scrambles when he hits himself with two glass bottles. His friend immediately rushes him to the hospital where Khaani works to save his life.
BRB I've lost the will to live…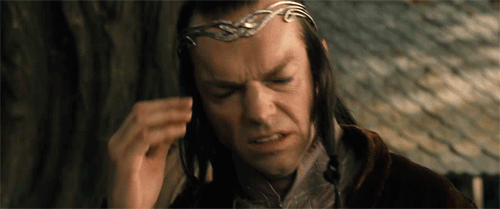 Cut to a bleeding (and dying) Mir Hadi who's now in hospital
His 'K' tattoo is visible and as an unconscious Mir Hadi lies on the hospital bed, Khaani catches sight of the engraved letter.
… Oh no, now what will happen we wonder
Pakistanis really are as lost as we are
Yeh admi pagal hai Bhai #MirHadi #Khaani

— Izma? (@its_me_izma) January 8, 2018
With many feeling guiltily sorry pity for Mir Hadi
Ek taraf Mir Hadi py Taras ata hai aur dosri tarf Dill Say Badua niklti hai ?#Khaani

— Tooba ✨ (@heyitsTooba) January 8, 2018
And others just dumbfounded over Khaani's character
I hate when pakistani dramas show such dumb girls like khaani. Kuch ziada he aqal ki kami hai issme.

— Anamta jawaid (@anamtajawaid) January 8, 2018
The drama has slowed down tremendously, and is going in loops according to some
Why they're dragging it so much. Huh #Khaani

— Rimsha (@abidrimsha64) January 8, 2018
You don't say @abidrimsha64, you don't say
Hadi is getting out of control.??‍♀️#Khaani

— Rimsha (@abidrimsha64) January 8, 2018
The drama really has lost all sense of ground
Ye kya jahalat dikha rhy hain khaani me??

— kashaf (@PptcloneXae) January 8, 2018
A few were rather upbeat at Mir Hadi's 'accident'
#khaani Day.
Mir haadi ka accident yayayay! ❤?

— B. ? (@Beenishtaufiq) January 8, 2018
Others gave themselves an ultimatum (we're with you buddy)
With many declaring it incredibly far off from reality
And others hilariously sarcastic at the silliness of the entire drama
A few were just drawn to just how ridiculous it had become
What are your thoughts on how the drama is unfolding?