You're all aware of comedian Junaid Akram, right?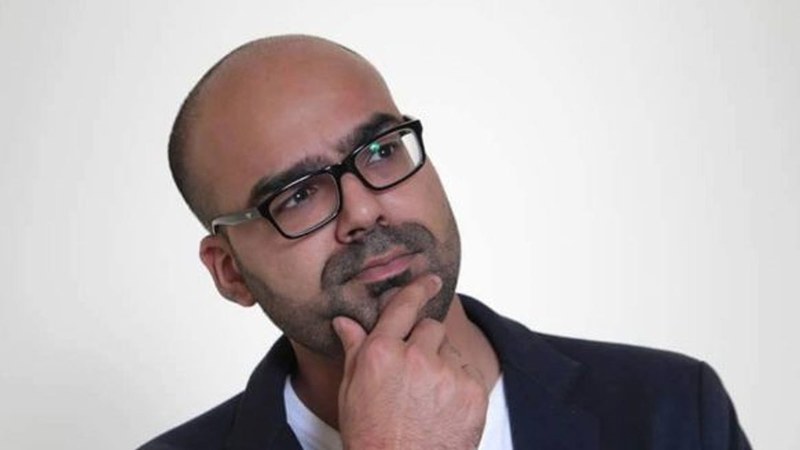 Well, Junaid Akram and Bekaar Films' Mubeen ul Haq recently adopted a government school in Chakra Goth, Korangi.
(Yes, you can legally adopt government schools in Pakistan.)
Junaid even tweeted about the progress they've made with the school. 
Before vs After. The back alley of the government school that was once a trash disposal and drug addict's den has now been secured and cleaned.

Govt. Boys and Girls Primary School Chakra Goth, Korangi 1 pic.twitter.com/P36NGFBeZL

— Puffin Man (@junaidakram83) February 16, 2018
The process started back in November. The school was in complete disarray, but under the watchful eyes of both these gentlemen, the school is on its way up. Junaid listed all the problems the school currently faces which include:
Piles of rubbish inside and right outside school premises… …broken toilets… …and security issues.
Other problems include under-qualified staff, malnourished students and a lack of electricity. The duo set out to tackle these issues head-on.
They set up meetings with the elected leadership of the area got to work. They successfully cleaned up the school premises. Moreover, they made the school more secure by increasing the length of the boundary wall. They also fixed the toilets and made other improvements as well. People are highly appreciating the initiative.
It's time for us to become the Government. Criticism helps us make what? 0 progress. @junaidakram83 took the initiative, we shall follow his footsteps and actually expect a change. #becomethegovernment https://t.co/C9A6C9qOrC

— Muhammad Arsalan Khalid (@arsalankhalid26) February 16, 2018
This is so great! I have been following your stories about this school. More power to you!

— Anum B Jaffry (@AnumJaffry) February 16, 2018
They're also congratulating the two for their amazing work.
Thank you. Just made my day. Whosoever did this, thumbs up for you, thank you, congratulations, great work.

— Diwan (@diwanrayan1) February 16, 2018
Some people are also pointing out how this needs to be a sustained effort.
great, fixit & you ppl(individual citizens) are doing great job.
But prob. abhi bhi waheen hai, gali se to kachra to saaf ho gaya but its still in city.
& that gali vl fill again cuz garbage is constantly generating
Ap sab apne forum k through safai se ziada recycling pe zor den.

— Ashhar Hasan (@Ashhar_Hasan) February 16, 2018
Therefore, the duo is looking for people to volunteer and help out with further improvements.
Companies can sponsor different projects for improvement within the school. People with contacts in relevant government departments can help make the process smoother. Even Art students who can draw murals on the walls are welcome to go help out. You can make a contribution in whatever way you think will help the school become a better place. Junaid and Mubeen are doing this for one reason only; the betterment of the community – and, in the long run, the country.
We can truly learn from their example and do our part for Pakistan. The lesson they hope you take away from their project is that you too, can make a difference at a grassroots level. No effort is too small; do whatever you can in your capacity.
---