My idea of who my husband was had completely shattered after finding out who his first love is.
The day started out like any other. Wake up. Feed the baby. Make breakfast for my husband. Send him off to work. Then tune into my favorite morning show. For some, such a set routine can seem boring but it's anything but boring for me.
With a childhood that was filled with uncertainty as my mother dragged me back and forth from my nani and nana's house as she and my father fought or resolved their issues, all I had ever wanted from life was stability. And now, I had it.
I hit the jackpot in the husband department. While I didn't know him too well before the wedding since our engagement period was a mere six months, most of which was spent frantically organizing the wedding I knew enough to know I liked him. He's honest, caring, responsible and best of all, he loves me with all his heart. I never had a relationship before I got married and neither had he. But he once confessed about a short-lived flirtation with a class fellow back in his teen years but that's about it.
You see, I did luck out! Who gets a husband who has no past whatsoever? I had the husband I had always wanted.
Or so I thought…
One night as the baby woke us up for her nightly feeding, and we lay in bed after almost half asleep talking nonsense, he laughed and softly mentioned a name I had never heard him say, 'Sara'.
He was retelling a funny incident which had happened at a beach party during his teen years. As soon as he said the name 'Sara', I just became very alert and waited for him to mention her again. But he didn't. And I didn't press it.
But the entire night and the next day, I couldn't get the conversation out of mind. Just the way he had said 'Sara', told me there was more to the story. Or maybe I was reading into it too much.
But I had to know. And without even realizing what I was doing, I was already on my husband's Facebook profile, looking for a 'Sara' in his friend's list. And I found her. From the same alma mater as my husband. She was working at a PR firm and seemingly traveled the world. Her last check-in was in Paris. Her pictures looked like they belonged in magazines. Who was she?
I looked at every post to see if my husband had liked anything or commented anywhere.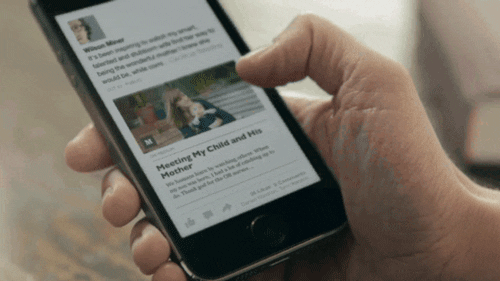 But it wasn't until I got to posts which were over 8 years old that I saw any sign of my husband ever having interacted with this woman. An errant like on a status update here, and a comment under a picture there.
But as I got deeper into her profile, I saw pictures of all of my husband's friends group and she was in them too. Right next to my husband, with his hand draped around her shoulders. I felt sick. I read the comments, they were filled with their friends teasing the two of them. And it was obvious everyone was in on the joke. But at the moment I felt like I was the butt of it.
I went deeper and deeper into her life and saw that at one point my husband was a very important part of it.
From what I could tell, it was a full-blown relationship throughout the two years of their A' Levels. I was numb. Why would my husband lie to me?
And I was asking myself the same question for the hundredth time in my head when my husband came home and walked into the room. He greeted me. I just looked up and asked, 'Who's Sara?' His smile faltered for a minute and he got busy in taking off his tie and replied as nonchalantly as he could with 'just a friend from A' Levels'. But I knew he was lying. He wouldn't meet my eyes.
'She wasn't just a friend, was she?', I asked trying to hold back tears. 'Just be honest', my voice cracked at the last word.
'Hey, hey, don't cry please', he begged as he rushed to my side. 'Okay, we did have a relationship but we were kids… it was nothing', he said.
'Tell me everything. And don't lie this time', I said in between tears. And he did. They were together for two years and then broke up a few months after A' Levels had ended since the two ended up in universities in different cities and realized that they couldn't make it work long distance.
'Why did you lie to me?' I asked him.
'I don't know,' he said. 'You caught me off guard with your question and then later it got harder and harder to correct you as more and more time passed. I never meant to lie…'
'All your friends seem to still be good friends with her…' I finally said what had been bothering me. The thought killed me; they probably compared me to Sara. Thinking how their poor friend let go of such an amazing woman who was now traveling the world and looked like a model and instead married…me. I couldn't help but wonder if they made fun of me behind my back or compared me to her constantly. I couldn't stop thinking about all that was amazing about her and lackluster in me.
But most of all, the thought that my husband might think the same thing killed me. Did he ever go to her profile and see what she was up to? See her amazing pictures in exotic locations and resent me and our baby? I was too embarrassed to ask him that. To ask him anything.
So, I never brought it up again.
---
Cover Image Via: pinterest.com/Pakistani Weddings