Women at the gym in Pakistan can be a handful
Going to the gym has become a huge part of our society now. Whether you're a student in college, a hard working mom with a million things to do or just someone who wants to take care of themselves. Everyone knows the importance of working out or staying active in any way that you can.
However, there is no shortage of characters in Pakistan and of course, they somehow find their way into the gym no matter where you go.
So here a few women you'd run into at any gym in Pakistan:
1. The Judgmental Auntie
Isn't the whole point of the ladies gym that you don't have feel uncomfortable and JUDGED? Jee aunty, I have leggings on, ab aap please apnay treadmill peh dehaan de, you staring at me won't burn your calories any faster.
2. The Lazy One
Can't say I don't relate to this on a personal level, this is the person who walks on the treadmill for 75 minutes and then decides to leave. Chill log waisay, probably rolled out of bed and are going to roll back into it right after, I'm into it.
3. The Super Fit One
This is the person we all strive to be, our very own girl crush. Running form? Amazing, Stamina? Wow, Endurance? Cha gayii. This is also the person I stay the farthest away from when I'm working out. I am already insecure please don't give me more of a complex thank you.
Via Giphy
4. The 'Over' One
This is the bandii that can't help herself. If she's not all over the guys at the gym she's openly flirting with the trainers making everyone super uncomfortable. Not the place honey, not the place.
Source: M.G. Films / Broadway Video
5. The One That Doesn't Know What They're Doing
Trying to figure out all the machines at the gym can be a bit difficult so I don't blame these ladies. Maybe just ask someone who works there? Or just google it! This is exactly what it's here for.
Source: Giphy
6. The One That Is Super Into Fitness
This is the person who can't stop talking about how much muscle powder they put into their protein shakes, how much fiber they had in their breakfast and what their exact body fat is. Acha bhai, mai bhee quinoa kha sakti houn. Chill karein.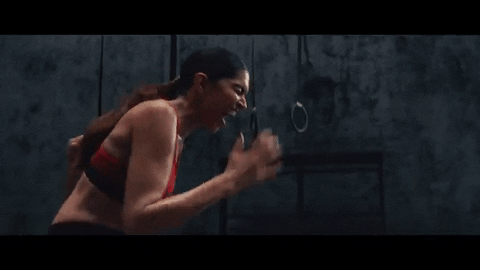 7. The Spoiled One
You don't need to bring your designer bag, diamond earrings and freshly done blow dry to the gym, theek hai? You're going to sweat, lose your jewelry and regret getting up at 6 am to get all dolled up for a bunch of people who do not care. Please do less.
Via Giphy
8. The Rude One
Personal vendetta against these women – Aap kay baap ka gym nai hai, there is absolutely no need to boss around the trainers and shout at the staff. You are the worst.
Via Giphy
9. The Loud One
I don't understand why you are shouting, this gym is not that big, the woman next to you can hear you, I am on the other side of the gym and I can hear you and every other person in this building can probably hear you and let me tell you, no one needs a chicken tikka masala recipe THAT bad, okay?
Source: Giphy
10. The SUPER social one
You know those signs that say 'please keep conversation to a minimum?' Jee. Yeh aap keh liye. Unless you are going to include me in your gossip session about Sheila Aunty's daughters' new fiancé, please – keep conversation to a minimum.
11. The Complainer
Not saying I am not guilty of this, but I know my limit. If you are going to complain about the workout, the garmi, the music, the temperature of the water and even the color of the ceiling, please, aap ghar peh gym bana le.
12. The Fashionista
I do not understand these women. Aap workout karnay ayeen hein? Yah fashion show mai modeling karne? You are at the gym, please stop taking selfies, other people have to use the bike.
Via Giphy
13. The Bride
This is the poor soul who made sure to get her mehndi ka jora made two sizes small because she refuses to gain any weight before the big day. This is understandable waisay, keep at it you've got this you will be flawless. Love you.
14. The Extreme Dieter
A teaspoon of ispaghol in the morning, a leaf for lunch and a bite of tikka for dinner. Aap dieting kar ree hain yah potion bana rahi hain?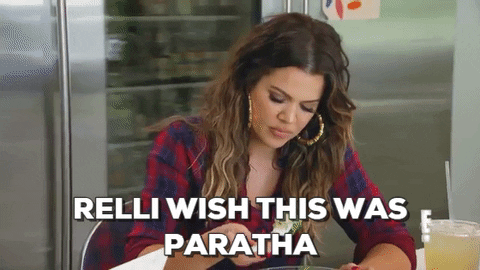 15. The Rishta Aunties
BUS.BHEE.KARLEIN. They're swift, they take pictures and they are everywhere. Watch out for the rishta aunty.
Source: Giphy
16. The Yoga Lady
This woman is just too zen to care about anything. She can hold a plank for 8 minutes; runs way longer than you can and does fifty push-ups without breaking a sweat. She is also 65 years old so shame on you, shame on me and just shame.
Via: Giphy
17. You
Just someone trying to work out and lose some weight so you stop looking like a blob in all of your Instagram pictures, but let's be real, you're probably going to grab a burger after this anyway.
What kind of gym goer are you? Have you met any of these women at your gym in Pakistan? Sound off in the comments below.
---
Cover image via: socialmedia.pk