So, we're all anxiously waiting for the final season of the hit show, 'Game of Thrones'.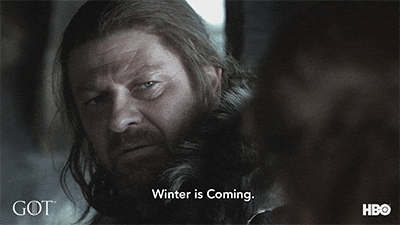 The wait for this season has been excruciatingly long, especially considering the cliffhanger the show left us on.
Well, the wait and the pain that goes with it is only about to get worse, as the 'kind' people at HBO just dropped a teaser for the show and UGHHH
The teaser features some VERY interesting hints as to what is going to happen this upcoming season.
Ice is seen to creeping around the North. First, it captures the Direwolf in its cold embrace and then goes on to freeze the Dragon. Meanwhile, a fire is spreading in the South, and this flame engulf the Lion. Both there forces keep spreading until they meet in the middle, where you hear a loud snap. thus indicating a fight of Fire and Ice.
If we recall the ending of Season 7…..
Considering what happened, the clash of Fire and Ice should be interesting to watch! Also, recently there was news that the battle of season 8 took a whopping 55 hours to shoot! Given the pretty dramatic teaser and this news, fans worldwide can look forward to quite an intense fight scene. For comparison, the season 7 fight scene took about 25 hours, SO OH MY GOD THIS IS GOING TO BE FUCKING AMAZING.
Season 8, however, promises to be FULL of twists and turns. 
Sophie Turner revealed in an interview to 'Harper's Bazaar' that Sansa Stark is about to find herself in a lot of trouble. The character has to, apparently, face new threats and challenges. In the same article, Harper's Bazaar revealed that the first episode of the season will feature the arrival of Daenerys Targaryen to Winterfell, which will be a callback to the arrival of King Robert in the first season.
Other than these few details, all we know is that there will be 6 episodes, each 80 minutes long.
So, how excited are you for the LAST season of Game of Thrones?
---
Cover Photo Courtesy: HBO Productions