Pepsi Battle of the Bands is synonymous with giving budding underground musicians a chance to sprout into mainstream music — especially after the success of eP and Aaroh in the past cycles and the very trippy Kashmir in the last season. Struggling musicians who were previously trying to play odd gigs or sharing their music on Soundcloud and such, finally made it to the centerstage and the music, oh my God, the music. After the top four were announced, the competition got more and more intense.
21 the band performed an old Mehdi Hasan classic "Kabhi Mein Sochta Houn" with a punk rock twist
Tamasha chose to go with "Tumhain Kese Bata Doon" by Ahmed Rushdi but with a 80s rework which didn't quite impress the judges.
To no surprise (because of the early fandom these guys garnered), Xarb came on with a groovy disco number "Jhanjhar Di Pawan Chankar" that was an instant hit.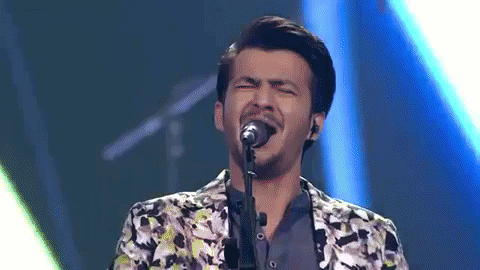 We're HERE FOR IT.

Shout-out to the lead singer Qamar's equally groovy jacket.
#fashionforward
On the other end, Bayaan's performance was equally stellar with Naheed Akhtar's well-known classic "Tha Yakeen"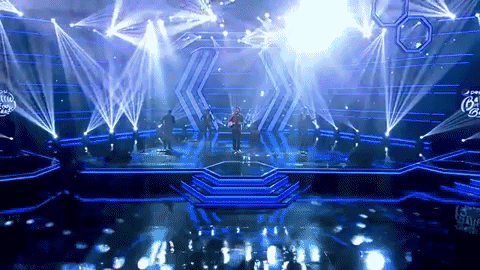 It was soulful, especially with the rubab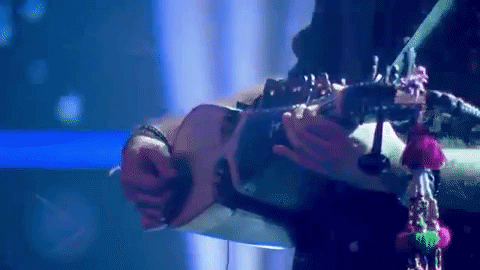 And it's always nice to see this yummy face ~
#sorrynotsorry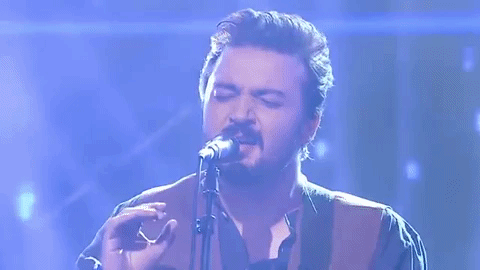 So, here we have our two finalists for the coveted competition: Xarb and Bayaan
Pepsi Battle of the Bands will now be renamed to Xarb vs Bayaan, at least until one becomes victorious. Pakistanis are equally divided about who to place their bets on.
Vocalist of Xarb is going places.

— Abdullah (@abdullahmajeed_) August 18, 2018
I love you, Xarb
Please please win

— ♚ (@iFirewhiskey) August 19, 2018
Team Xarb just can't wait…
I want Xarb to win so I can listen to them live everywhere. @Qamar_Parvi se dosti bhi karni he abhi pehle.

— ھمدانی (@Sayoneeee) August 18, 2018
Today, Xarb's performance is again lit and fantastic.
On repeat.
"Jhanjhar di pawan chankar"#PepsiBattleoftheBands

— Subhan (@callmemanoo) August 18, 2018
Team Bayaan also not coming in slow…
The Rubab in Bayaan's performance out-shone. Loved its incorporation into the song.

— – (@unlovablefuck) August 18, 2018
I can't be the only one who's got goosebumps while watching their performance. Amazing job, Bayaan! #PepsiBattleoftheBands pic.twitter.com/jEvNFr6c4a

— Fiza (@fizamari) August 12, 2018
Don't miss out Bayaan performing Tha Yakeen cause they really really are the in the limelight with the performance #PepsiBattleOfTheBands pic.twitter.com/lKfLXLRPdz

— Saniya (@Saniyazing) August 19, 2018
Legit crying happy tears
Bayaan and xarb in finalllll i am so happy!!!!!!!!!!!!

— Iraj (@jarideehaw) August 18, 2018
How will we ever pick between the two???
Xarb and Bayaan both my favourite bands are in finals.#PepsiBattleOfTheBands

— Saad Ullah (@saadullah121) August 18, 2018
SAME BRUH, SAME.
Ok Bayaan or Xarb?
Holy shit. THAT'S TOUGH

— Hammad Siddiqui (@Terapiyoo) August 18, 2018
Xarb has been consistently performing, pleasing the judges and earning a sweet spot in their fans hearts with their east meets west fusion. Bayaan, however, has shown promising growth throughout the season, incorporating feedback from the industry gurus, mixing things up and showing us how badly they want this. Who will you be voting for? Let us know in the comments section below.
---
This post has been sponsored by Pepsi Pakistan.