Fawad Khan recently got in touch with his rock star roots as part of the jury of the upcoming Pepsi Battle of the Bands.
Not many of you might be familiar with this but before Fawad Khan became the mainstay on the Pakistan drama circuit and made his mark in Bollywood, he was the lead singer of the hard rock band Entity Paradigm (EP). Not long ago, one of my colleagues actually did an ode to the long lost singer Fawad.
The rock star turned heartthrob was named one of the judges for the upcoming Battle of the Bands, alongside Meesha Shafi, Atif Aslam, Ex-Aaroh front man Farooq Ahmed and Shahi Hasan. Fawad Khan was seen having the time of his life during the show wherein he is jamming with the contestants and messing around with the instruments.
It's like Fawad has returned home after a long absence and nothing has changed during all these years.
On the show, Fawad was filling the role of the outspoken, no nonsense, in your face judge as part of the panel.
Kinda like how Simon Cowell is to American Idol or how Raghu Ram was to Roadies. Fawad's not just all style and no substance either. We all saw Fawad critiquing the contestants in a very thoughtful manner and he's shown us how he actually knows what he's talking about.
Fawad is now a judge at the very show he was a contestant of, in the first season, almost 20 years ago
Both Fawad Khan and Farooq Ahmed were part of the very first Pepsi Battle of the Bands that happened roughly two decades ago.
The show was responsible for reviving the Pakistani rock scene launching the careers of bands like EP, Aaroh and Meekal Hassan Band. While the Aaroh emerged as the winner of the show, EP held its own and was one of the front runners of the new wave of hard rock that swept across the nation during the early 2000's.  EP's first and only album Irtiqa is perhaps one of the only few concept rock albums that had a mainstream release in Pakistan.
With Battle of the Bands, Fawad's Khan career come full circle as he makes his return to music and become regular contributor to that industry.
And let's not forget, we might also be seeing more of EP, what with their outstanding reunion.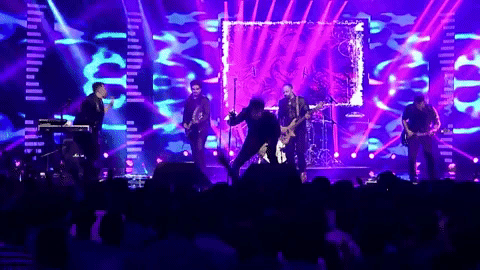 Here's a little treat for all you EP fans out there. The very first time EP came on television:
How do you feel about Fawad Khan's rockstar persona? Do you see him flourishing even more past his stint in Pepsi Battle Of The Bands?
Let us know in the comments section below.