If there's anything desis like more than telling their kids how they are total nikammas while their phupho's kids could recite the fifth ka table since were 5-years-old,  it's anything and everything related to food.  
So, you can imagine my joy when this was served to me on an Emirates flight to Dubai: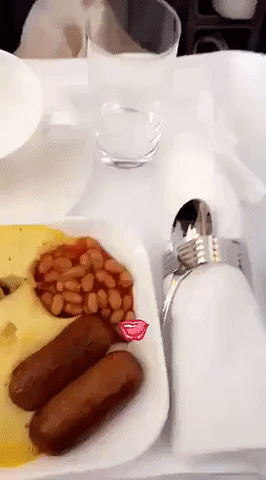 This piqued my interest. Who were the people behind such gourmet meals served 30,000 feet up in the air?
And how could it STILL taste so damn good? Emirates was kind enough to show me around the massive flight catering facility in Dubai that churns out 175,000 meals a day with crazy variety. As for you guys, I've prepared a virtual tour:
Subsay pehle we met Jane who told us all about the facility.
She made us sign health forms and basically wear silly fishnet on our hair to align with their safety policies.
The first step is recycling everything from the flight.
With massive machinery working without any supervision, trays carrying plates, spoons, forks, glasses, used napkins etc arrive and are sorted. Paper goes with paper, plastic is sorted with other plastic. Some go to waste, the others head over to get squeaky cleaned.
The gigantic food factory has unreal equipment the size of condos dedicated to mechanizing everything.  
The churri and chamchein you're going to be cutting with have undergone kafi zyaadi safai suthrai which is how it should be.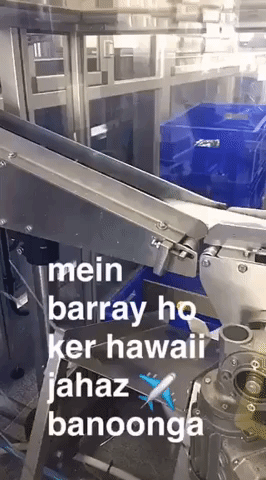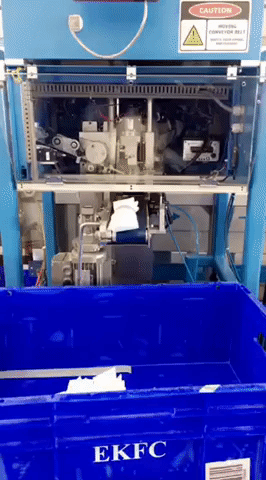 It's the perfect harmony of (wo)man and machine.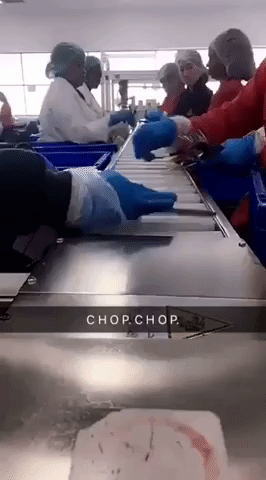 With about 4200 workers, the trays are lined up with china and cutlery, ready to take flight one day with you or me.
Now, off to the food. All the dry ingredients are made from scratch so anything from bread to condiments for that chicken wrap. With big walk in freezers to store meat and other perishables and over 8 feet tall ovens, we're basically all set.
The chefs and cooks work on specific tasks to maximize on quality and quantity.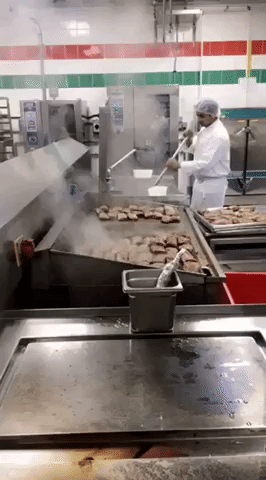 While someone makes sure the meat is medium well, another person butters the bread and another makes sure the mayonnaise is ready. And so on, so forth.
Emirates works off 451 menus, all based on region, season and customer preferences.
There sits a recipe book on every counter, listing ingredients and pictures of all the specifications, down to the weight of a garnish. Whether it's raw sushi condiments or the masala in Sindhi biryani, everything is listed to precision.
What's Najm standard?
It's what chefs look at as a live instruction about how to plate the food, whether the temperature is correct and stuff.
And why is this important?
Because there's always a chance of someone looking at the adjacent seat and thinking, "saath walay ka khana mere se behtar kyun lag raha hai?". When you're paying premium, you're guaranteed service as good as it gets.
While going through the kitchen, my tummy was constantly rumbling. Matlub, Baar baar soch rehi thi keh kuch tou offer kerdeingay magar…the security of the word, the portions, they absolutely MUST be maintained.
BUT OMG SUSHI.
And did I mention it looks just like heaven?
And not just one kind. These were ready to fly off to Japan and well, so am I.
The food is like art on a plate.
Like an assembly line, people upon people work towards making the dish look like it's ready to have a party inside your mouth.
We asked the question that's basically on everyone's mind: Kya recipe koi change kerta hai to fit the high altitudes?
The answer is, "yes"
There's an unnis bees ka farak in salt and a few other masalas.
The meat is sometimes just a little undercooked so that it tastes a 100% when the flight crew re-heats it.
On every flight, there is a meat option, a vegan option and something seafood-y. But how do they know how much to stock up? It's all just science. From statistics on what percentage of clients are most likely to order what, the food isn't just food, it's a process to win over customer hearts. And why won't you win them when the food is just too good to be true.
I wish this was on the menu for my Monday lunch…
Once the food is ready, it's packed, sealed, grouped together with some juice, some yogurt, sugar sachets etc on a tray where it's carefully checked to make sure it's all set. The food comes with a timestamp and once the seal is broken, it is considered contaminated. This is why you shouldn't leave your food after taking one bite.
But wait, did I mention dessert?
Before:
After:
Emirates strives to offer their travelers an "experience", one that stays with them well past the journey is over. And what is better than some meetha to sweeten your memories?
About 100 people work together to make ONE person's in-flight meals.
Isn't that mind-blowing?
Would you like some nice pudding with caramel sauce?
After the tour of the facility and watching conveyer belts bringing food tray upon food tray and finding out 25,000 variations result in the perfect recipe, we're convinced that you CAN have restaurant level quality while being up in the air. All you need to do is book a flight on Emirates.
So the food on your plate during a flight, be it two hours or twenty, looks like a product of a Michelin star restaurant.
Because you deserve just as much.
Cover Image Source: Emirates