Whether you're in class, at work or just bored out of your mind, doodle art can be pretty satisfying. You don't have to think about it, be an amazing artist or really have any sense of art at all. In fact, doodling is supposed to be pointless.
What the hell is "doodling"?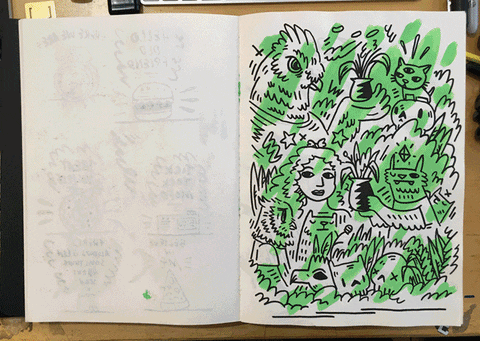 It's anything from a random flower, kaaghaz pe likhi hui lakeerein, a giant dragon or a plain old smiley face on the corner of your notebook, a random tissue paper or even a bathroom wall. Doodling is any drawing or illustration you make when you're bored. It's a freedom of expression with no rules and no limits, only you and your imagination.
Take a look at some of the most insane doodles we LITERALLY can't get over:
How is this even a doodle? This is a MASTERPIECE.
How is this RedBull doodle art submission so incredibly detailed and amazing and khoobsoorat and stunning…
Uff waisay main tou circle bhee nai bana sakti aur iss nai poora 'Raide' bana liya. Wow.
The best part about doodling? Coloring in the black and white beauty of course!
How creative is this? So simple, yet so different. Doodled to another level.
Calling all Ninja Turtle fans, how could you not love this doodle? Don't miss the melting faces at the bottom!
He makes the drawing look completely effortless, how crazy is that?
Does this not give you the most satisfying feeling ever? Seeing him color in the lines perfectly?
Think your doodling skills are just as amazing? 
Coming to Pakistan for the their third edition, RedBull Doodle Art 2017 invites students all over the country to submit illustrations for the chance to win the title of best doodle in the country and then compete with people all over the world. The winning artwork from each country will be on display in the Global Virtual Gallery. At the show, one international winner will be crowned.
So, MangoBaazians doodle your hearts away and be a part of the creative madness! Stay cool and don't forget to submit your applications right away!
Cover Image Source: kerbyrosanes.com
---
This post has been sponsored by RedBull Pakistan.