If you live in Islamabad, then you already know that Diplo was in the city this weekend. And if you didn't already know… really?
Pakistan has that high grade ?

— diplo in pakistan (@diplo) February 27, 2016
In case you didn't know *sigh*, Diplo is an American DJ, record producer, and one-third the talent behind Major Lazer.
You might have heard "Lean on" recently (it's only been played 1.17 billion times on YouTube)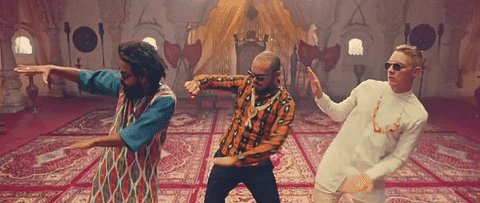 Yesterday, Diplo took over Islamabad and lit it up (probably for the first time…sorry Islamabad but you know it's true).
He did his research well and even played "Amplifier"
And of course, he played "Lean On".
Why wouldn't he?
And the crowd absolutely loved it
What an amazing night! Thank you @Adil_Omar & @talalqureshi for bringing this to our entertainment deprived capital pic.twitter.com/IjJjTmERmN

— Hamna (@HamnaQureshi) February 27, 2016
Great Concert. Diplo @Adil_Omar @talalqureshi ending the night with waving the Pakistani flags on stage. pic.twitter.com/vgqCJ4Kdrs

— Jibran Nasir (@MJibranNasir) February 27, 2016
You see this picture and realize how much you missed out on last night.
.@diplo @talalqureshi @elliphantmusic #saturdaynightkillingmachine an honor pic.twitter.com/0ZxG7fFGeH

— ADIL OMAR (@Adil_Omar) February 27, 2016
And if you're not already a fan of Diplo…
#mancrush
You have to respect Diplo because the guy didn't just fly in, do his show and leave.
He actually went around the city to see the sights. If you were following him on Snapchat, you'd have seen him
He made sure to have some lassi
Max points for cultural awareness and integration
Met some fans in the city

Of course, he went to Hot Spot as well.
Hot Spot probably won't be spending money on advertising for a while after this.
And he was particularly intrigued by one picture 
Huge shoutout to them for making this happen. Also, follow their music if you're not doing so already.
Saturday night lazer machine pic.twitter.com/AINXMYTycy

— ADIL OMAR (@Adil_Omar) February 28, 2016
And if you were there last night and have something to add? Let us know… in the comments section below (hey that rhymes).
This article is sponsored by Radio 1 FM 91, the Official Radio Partner for Diplo in Islamabad. Radio 1 FM91 prides itself as a platform for the youth and not only plays music but stands for music without barriers; change without rebellion, and information sans an agenda. They've been in the music industry for quite some time and have left behind noticeable tracks, interviewing Nelly Furtado, Kerry Hilson, and Jay Sean in the past.
---
Zarra ye bhee check karein: