Most of us have read the popular classics and contemporary love stories from the West. As entertaining and well-written as they might be – they aren't exactly relatable for us desi folks. However, there is a plethora of South Asian literature that we absolutely need to check out because it hits closer to home. Here, we have some recommendations for desi love stories for all you avid readers:
1. Haveli by Zeenat Mahal
'Haveli' is set in Pakistan in the 1970's, and the author describes the era beautifully. The vivid imagery helps you visualize what you read. The romance is between C – an amusing and sarcastic woman – who captures Taimur, the alpha male's attention. The romance between the two is exciting and hilarious. Although a little clichéd, it's a really fun read.
2. The Namesake by Jhumpa Lahiri
Jhumpa Lahiri's writing is captivating, to say the least. The Namesake is expertly written about an Indian couple from Calcutta moving to America. Ashima and Ashoke struggle trying to learn a different way of life. They start their family together; although not conventionally romantic, it shows the struggles of moving into a new place while being arrange-shadiofied and how they adjust to their new life together and meet other Bengalis and find a way to celebrate their culture in a foreign land.
3. The Private Life of Mrs. Sharma by Ratika Kapur
Ratika puts into a novel what is probably a clash of modern and traditional values in the South Asian culture. The book is an intimate story of a middle-aged married woman's life, as she tries to provide a better lifestyle for her son. Her life is generally ordinary until she meets a stranger at the metro station.
4. Butterfly Season by Natasha Ahmed
This book has everything you expect from a nice short novel. This book will be strongly relatable to Pakistanis. If not, it will provide a blunt look at a culture that is full of typecasts and moral policing. The story is about a Pakistani woman, Rumi who goes to England to meet her sister, who lives there with her family. Rumi falls in love with a man there but they face many problems because of the cultural boundaries that she's surrounded by. It's hardly a hundred pages, but really fun read regardless.
5. The Contract by Zeenat Mahal
Shahira is a divorcee with a young son, aged seven. She gets into a contractual marriage with Hussain. It's basically a marriage with no relationship, no sex, and no emotion. Hussain benefits by having someone to look after his daughter and also manages to pacify his mother who has been trying to get him matched. However, it provides Shahira with financial security for herself and her son.
However, with time Hussain finds himself developing feelings for Shahira. The rest is for you to find out when you read the book!
6. The Palace of Illusions by Chitra Banerjee Divakaruni
The Palace of Illusions narrates the great Indian mythological tale, Mahabharata from the point of view of a strong and courageous female character, Draupadi. She weaves her thoroughly soul touching yet enduring life story, starting from the day she was born to the day she left her palace and kingdom to follow in the footsteps of her husbands to heaven.
If anyone's interested in Hindu mythology, this will be a beautiful read.
7. The Marriage Bureau for Rich People by Farahad Zama
This is a series of four books, so all of you looking for a series to read, this one is definitely worth a try.
Marriage Bureau is a warm-hearted and winsome novel. Freshly retired Mr. Ali doesn't know what to do with his time. He has been interfering with his wife's daily routine. Needless to say, he's irritating her as well. She heaves a sigh of relief when he decides to open a marriage bureau. There is a bit of Jane Austen and Alexander McCall Smith in the novel. It displays the grim realities of political corruption, the caste system, and poverty that we see commonly in Pakistan and India.
8. When Dimple Met Rishi by Sandhya Menon
This is a super cute love story that the desi youth can surely find pertinent to their culture.  The story follows Indian-American protagonists, whose parents have essentially "suggested" a potential arranged marriage between the two. Dimple is a non-conforming and independent girl and Rishi is just plain endearing and goofy.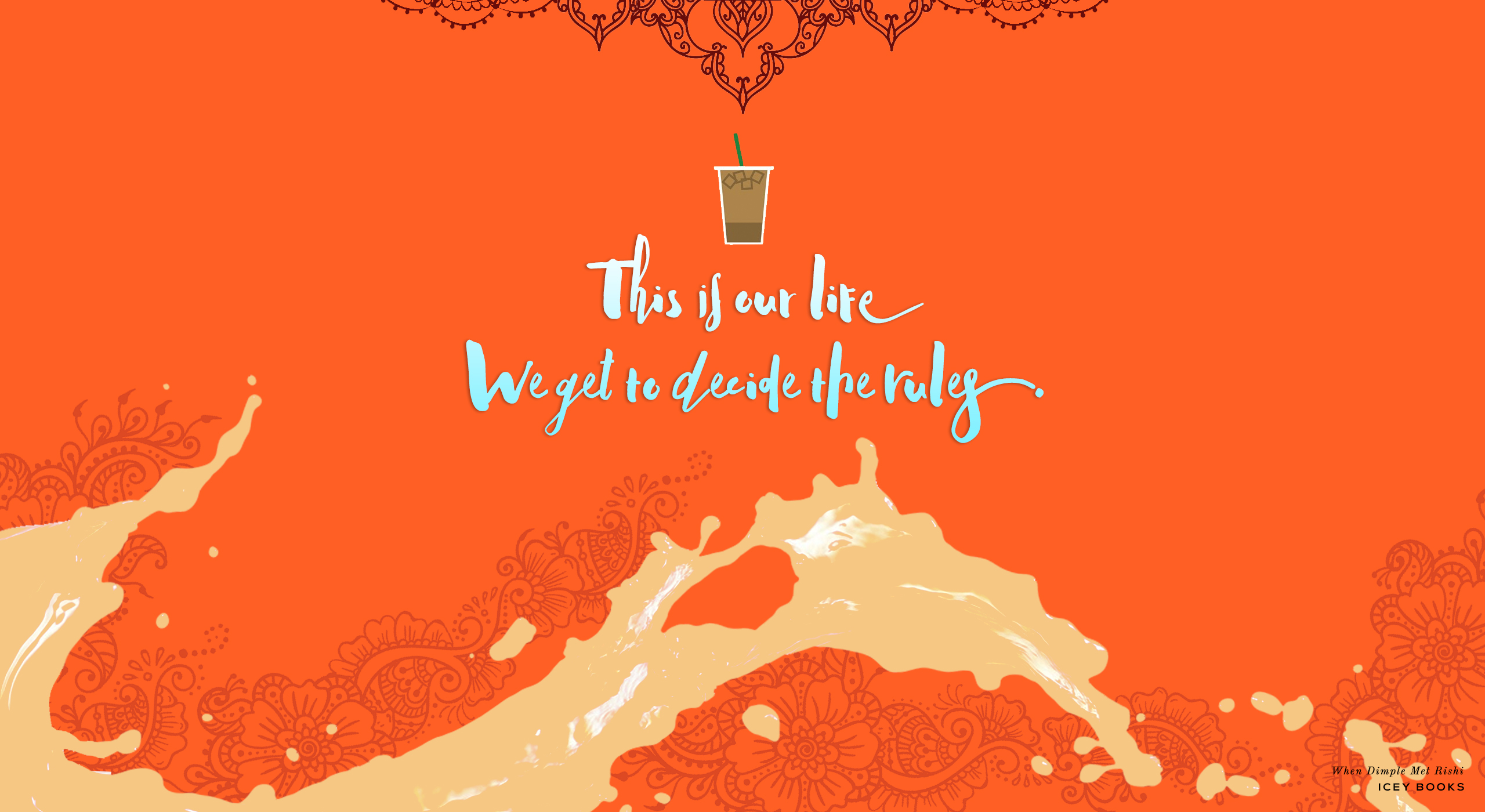 9. Invisible Lives by Anjali Banerjee
This one is hardly a realistic romance, but it's a nice novel to read to cheer yourself up. Lakshmi Sen is visited by the goddess Lakshmi in utero and given a gift of being able to know what people want. She can tell what customers truly need when they come into the sari shop she works in with her mother.  A Bollywood actress comes to her store for her wedding outfits and but Lakshmi's loses her gift when her driver enters. The story is about the driver and Lakshmi's story.
10. Saris and the City by Rekha Waheed
Yasmin Yusuf's character is portrayed as an upright and willful woman. Zachary Khan is basically every straight woman's fantasy. Their simple romance will have you head over heels in love with Zachary in no time.
11. Take One Arranged Marriage by Shoma Narayanan
Take One Arranged Marriage is a love story of two people who get to know each other after an arranged marriage. Naintra and Vikram both have their reasons to get married to each other. He needs a wife because of his social status and she needs to get to Bangalore to do her Ph.D. Thus, they get married and move to Bangalore. The strain of a liberal and conservative mindset has been well-portrayed by Shoma.
12. A Suitable Boy by Vikram Seth
This book is a love story set in the 1950s. Despite its length, it isn't a difficult read. The story revolves around the Mehras, the Kapoors, the Khans, the Chatterjis and many other characters. As the title suggests, it's about Mrs. Rupa Mehra finding a suitable boy for her daughter Lata to marry. However, the book is more than just a rishta hunt; it is an all-encompassing picture of a multifaceted, multi-ethnic society.
13. Kartography by Kamila Shamsie
This is, of course, an absolute must read if you haven't already. The foundation is a love story between Raheen and Karim, set amidst ethnic and political divisions in Karachi.
These are just a few desi love stories we have in mind. If you know of more, let us know about them in the comments below.
---
Cover image source: Zee News