Deepika Padukone has, time and again, proven herself to be the absolute queen of Bollywood. She acts well, gives us all #DanceGoals and a couple of years back, she talked openly about being depressed. This woman has done it all and we love her for that.
Deepika clearly isn't quite done sweeping us off our feet.
Yesterday she shared this inspiring and motivational Nike Ad she features in and also packs in an amazing message with it.
Deepika Padukone uploaded the video on Facebook along with this amazing message:
"When I was growing up my father said to me, "To be the best, always remember the three D's – Discipline, Dedication and Determination. Follow your heart. Do what you are passionate about."
Sport has taught me how to handle failure. It has also taught me how to handle success. It has kept me grounded. It has taught me humility.
Two years ago I struggled with depression. I was sinking. I almost gave up. But it was the athlete in me that gave me the strength to fight and neverever give up!
And so I want to say to every girl and every boy and every woman and every man…play a sport…because it changed my life…and it will change yours too!
Sport has taught me how to survive! It has taught me how to fight! It has made me unstoppable!"
Alongside Nike, Deepika is basically telling us kuch hill jhull karo
This video has it all, Deepika getting her workout on, women empowerment and one dhamakaydaar beat.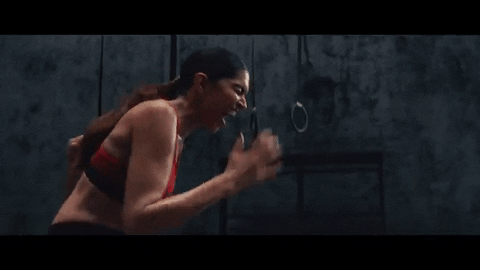 DP is sending an amazing message through the video and her post on Facebook. The idea is to be healthy, get moving and become a productive person, all over.
Don't. Ever. Lose. Hope.
The video follows people getting better at sports with practice, pain and perseverance. The journey to getting better was laden with troubles but the results will show and boy will you be happy with yourself. As Deepika says herself that sports really teaches you what hard work is, it teaches you what failure is but it also teaches you how to get back up on the horse.
She also touches upon how sports helped her through her struggle with depression. Sports was her saving grace and with its help, she didn't lost hope and we can all see the results of her himmat and hosla. This video is a powerful reminder (to workout more) to never lose hope and to always keep your chin up. It teaches us to never give up on ourselves because investing time on yourself is the best investment. This message does not only apply to sports it applies to every aspects of our lives.
Thank you Deepika for this amazing message, you truly are the Queen! Keep Slaying.
---
Zarra ye bhee check karein: