For those who haven't been following Bollywood news, Deepika Padukone, Shahid Kapoor and Ranveer Singh starrer, Padmavati directed by Sanjay Leela Bhansali, has been hyped for the longest time.
Every time the lovebirds, Deepika and Ranveer, star in a movie together, you know it's going to be filled with chemistry and fire. Moreover, Shahid Kapoor is an excellent actor whose work has been highly appreciated. Therefore, it's no surprise that people were looking forward to Padmavati.
However, the release of the movie has been delayed due to ongoing protests against it.
Producers have indefinitely postponed the release of a movie which had the makings of a Bollywood epic. This is due to the heavy barrage of opposition the movie has been facing by Hindu right-wing and caste groups. Last week, cinemas were vandalized in protest against the movie. The extremists also threatened to cut off Deepika's nose – a symbolic nod to Ramayana, where a character has her nose cut off as punishment. Earlier this year, Sanjay Leela Bhansali and his team were disrupted mid-shoot, where he became the target of physical assault.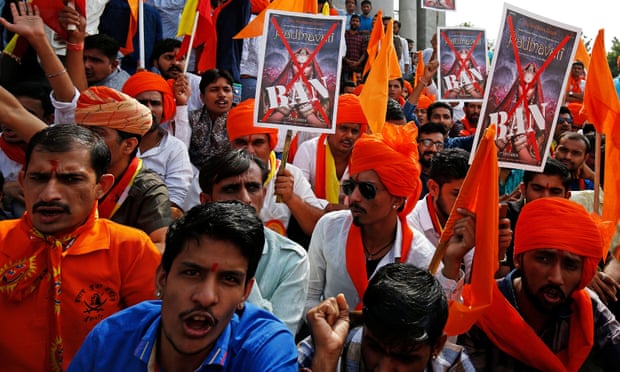 However, it doesn't just stop there. A regional leader of the Bharatiya Janata Party (BJP) recently offered a heavy sum of money for the beheading of Deepika Padukone and Sanjay Leela Bhansali.
Moreover, when Ranveer Singh spoke up in Bhansali's support, the same leader threatened to break his legs.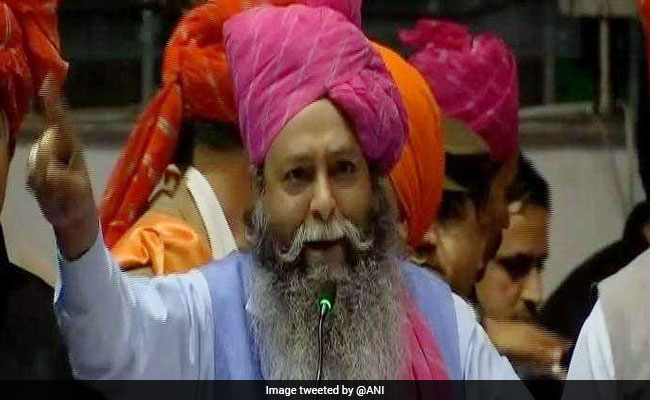 So why exactly is this movie facing protests on such a large scale?
Deepika's portrayal of Rani Padmavati, alongside the concept of the Rani's Hindu-Muslim romance with Alauddin Khilji, played by Ranveer, has pissed off these extremist groups. However, though there is historical evidence for the existence of Khilji, there is very little known about Rani Padmavati. Which basically means she could very well be a work of fiction.
Bottom line: these extremists are losing their shit over someone who may have never existed. 
Of course, people are outraged by this violent display of aggression over a movie. Some took to social media to let out their anger.
The Crown on Netflix has been filmed while the queen is alive, with some unflattering, very private details scripted into it and no Briton has reacted.Rani Padmavati's existence is in itself questionable and death threats have been issued to actor.Well done India#padmavati

— shunali khullar shroff (@shunalishroff) November 20, 2017
Some saw this as a means to thwart freedom of expression.
The #Padmavati controversy is not only unfortunate but also a calculated plan of a political party to destroy the freedom to express ourselves. We condemn this super emergency. All in the film industry must come together and protest in one voice

— Mamata Banerjee (@MamataOfficial) November 20, 2017
While others were appalled at the open death threats being issued.
What kind of a country are we becoming???? Open death threats!!! Hope our Honorable Government takes quick action. #Padmavati #KyaMeraBharatMahaanHai? https://t.co/LTdju1ridW

— Riteish Deshmukh (@Riteishd) November 19, 2017
Though Padmavati has sparked a debate on social media and has torn apart liberals and conservatives, we can't help but see some striking similarities between India and Pakistan at this point. 
One cannot help but think about all those who have lost their lives in attacks perpetrated by extremists back home. Whether it's the string of murders of Ahmadis due to their course of religion, the murder of two Hindu brothers in Umerkot in 2014, or the killing of Rashid Rehman in 2014, a notable human rights lawyer who defended an accused blasphemer – such attacks are all too common in Pakistan as well.
Let us not forget the brutal lynching of Mashal Khan – one that is still ingrained in the minds of many. 
Moreover, if you scroll through the comments section of social media entertainers trying to gain a following – such as Nasir Khan Jan, or Nouman Khan – you'll see a ton of comments damning them to death. 
The fact that Nasir Khan Jan, too, has talked about a fear of being murdered should be a major red flag. But it's not.
Perhaps the most prominent controversy in Pakistan – one that's most in line with the Padmavati fiasco because it's about "silencing a woman", too – is that of Qandeel Baloch.
People mocked and ridiculed Qandeel relentlessly. They wished death upon her constantly as well. However, when pictures of her and Mufti Abdul Qavi surfaced, she was found murdered soon after. What's worse is: a frazzled Qandeel even held a press conference prior to her death, talking about how her life was in danger. No one took her seriously.
Her death was chalked down to an honor killing by some and a family dispute by others. However, upon investigation, the police let a court know that Qandeel might have been murdered at the house of Mufti Abdul Qavi's close friend.
Qandeel's father also stated the same, saying that his son killed Qandeel on Qavi's orders. Moreover, Qandeel's father also claimed that Mufti Qavi also offered him money to drop charges against him.
Qandeel Baloch and Deepika Padukone are worlds apart. However, they share something in common – the fact that, in different capacities, they're both artists. 
For art to be thwarted, ridiculed, mocked and be suffocated is a great shame. Art is and has always been about the freedom of expression. How can one's mindset overrule and overlook all sense of empathy, only to tie down the artist in shackles that have some vague connection with honor?
Moreover, what gives anyone the power to take a life, becoming judge and jury in that instant? What gives anyone the power to play God? How is that not the greatest offense?
The entire debacle – all of it: from Padmavati, to what has been happening here on our own turf – is highly unfortunate and saddening. Perhaps one day, we will see through the lens of hate that shrouds our eyes and hearts. Is today that day? You let us know in the comments.
---
Cover image via: Bhansali Productions/ Viacom18 Motion Pictures