All your friends have been to Dubai and you've virtually toured everything there is to see. There's always that one photo in front of the Divers sculpture fountain, a snapchat story featuring ten snaps of the dancing fountain, a profile picture with the keffiyeh amidst the desert sands and selfies in halal swim wear at Atlantis. At least that was my checklist the first time I set out to conquer the crown jewel of Arabian peninsula. However, I was soon to be proven wrong. Emirates was kind enough to take us for a trip to Dubai like no other. During our time there, we explored the hidden gems otherwise unknown to a lot of the awaam. Now that we're back, we come bearing gifts.
I'm not going to lie, the Business Class seats alone in Emirates made my vacation worthwhile but…oh, well. Here are a few suggestions for an authentic, one-of-a-kind trip to Dubai:
1. Al Qouz and Al Bastakiya
For all things artsy.
P.S. Al Bastakiya also serves camel burger and If you're a foodie, you have to try it once before you die. That day can be today.
2. Gold Souq
Don't cab it, take an abra to it.
Once you're done taking in the grandeur that is Gold Souq, you can chill in that general area; sit right by the creek, put your feet in the water, share a smoke and gossip about that high school crush who recently got married to his best friend's ex-girlfriend or whatever.
3. Kite Beach
The white sand beach is a recent addition to the city, has a beautiful view of the Dubai skyline aur wahan ja ker Filli cafe ki saffron tea tou behadd zaruri hai.
4. Dubai Parks and Resorts 
Okay so, everybody dreams of going to Disney World and I've been to Orlando so trust me when I say this, Dubai Parks and Resorts had JUST the same vibe.
The horror house was legitimately the most scared I've been in any fictional situation.
But here's the catch: It also hosts the ONLY Bollywood theme park in the WORLD.
You see big billboards for "Sholay", fun 4D visual rides based off "Ra One", it's just the sort of retreat Bolly fans need.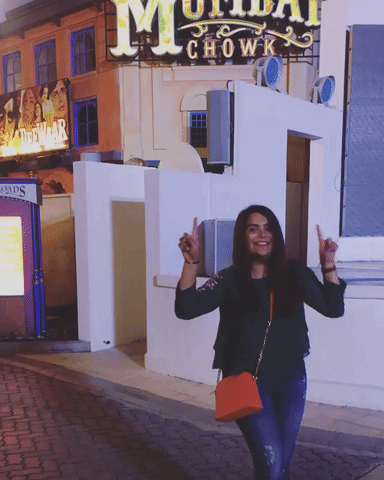 So much so that you wouldn't wanna LEAVE. Which is basically what happened to my travel buddy.
5. Sip some coffee at the Emirates headquarters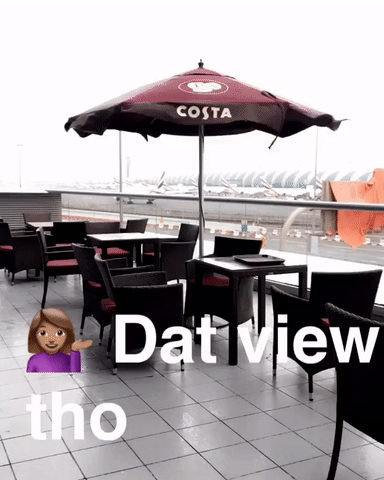 While you can find Costa anywhere around the city, this one comes with the gorgeous sights and sounds of the Emirates hangar.  Need I say more?
6. Nusr-Et's Steakhouse for Internet-famous Salt Bae sighting and selfie.
And if you've got the dough, the dinner costs just about a 900 dirhams for two 😉
7. Head over to the Souq Al Bahar or the foot of the Burj for the best view of the Dubai fountain.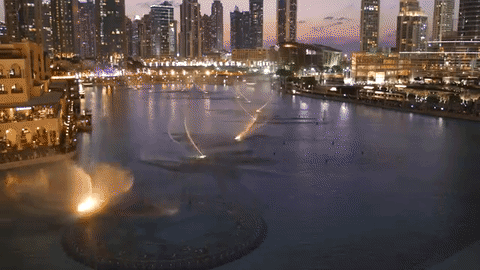 8. Book tickets for the top of the Burj online and for Maghrib ka time.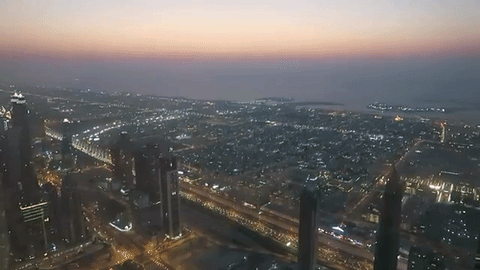 The view is unparalleled when you have a little bit of sun and also get to bask in the glory of the Dubai sky-scrapers after sun-down. It's the best of both worlds type cheez.
9. Rent a boat with the driver for up to an hour and see the incredible Dubai skyline from the middle of the sea.
10. Khalifa Al Tajir Mosque
While Sheikh Zayed Grand Mosque and Jumeirah mosque take the cake for the most beautiful, Khalifa al Tajir mosque in Deirah is unique because of its eco-friendly built. Covered in LED lights and solar panels, it's more fondly known as the "green mosque"
11. Definitely stop over to a different restaurant every day and night, there's a world of different cuisines just waiting to be had.
We tried P.F. Changs by the Dubai Fountain for their world-famous Dynamite prawns.
Al-Safadi for yummy Lebanese hummus.
Bab-ul-Yemen for mandi on a soffra.
Shawarmas done right from Al-Mallah
Downtown is great for khaana peena and stuff.
And when things got a little too much, there was the good ol' burger at Salt that saved the day.
12. Dubai Miracle Garden
For the rarest and the most exquisite collection of flowers, imported from all over the world. This amazing tourist attraction is a Guinness Record Holder for the Largest Vertical Garden. There's a MASSIVE Emirates aircraft covered in 500,000 FRESH FLOWERS OH MY DAYS. How romantic.
13. Flyboarding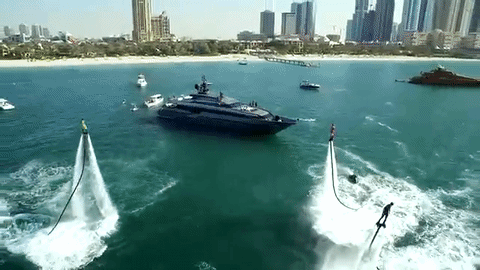 Okay, so all the water sports enthusiasts have the option to go diving, sailing and jet skiing. There's tons of stuff to do at the many beaches like wakeboarding, tubing, paddleboarding and parasailing but for me, fly boarding takes the cake. Calling it exhilarating is an understatement. Check out Searide Dubai at Dubai Fishing Harbour for just THAT.
14. Irish Village for halal nightlife.
Yep, you heard me. They have mocktails for everything.
15. White for some raat ki ronak. 
You know, lightein shitein and good music, good vibes.
16. Belly dancing in the desert.
Okay, if you're flying Emirates, you can book a desert safari trip on great prices. Whether you're big on that, or not, checking out the belly dancers is an Arabian delight you wouldn't wanna miss.
17. City Walk
Fashion a stroll?
18. JBR the Walk
One of the most happening places in Dubai, JBR is the perfect place to soak in all the energy. Walking around the crowded street, or by the beach marina is oddly therapeutic. And it's no surprise that Godiva happens to be just there.
Which meaaaaaans, the best molten lava experience you've EVER had is waiting for you.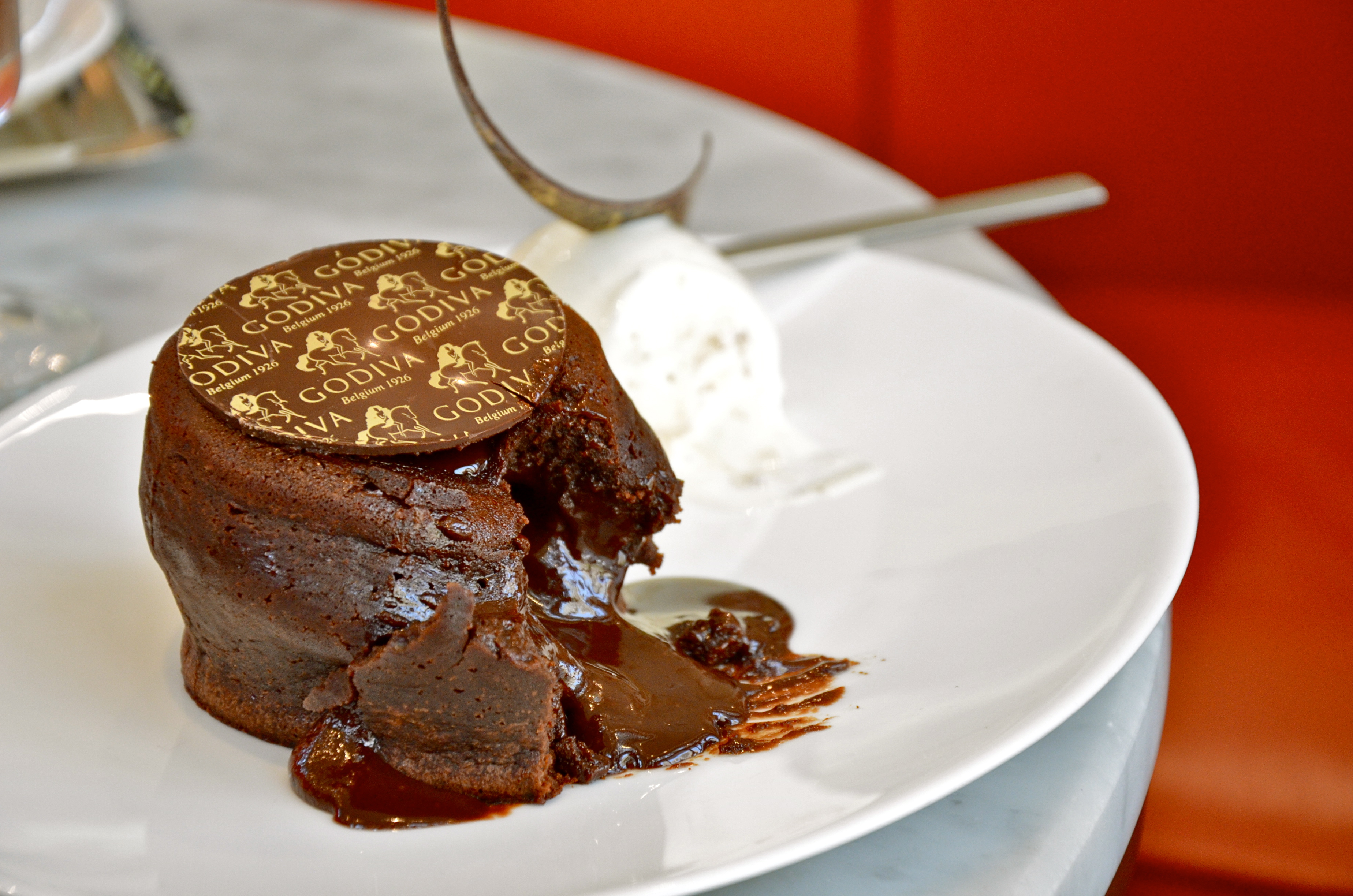 19. Boxpark.
On Al-Wasl street, Boxpark is a meta urban-meets-hipster dream with quirky cafes, restaurants that will serve sandwiches with peas in a pod as a side and quaint little shops brimming with coffee and conversations.
20. Shop till you drop, seriously. 
Dubai is the shopping capital and has legit the best deals. Mall of Emirates and Dubai Mall are so gorgeous, with food stalls and restaurants and skiing and aquarium and shark tank and lots and lots of stores. Keep a couple days free to fully scourge through all the stores, find the best deals and check things off your list.
Protip: Head over to the malls on weekdays and during the mornings. Less people and more for you.
Now, book your next trip to Dubai with Emirates and go WILD in the city that NEVER sleeps.
Literally.
Cover Image Source: Pinterest